Working From Home: Making Money at the Cardiff Arms Park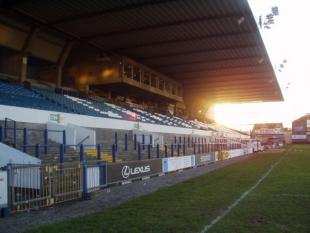 Cardiff Arms Park
By Andrew Collins
May 21 2012
Eleven days ago, the Cardiff Blues announced, to thousands of delighted fans, that they would be returning home to the world famous Cardiff Arms Park. Indeed it was the news everyone had been waiting for, but it hasn't solved every issue at the club...
After three long years at the Cardiff City Stadium, fans of the capital region have been rejoicing at the news their team would be playing their rugby back in the heart of our fine city. The news was greeted with more glee than the signings of Jonah Lomu, Martyn Williams and Neil Jenkins combined and has breathed new life into a business which has been coughing and wheezing its way into the present decade.
Without wishing to dampen the joyous mood currently surrounding the Cardiff Blues, things are still bad financially. Without doubt, the return home solves a large string of problems which where crippling the team; the £500,000 a year rent at CCS has apparently evaporated while initial ticket sales imply the gate will be significantly up on recent years.
But it has struck me that there so many ways to generate additional income from owning your own ground, aside from the obvious commercial benefits, most of which seem to have been totally ignored by the powers that be.
It has long been spoken about among fans, but the car park situated behind the north stand makes a substantial amount of money for the region. Its only downside appears to be the lack of spaces. Could CRFC Ltd. not exploit this area of land better? A mere punter like me can see that a multi-story car park in this area of town could generate huge interest and therefore more revenue. Not only is it ideal for fans to drive to games, but it can be utilised 24 hours a day, 7 days a week. Yet another example of how ideal the city centre location is.
The Cardiff Arms Park club house itself could be used better, could it not? A pub in the centre of town, which sells cheap beer and has its own unique rugby-theme selling point... yes it needs a lick of paint but there is a huge market in Cardiff including a large student population. Surely more can be done to make money from this wonderful location.
There are so many possibilities when you begin to look outside the box and consider what we have available to us, but I will end this article by proposing a controversial yet very sensible suggestion. The Cardiff Arms Park has two main stands, both of which have generated money from being renamed in the past (Kintana and BMI Baby two examples). It's quite simply money for nothing. Well what about selling naming rights to the Cardiff Arms Park itself? The money made from renaming stands is decent, no doubt, but you can command far more money from sponsors who would see their company's name attached to one the most famous rugby stadiums in the world. Not only that, but on an almost weekly basis on BBC, S4C and Sky Sports television channels as well a plethora of sports websites. I admit, it would not please a lot of people, but Welsh rugby needs to squeeze every last drop out of the limited resources it has available to it. Consider the JJB Arms Park for example. Would you sell the naming rights if it paid Sam Warburton and Leigh Halfpenny's contracts?
We've made the correct decision to move back home. Now's the chance to really make the most of it.
What do you think? Write your comments below.