Cardiff Blues at Sardis Road: Why it's not a good idea.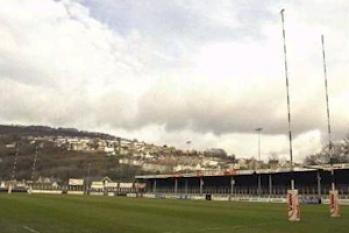 Sardis Road
By CardiffSteve
May 26 2012
You have to hand it to them. Everything was getting quiet in Cardiff Bluesland. Frankly, it was in danger of all getting a bit boring...
Suggesting that we play games at Sardis Road is the perfect way to get things going again. Excellent move Mr Holland. I was missing my daily dose of conspiracy theories and vitriol.
Now, there is a fairly reasonable argument in favour of playing in the valleys. Its only the LV Cup. In return for relocating some low profile games we possibly win some new fans from north of Cardiff.
After all - whether your team is regarded as a region, a province or a club – you should always try to broaden your supporter base. Anyone with an interest in rugby within 45 minutes travel time should be seen as a potential supporter.
Here's how I see things: The majority of people in Wales did not support a "first class" club prior to 2003. Top flight club rugby could be fiercely tribal, but the truth is that it was always a minority interest.
Its still the case that there are many people in South Wales who enjoy rugby but have no strong attachment to any Welsh Premiership or Pro 12 side.
And that's who Cardiff Blues should target - the people who support Wales and perhaps their local village team but have never had a strong bond with any top flight club or region.
There'd be nothing too unusual about Cardiff Blues attracting those supporters. Its important to remember that we HAVE attracted support from outside the city – particularly when things go right on the pitch. Anyone who was present at the Millennium Stadium matches in 2009/10 will be aware of that.
So why play in Pontypridd? Is it because we'd be taking games to where people can't normally get to our matches? Nah. Ponty is a half hour train ride away. With favourable traffic you could probably drive from Sardis to the Arms Park in under half an hour.
Its not really like Munster moving games the 60 miles from Limerick to Cork. No, the reason for playing at Ponty is because we know they've a history of not liking us very much. We're trying to disprove any notions that we're a "Cardiff only" side.
But why target a town where it can be guaranteed that a certain proportion of local supporters will be strongly opposed to us playing there? Isn't this likely to encourage animosity, not dispel it?
You can say that this is the point - the fixture will "build bridges". But for many hardcore Pontypridd supporters, Cardiff Blues playing a "home" game at their ground will not build bridges at all – it will be more like a final slap in the face after the events of 9 years ago.
Others in Pontypridd may well welcome the fixture, but there's a real chance that the negativity will dominate before and after the games.
Not helping matters is that these fixtures might be seen as an attempt to undermine Pontypridd MP Owen Smith's Valleys Rugby project. Far from "embracing" the valleys, we could be seen to be trying to fob Pontypridd off with a couple of LV Cup matches when Valleys Rugby are attempting to bring them much more.
As a marketing tool, playing at Sardis could backfire quite spectacularly. Instead of getting rid of any perception that we disregard the valleys, we could end up encouraging that view.
Understand, I'm not writing off the idea of holding events north of Rhiwbina. Of course Cardiff Blues events should be held outside the city. This has already happened with age group games, open training sessions, Royal Welsh show visits and so forth. More of that, by all means. If an official Cardiff Blues "A" side is ever formed, it should play matches at Abercynon, Treherbert, Barry, Builth Wells, Mountain Ash...
But a truly bold, exciting move would be to bring professional rugby to somewhere genuinely new. I'd be in favour of taking LV Cup games to Merthyr Tydfil's Penydarren Park.
Should it be a regular thing? No. If we begin playing all LV Cup matches away from Cardiff Arms Park, we wont be encouraging people to come to our stadium – we'll be encouraging them to demand even more games outside Cardiff.
But a one off showcase where we host a team like Harlequins or Leicester right at the head of the valleys, in a sizable town which hasn't hosted top class sport in many years – that's something could create a real buzz. It could generate interest amongst people who may not have considered supporting us before.
Give a community something that it genuinely hasn't had before and we could create a lot of good will. Go to Pontypridd and try to take the place of a much loved local team and we're far more likely to do the opposite.
Got an opinion on this? Leave your comments below.