Wales Players Set to Play Against Cheetahs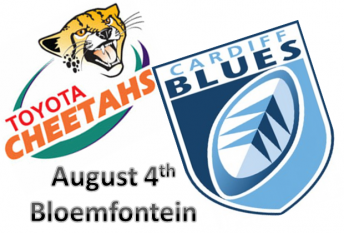 Cheetahs vs Blues
By Andrew Collins
June 29 2012
Sam Warburton, Leigh halfpenny, Alex Cuthbert and their fellow Wales players WILL play in the Cardiff Blues' ground breaking friendly match in South Africa.
Last month, the Blues announced they had accepted an offer to play Super 14 side, The Toyota Free State Cheetahs, in a pre-season friendly match.
The match, which will take place in Bloemfontein, will be the first time any Welsh side – club or region – will play a match outside of the Northern Hemisphere.
The micro-tour is being eagerly anticipated by Blues players, both old and new, with excited comments frequently on Twitter since the initial announcement was made.
A massive list of departing players, an empty stadium to bid farewell to greats including Martyn Williams and a European spanking from eventual winners Leinster all left a thick grey cloud hanging over the Cardiff Blues at the end of last season, however things have taken a dramatic upturn since the last game of the season in May.
First, a return to the Cardiff Arms Park was announced proving excellent news for fans and financers at the region. Then followed news of a new coach, replacing duo Gareth Baber and Richard Burnell after what can only be described a clueless season on the field, while there was even more good news with Alex Cuthbert re-signing a new deal and a host of new players arriving.
All of that helped lift the mood at the region, and it's hoped that this tour will signal a fresh start for the team and get the season off to a bright and exciting start.
And there is yet more great news as it appears the whole Blues squad will travel to South Africa for the team building trip. Wales captain Sam Warburton is expected to captain the new-look Blues and will be joined by international team mates Halfpenny, Cuthbert, Lloyd Williams, Harry Robinson and Bradley Davies.
Indeed Cardiff look set to take a near full strength squad, with only two injuries for their August 4th fixture in the shape of Xavier Rush and Jamie Roberts – both of whom will still travel with the squad.
As part of their pre-season fixtures, the Blues have also confirmed fixtures against Bath and Worcester, while a match against Ponty looks likely as has become tradition over the past few years.