Montpellier Deny Young Blues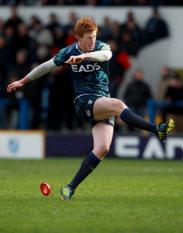 Star Man: Rhys Patchell
By Andrew Collins
December 9 2012
Not even an excellent solo performance from Rhys Patchell was enough to prevent the Blues from their 3rd successive European defeat as Lloyd Williams gets an early red card.
It was another good effort by the young and depleted Blues side - who were missing Leigh Halfpenny, Bradley Davies, Sam Warburton, Jamie Roberts as well as a host of other squad members through injury – but yet again, outmuscled upfront and beaten at home.
More ambitious and dogged posters than I will tell you that anything other than a win is unsuccessful. This is, in my opinion, a fundamentally flawed notion which is currently being emphasised by this crop of hard-working, brave youngsters.
Despite losing Lloyd Williams just 25 minutes into the match and playing with 14 men, the boys were remarkably just 1 point behind at 65 minutes. Much that this success was owed to the brain and boot of Rhys Patchell, who is fast growing into a leading figure at outside half, demonstrating a variety of excellent kicks, keeping the French pinned back in their own half.
But ultimately, they were up against a better side who were able to finish off their chances and dominate the set piece.
Next week may be a real learning curve for some of these players, who will face a hostile and rampant Montpellier on their home patch. It could be a hard game for Blues fans to watch...
But it is this experience which will help them develop both individually and as a group.
Let's hope they learn fast, as Christmas will present some big challenges, as well as opportunities.