Shingler Wants To Play At 10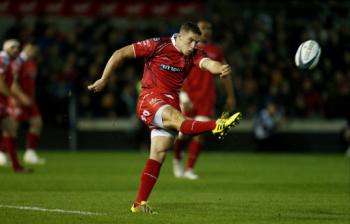 By Craig Muncey
July 15 2016
In a recent interview, new signing Steven Shingler stated he has joined Cardiff Blues as an outside half, but if he is needed elsewhere then that's what he will do. This piece looks at in my view, his chances of playing in the famous 10 shirt regularly, and if not playing regularly at 10, where I see this versatile back playing next season and beyond. Hope you enjoy.
Shingler Wants To Play At 10.
Steven Shingler has come to his new club and in his first interview as a Cardiff Blues player, stated he has joined the club as first and foremost as an outside half. Shingler who is 25 years of age, accepted that there is serious competition in that area, but that is his desire, but if needed by the team is willing to play elsewhere.
Currently on Cardiff Blues books in the outside half position there is Welsh international Gareth Anscombe, young up and coming talent in Jarrod Evans, who is highly thought of, and also another new signing, Welsh international Matthew Morgan, who made his initial breakthrough, catching people's attention for The Ospreys at 10, but in recent years has played a lot of his rugby at 15. So for Shingler to want to play regularly at 10, as he himself has admitted, is going to be a challenge, which the player to his credit, is looking forward to.
I am sure whenever Anscombe is available to play for Cardiff Blues, Warren Gatland will be keen for Danny Wilson to select him in the 10 position, as in my opinion, Gatland sees Anscombe as the main challenger to Dan Biggar for the 10 shirt for Wales in both the upcoming Autumn internationals and next year's Six Nations. Also Jarrod Evans is a young man with real talent, so I am sure Cardiff Blues will be keen to give him game time whenever possible in matches, and manage his appearances accordingly, not to overload the young player. As for Matthew Morgan, in my view, unless injuries dictate otherwise, I do not see him playing at 10 too often in matches for Cardiff Blues. We may see him under new attacking and backs coach, Matt Sherratt, pop up as first receiver during matches, if defences are slow around fringes, or late on in games when defences are getting tired, but in terms of starting positions, I see Morgan playing full back or wing in his time at the club.
So where does this leave Steven Shingler? Well firstly I would say I like the player, in the times I have seen him play for Scarlets, London Irish and representing Wales at junior levels, he is a player who has a good set of skills, he has a decent pass, is a good size who makes his tackles, is versatile (which can be a curse for players sometimes), and I particularly like his kicking game, especially out of hand. So in my view as a signing for Cardiff Blues, I think it is a good signing, he gives us options and provides good cover. As mentioned previously, due to his versatility, he can cover 10,12,13 and 15, so as a player, he is one who regularly could be making a match day 23.
In terms of his desire to start at 10, I do not see this happening too often. I just feel with Anscombe and Evans, they are ahead of him for that position. His best opportunity will be when Anscombe is on Welsh duty, the battle between Shingler and Evans will be interesting to see who comes out on top. Personally right now, I can see Evans starting, and Shingler either coming on to play at outside half, or moved from another position on the field into the outside half position.
The last line of the previous paragraph may give you an indication of where I believe we will see Shingler play the majority of his rugby for Cardiff Blues next season and beyond. For me Shingler is a great fit in the 12 shirt at inside centre with Rey Leelo, Cory Allen or Willis Halaholo outside him. Matt Sherratt I believe will look for Cardiff Blues to play real attacking rugby next season, and to try to get the ball wide with accurate passing next season especially at home, which to be fair, we did see last season. Last season, Rhys Patchell and Gareth Anscombe had a great relationship at first and second receiver, and had the vision and passing ability to free up players outside them. With Patchell gone, I see Shingler fulfilling that role. Matthew Morgan may play at 15 regularly (I am sure Dan Fish will disagree), but Morgan for me is not an assist type player with his passing, he is more an individual who beats a player with his fleet of foot. Shingler also will provide another option in defence as an exit kicker, or if the game demands, a player who can kick for territory. At the moment, I still feel Anscombe when kicking out of hand can kick flat, and is running the risk of having kicks charged down. In his defence, the opposition know when a kick is coming it's likely to be him kicking, so concentrate their attention on him, but with Shingler in the side, there is another kicking option, something he is more than capable of.
As at outside half, the battle for the centre positions will be fascinating, Cardiff Blues have some talent at their disposal, such as Rey Leelo, Willis Halaholo, Cory Allen, Hari Millard, Garyn Smith, Owen Lane and Shingler. So Cardiff Blues can chop and change as they see fit, seeing which partnerships works best. I fully expect the two they will want to try out the most initially will be Leelo and Halaholo, once Halaholo arrives on these shores. Some real talent in those players, so could be exciting viewing.
In closing, I am not expecting Shingler to play every match for Cardiff Blues, but I do see him getting quite a few matches next season either starting or coming off the bench, again, in my view I think he will play more games off the bench than starting next season. In terms of starting matches, I see him playing at 12 the most, but let's wait and see, I have been known to be wrong before!
What I do know is I as are many of you are looking forward to next season, and here is to a successful season for all concerned.
I hope you have enjoyed this article, please feel free to comment on whether you agree or disagree with my views either on the website, Facebook page or Twitter page, and see you at the games soon. Thanks all.