Sorry Cardiff Lose Again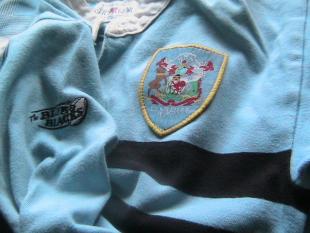 Cardiff RFC
By Andrew Collins
February 11 2006
Cardiff RFC slumped to yet another defeat today, this time at the hands of close rivals, Swansea. The Blue and Blacks threw away their lead twice, eventualy losing the game by a last minute Swans try.
Cardiff led at half time (when i arrivaed) 8-3 to a Chris Statamakis try and Davies penalty, but it all went wrong in the second period as Cardiff gave away 3 cruical points.
Swansea missed a penalty in the opening minutes of the half, but made up shortly after to bring the whites within 2 points.
Then disaster struck for the capital, after a 10 minute spell of posession, and being camped on the Swansea line, outside half Davies tried a long miss pass only for former Blue Johnny Vaughnton to intercept and race the full length unchallenged and converted.
Cardiff, like their regional side, failed to use their dominance of possession and whittled away chance after chance to take the lead. With under 10 minuted to go, captain Owen Ruttley took a nasty blow to his legs and was carried off to loud appluase.
It seemed to motive the Blue and Blacks, scoring a try almost instantly following the captains depature. Replacement fly half Chris Anderson struck the penalty over and it looked like Howard Stone was set to record a huge win, at 15-13.
But with a matter of minutes to go, the whites tore through the heart of the Cardiff defence and although almost scragged on the line, Swansea's Watts recorded the killer blow. Jones converted for an unfair 20-15 scoreline.
The Blue and Black remain firmly rooted to the bottom of the table, and with time running out will need to be finishing of those kind of games.
It was a hearty performance though if nothing else, and while the loss mounts more pressure on the RFC side, there were positives to build on.
---
Fans may be pleased to hear that 2 Blues players took part in Saturdays loss. Both Tristan Davies and Ben Evens started for Cardiff, and although they didn't win, both did tighten up the rickety outfit and brought invaluable experience to Howard Stones side.
More Cardiff Blues headlines
Cardiff Blues Poll