Welsh Rugby in February 2007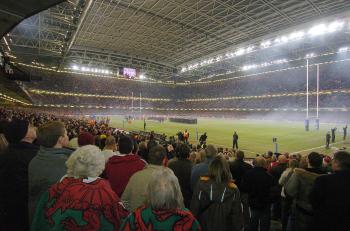 By Paul
February 13 2007
February is already well under way, but as part of a new feature on Bredinheaven.com, I'll be looking ahead to all the domestic, age-grade and Wales games for the rest of the month.
Celtic League Resumes
Whilst fringe Welsh players must quite literaly be choming at the bit to impress Gareth Jenkins, I doubt that Gareth Cooper quite had a trip to Ravenhill and Ulster in mind, nor would a return trip to Scotland suit any of the Scarlets hopefuls.
Internationals aside with both sides locked on the same points, in the final Welsh Heineken cup spot, a win could prove decisive before they lock horns in March, with test players to boot at Stradey.
Ulster v Dragons, 7.10(BBC2W), Glasgow v Scarlets, 7.30
Taking a Liberty
Down in Ospreylia they're having an under 14's go free day, fortunately so or Brent Cockbain, Jonathan Thomas et al may end up playing in front of an even bigger awkward silence than the one they missed out on at Murrayfield...
Ospreys v Connacht, 5.30(S4/C)
In Reserve
Fixture fans rejoice, you got what you wanted, avoiding the skepticism that suggests we watch them most weeks anyway, regional rugby get's it's first "A" game.
Guinness Premiership obsessive Paul Turner takes his Dragons to meet their Ospreys second string counterparts, as the Brewery Field at long witness's first class rugby once more....or not. It's tricky playing France in rugby mad Brive, but against a side that are a year older, our under 20's have a tough task on their hands.
Ospreys "A" v Dragons "A" , 7.15, France U21 v Wales U20
Bonne nuit
Paris on a crisp spring night, a glass of Moët et Chandon with your fine Escoffier-esque dish, suffice to say though Gareth Jenkins will be feeling more like Louis XVI in amongst the baying French crowd,with guillotine's a-plenty waiting for him back home.
2003 aside; magic has happened for Welsh side at the Stade, unfortunately with a grand-slam to go for and their favored late-night kick off, even the unpredictability of the French is highly predicted not to be so...
At least anything Wales face is unlikely to be half as intimidating as poor old Jonny at Croke Park, where a good old Oirish welcome awaits. Just prove how woeful we are, Scotland play Italy in a game of "guess the try line"...
France v Wales , 8.00 (BBC2 / S4/C), Scotland v Italy 3.00 & Ireland v England (BBC1)


Have Your Say on the message board.