England Rugby November 2006 In Review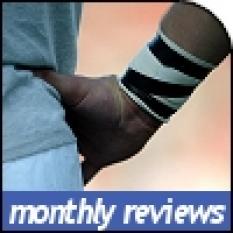 By Kath 1/12/06
December 1 2006
Unofficial England Rugby's look back on the bonfire of the vanities of English Rugby in November 06 - Blimey did we suffer the pain of misfortunes
England Rugby November 2006 - In Review
England Rugby in November 2006, well it was that time of year again and although we had high hopes for England Elite15 doing the business on the Twickenham turf against the New Zealand All Blacks, most of us knew in our bones we would probably be beaten! Fair dos! We scored tries even a disallowed one but that did not save England.
However, what we did not bargain for was a loss to Argentina and a South African development side! England won only one of their four Autumn Internationals and the performance of the players and the manager had to be questioned.
As always at Unofficial England Rugby we like our message board posters and viewers to get involved with the site. This Autumn was no different, we asked who would like to do a Match Previews or Reviews and we got an excellent take up on the offer. Thank you to all that were involved
DuncanS - Err he is the one on the Right! Tut, Tut!
Prestwick - looking in Hollywood Cool mode
The other writers just have not sent us any photos of them - check out our Rogues Gallery here...
In amongst this all the RFU were making agreements with ERC - The management has now agreed its position regarding the draft new shareholders agreement for European Rugby Cup Ltd (ERC) covering the period 2007/08 to 2011/12.
Back to the important stuff, we looked to Argentina for our first WIN? - Errr no, someone called a Taxi but the manager did not get in it!
This time it was our resident columnist Ed Budge to do the England-Argentina Preview - We Lost and the 3rd World Ward almost erupted. This prompted poster Second.row to muse Secondrow's Musings, -- Not happy with this SK88 put pen to paper to reply England Poster SK88's view. Ed somehow managed to do his review....England vs Argentina Match Review
Not a happy camp were we or England for that matter. Then we got this............
England Rugby RFU DE-BRIEF STATEMENT on England vs Argentina match.
"Andy is determined to turn England around to winning ways and his and the squad's focus is on beating South Africa this Saturday."
Hooray for Hollywood we all said but did not really believe it!
Determined to cheer us all up Patrick got cracking on the Rugby World Cup 2007 Pools/ Fixtures - The list is still incomplete as not all the nations taking part have been determined through the qualifying stages. Rugby World Cup 2007 Fixtures our group Pool A .................
| | | | | |
| --- | --- | --- | --- | --- |
| | | | | |
| | | | | |
| | | | | |
| | | | | |
| | | | | |
| | | South Africa v Repechage 2 | | |
| | | | | |
| | | | | |
| | | | | |
| | | | | |
South African beckoned - a young development side, Jake White having left his big guns at home, he also was facing the wrath of the Bulls committee back in SA who were calling for his head.
This time up it was my turn for the match preview and as Andy had gone for seven changes, I hoped it would be a England's Magnificent 7 Preview and of course because I evoked St. George from his 3year slumber - hey woosh we WON! However, it was a dodgy win to be honest. Ed Budge kindly did the match review but we were all far from happy but a win is a win. England v South Africa 1st Test Review.
The following weekend was the 2nd Test against South Africa and Jake White called up the troops one in particular Andre Pretorius and we were doomed Mr. Robinson - Doomed! Our Patrick took on this preview England v SA (2) Preview
(Of course it was all Patrick's fault ,he did not evoke St. George & hey we lost again - bad boy Patrick).
And so to one of the hardest Reviews I have ever done, as I always support the management and players but.......England vs South Africa Review
The knives were out after this loss and it was only a matter of time before Andy Robinson would go. Most fans wanted him sacked there and then others (myself included) would prefer to see him resign. The fateful day came on the ............. 29th November!
England's Head Coach Andy Robinson agreed a package with the RFU and resigned as England Rugby Head Coach today! Whilst many would agree Andy was not very good at selecting a team to win, he was a good coach. Andy Robinson Resigns
And we have a excellent debate going on our message board here why not join in now..........Club vs. Country
Unofficial England Rugby - Message Board