England Rugby February 2007 in Review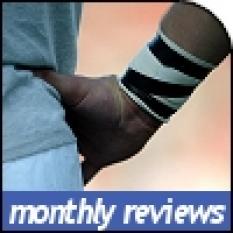 By Kath 5/3/07
March 5 2007
England Rugby February 2007 in Review. What can we say, well we had some highs and lows! Many thought England had turned the corner only to find they hit a rather large green brick wall.
England Rugby February 2007 In Review
At last the RBS Six Nations Tournament 2007 gets underway. Our Elite squad, our Under England 21's, our England Women, and a fairy tale start for England against Scotland. England won the Calcutta Cup on a chilly but perfect day for rugby and delighted the Twickenham crowd. The outcome of this day could not have been scripted any better. It is what tales and legends are made of...... England v Scotland Match Review, England v Italy Match Preview, Ed Budge Previews the match for us and Review by EnglandFan, "I think I'm going to be mildly controversial in my first 'armchair review' here"... England v Italy Review
Patrick Previewed Ireland vs. England at Croke Park in the third round of the 2007 Six Nations, Ireland v Eng Match Preview and Ed Budge reviewed the disaster that was England in Ireland Ireland v England Match Review
And the RBS Six Nations Table as it stands RBS 6n Table 2007
Tickets for England Under-20s' games at the Recreation Ground are available from £8 for adults and £4 for juniors, or £12 for adults and £6 for juniors for a two-match ticket, from 0871 721 1865. England U-20s at Bath
England Women - Our England women will be taking on the Scots this Saturday 3rd February, kick-off 2.30pm at Old Albanians RFC. We wish them the best of luck for the start of the Six Nations Campaign England vs. Scotland Women's 6N and WIN England Rugby Women WIN England Rugby Women continued to make it a bad weekend for the Scots. England Women cruised to opening RBS Six Nations WIN
Picture Sue Day - England Women's Captain
England Sevens Coach - Ben Ryan dedicated to developing winner
The remit for England's new sevens coach Ben Ryan is not straight forward. Should he win as many tournaments in the IRB Sevens as possible and earn England's first series win, or should he concentrate on developing young, inexperienced players and move them along the RFU's elite player pathway? England 7s Coach Ben Ryan, Eng 7s Fixtures USA 2007
Take the day off work - on Monday, 23 April 2007.
Celebrate St. George's Day!
Help us to persuade the government to give England a bank holiday on St George's Day. Take the day off work on Monday, 23 April 2007. If enough of us take a holiday on the same day it will be a powerful message to those in charge.
Click here and pledge to take the day off work! England & St. George
The Matt Hampson Dinner
Saturday 14th April 2007
Crouch and Hold is owned and run by Alan Lamb, former Gloucester Rugby kit manager and supported by England U-21 team mates Ryan Lamb and Anthony Allen. Crouch & Hold incorporates an event management service that benefits the Matt Hampson Trust. Matt is our friend and old England Under 21 team mate. We along with many others in the world of rugby will be running fund raising events throughout the coming year to help raise funds for the Matt Hampson Trust
England's Matt Hampson Dinner to be held at Dean Close School Cheltenham 14th April 2007
England's: Matt Hampson Dinner
Barclays Churchill Cup Venues 2007
England Saxons v. USA at Edgeley Park (Sale) on Friday 18th May (19.45 kick off) www.salesharks.com Ticket Office: 08712 220 120
Ireland A v. Canada at Sandy Park (Exeter) on Saturday 19th May (20.00 kick off) www.exeterchiefs.co.uk Ticket Office: 01392 890890
New Zealand Maori v. Canada at Franklin's Gardens (Northampton) on Friday 25th May (20.00 kick off) www.northamptonsaints.co.uk Ticket Office: 01604 581 000
New Zealand Maori v. Ireland A at Sandy Park (Exeter) on Tuesday 29th May (20.00 kick off) www.exeterchiefs.co.uk Ticket Office: 01392 890890
England Saxons v. Scotland A at Twickenham Stadium on Monday 28th May (15.00 kick off) www.ticketmaster.co.uk Ticketmaster: 0870 902 0000
Barclays Churchill Cup Finals Day at Twickenham Stadium (all six teams, kick offs TBA) on Saturday 2nd June www.ticketmaster.co.uk Ticketmaster: 0870 902 0000
Saxons Churchill Cup 2007 - More information here...
Rugby World Cup Travel Information - Lens,Saint-Denis, Nantes, Paris. Hopefully as useful guide that can be added to with fans tips and experiences. England will be defending their Rugby World Cup title later this year in France and as fans are now starting to look at how to get to the various stadiums, towns, airports and booking accommodation etc., I thought it would be a good idea to start putting together useful travel information. Rugby World Cup 2007 - Much more information here
England Rugby Tickets now on sale via ticketmaster.co.uk - don't miss out! England vs France, England vs Wales summer build up for Rugby World Cup.
England Rugby - Now is your chance to get hold of England Tickets but be quick or you could miss out!
England Rugby Tickets --- Now on Sale ---- Much more information here
And finally the last word from our friends at the East Terrace, we can rely on them to lift our spirits. We all know that the England Media can be fickle? So our good friends The East Terrace have taken them to task. Err anyone for a U-Turn then....Just one month after the English media praised their national rugby team for entering a 'new dawn', the knives have been taken back out of the cupboard and sharpened all over again.
Unofficial England Rugby - Message Board