England Rugby April 2007 in Review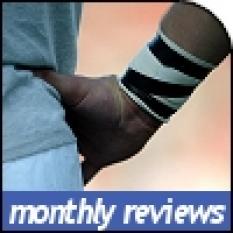 By Kath 4/6/07
June 4 2007
Unofficial England Rugby's Review of April 2007 - At times April felt like we were living in a nightmare with the Club vs. Country row on full throttle but somehow we survived but for how long? Well only time will tell on that question. A look back at April 2007
England Rugby April 2007 In Review
What a month! England Clubs and RFU at logger heads again over the old chestnut of Club v Country/Players and the Heineken Cup boycott. We had statements by everyone and anyone. At times you had to laugh at the ludicrous situation because if you did not you would cry! Amongst it all we had the Sevens bravely going forth.
England Sevens move onto the next round of the IRB 7s 2006/7 tournament to be held in Adelaide 7th and 8th April. England will be looking to improve on their performance having crashed out in the quarter finals of the Hong Kong 7s last weekend. England 7s Fixtures & Results Adelaide 07
Adelaide Oval
The Barclays Churchill Cup information! England - Barclays Churchill Cup Ticket Information and match officials. The England Saxons first match will be against USA, at Edgeley Park (Sale) on Friday 18th May (19.45 kick off) Eng - Barclays Churchill Cup Officials, Ticket Info
At the height of the row over players/clubs v country storm, England Head Coach Brian Ashton announced that no England players involved in the Heineken Cup & European Challenge Cup finals will be involved in either of the two tests in South Africa ASHTON CONFIRMS PLAYERS WHO WON'T TOUR
This was welcomed by all club fans
And then we had the Way Forward Document - which is not really bed time reading and for some fans, well they still felt the RFU were up to no good!
The Rugby Football Union Council today received an update on the Way Forward Consultation Document from the RFU Chief Executive Francis Baron. The first draft of the document was circulated to Council and copies will be distributed to the Game imminently. RFU Council statement
Barney Burnham was doing his bit for Matt Hampson along with other Waspies
Barney Burnham
The stiffness is starting to ease, the blisters have all been popped – some were so gruesome that they were photographed for posterity! – the boots have been thrown into the furthest corner of the loft, and it's time to reflect on five tiring, but uplifting, days which will live long in the memories of all those who were lucky enough to experience them. Wasps Walk for Matt Hampson, Barney's account
All in all, a standard month don't you think (she said winking)!
Unofficial England Rugby - Message Board