England Rugby - May 07 In Review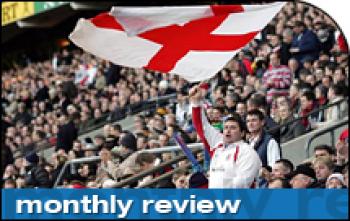 By Kath 5/6/07
June 5 2007
Unofficial England Rugby looks back on May 2007 - In Review. Sevens, Churchill Cup, England Women in Europe & the 1st Test against the Boks in South Africa. Oh and we had the launch of the NEW England Nike Kit. A very busy month indeed lots to cover and we thank the following posters for their input with match Previews /Reviews. Ed Budge, Poyntonshark, Cir Mhor and Oliver C,
England Rugby May 2007 In Review
England Rugby in May - well it was busy! We had the penultimate stage of the IRB Sevens being held at Twickenham on the Bank Holiday weekend. The Barclays Churchill Cup and the England Elite (cough and wink) squad touring in South Africa - along with viruses, altitude and new 'Kit' oh what fun.

Oh and let us not forget the splendid effort of our England Rugby Ladies, who were crowned champions of Europe at the European Championships in Madrid. England Women Champions of Europe

England Sevens - Emirate Airlines London 7s Fixtures and results as they come in 26th/27th May 2007. Tickets still available via Ticketmaster Samoa and New Zealand have looked the pick of the sides on day one of the Emirates Airlines London Sevens at Twickenham. England 7s Fixtures & Results London 2007
Try-scorer Rob Thirlby gets the ball moving against Portugal
Plus the full squad announcement for both London and the final round at Edinburgh at Murrayfield.England 7s Squad for London & Scotland.
The England Saxons training squad for the opening match of the Barclays Churchill Cup went into camp at Sale. The 27 man squad were reduced to the match day 22 on Wednesday 16 May when the team and captain for the opening match against USA at Edgeley Park, Sale. England Saxons Training Squad for Edgley Park, England Saxons - Hatley to captain against USA, England Saxons Win at Edgley Park against USA,
Match Preview by Cir Mhor England Saxons v Scotland A
and the Match Review by Oliver C England Saxons v Scotland A - Match Review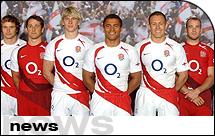 Nike have released information on the new England Rugby kit for the 2007-onwards season. Visually, the new kit is strikingly different; incorporating an asymmetric sash at a diagonal running across the front of the jersey and shorts creating a unique version of the St. George's Cross. A new red away jersey is also being introduced for the first time. New England Nike Rugby Kit
Here we go England's Summer Tour of sorts? The first of two tests against the Spring Boks and our regular writer Ed Budge led from the front with the first Match Preview and Review South Africa v England - 1st Test - Match Preview,
South Africa v England - 1st Test - Match Review
Unofficial England Rugby - Message Board