England Rugby February 2008 in Review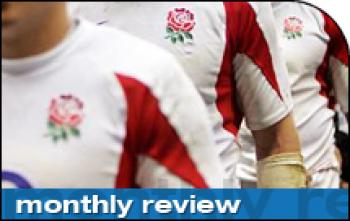 By Kath
February 29 2008
England Rugby February, 2008 in Review - The start of this year's RBS Six Nations, The Saxons, U20s, Students, Women, Sevens. A very busy month and once again a Big Thank You to all our posters who have taken on the task of Match Previews and Reviews.
England Rugby February 2008 In Review
England and a leap year? It seemed like England's Elite Team were not just leaping but rolling from good performance to abysmal performance during this year's RBS Six Nations Championship.
One half they were very, very good and the next half they were very, very bad! Calls for the young guns to replace the old, you know the usual stuff. I can't say it was exciting stuff, more like nerve racking to be honest.
First up in the Six Nations Championship, England faced the Welsh Dragon, a game England had won in the first half but could not close out and the demon Red Dragon came back to haunt Twickenham for their first win in 20 years.
Blimey don't Dragons sleep for a long time! Roll on the next 20 years!
Six Nations England v Wales Preview by PoyntonShark, & Match Review
Next up was Italy and I think like most fans, I was a bit nervous for this match after watching England fall apart in the second half against the Welsh. Away from home in the city of Gladiators - Rome filled me with trepidation. The match itself was again a wobbly affair at times and if the Italians had just held the ball a bit more - Phew! We won!
Six Nations-Italy v England Match Preview by Patrick and Match Review
And then the BIG one, again away from home at the Stade de France against the mercurial Les Bleus! I predicted a loss in this match, I could not see England winning the way they had been playing. During the lead up to the match we had Head Coach Ashton making all sorts of noises - Player's careers on the line etc., etc., So the England players entered Stade de France knowing exactly what they had to do, BIG games were being expected of certain individuals. What a match, a great performance by England and for the full 80 mins. A fantastic win, one I did not expect.

6N France v England Match Preview and Match Review by Ed Budge
Six Nations Table 2008as it stands at the end of February and the remaining England Six Nations Fixtures 2008
England are in with a chance of winning the Calcutta Cup and also the Championship, that is if Wales slip up! The Triple Crown will be go to either Wales or Ireland this year.
England Representative honours all around this month:
Full Report Italy A 15 v England Saxons 38
England Saxons recorded the second win of their campaign when they completed an emphatic five-try win over Italy A in Ragusa. Harlequins fly-half Adrian Jarvis produced an impressive Man of the Match performance which embraced a confident all-round display and a flawless kicking exhibition which brought him a 13-point tally from five conversions and a penalty. While Jarvis was in fine form in the pivotal role, this was by no means a one-man effort, as
Head Coach Steve Bates was keen to point out.
I was very pleased with the way the whole team performed, especially bearing in mind that the side showed a number of changes to the line-up that beat Ireland in our opening game and had only a brief period to get to know each other." He said: "Every one of them can be very proud of their performance. "We dominated the first-half, but Italy were still very much in contention at the break. "But in the second-half the players did exactly what was asked of them and that response enabled us to gain control with four tries."
Italy U20 13 v England U20 22 - Full Report here:
Alex Corbisiero set England on the way to victory with a try in the land of his forefathers at the Stadio Sciorba in Genoa. Corbisiero's grandfather left Naples for America in the middle of the last century and the London Irish prop made sure his homecoming was a happy one by smashing his way over from close range in the first half of a hard-earned Six Nations victory.
England Student Team for France Setback for Students in Tournon France Students 45 England 9, France took revenge for last season's double defeat against England Students by running in seven tries against the visitors at Tournon-sur-Rhone. Match Report here
England Sevens - Went to San Diego, California USA for the next round of the IRB World Series. After a below par performance in New Zealand only just managing to win the Bowl Final, England will be looking for a much better round in the USA
England 7s Fixtures & Results - USA 2008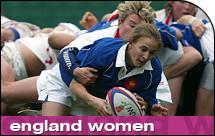 England Women's Team Announced to face Italy on Saturday February 9th Italy v England, Stadio Tre Fontane, Rome, KO 230pm local time. Captain Catherine Spencer said:- England Women cannot rest on their laurels for Italy clash. England won their first game of this year's championship 55-0
England Women's Team to face Italy
Dr. T Says......... I don't think I've ever seen Women's rugby before so, accompanied by all the obvious prejudices, I went along to Sunbury interested to see what it was like. Despite it being an international, the atmosphere was a throwback to days gone by. Ticket sales were from a table near the gate, the programme was only one pound and we weren't assailed by hordes of people trying to sell us stuff!
England Women beat Wales in Six Nations Opener
The England Women's team to take on France in the RBS 6 Nations championship this Saturday in Bergerac, kick off 3pm GMT, has today (Monday) been announced. Blaydon prop Katy Storie, Wasps lock Joanna McGilchrist and Darlington Mowden Park Sharks fly-half Katy McLean all return to the starting line-up England Women's Team for France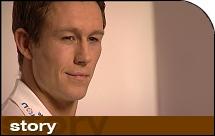 England's Jonny Wilkinson Exclusive Photo shoot footage::
Unofficial England are delighted to be able to give you exclusive Video footage of a recent interview with Jonny prior to the RBS Six Nations - he talks of striking a balance between experience and youth in a squad and much more.
Unofficial England Rugby - Message Board
View a Printer Friendly version of this Story.
England Rugby February 2008 in Review
Unofficial England Rugby Union (IP Logged)
01/03/2008 10:12
England Rugby February 2008 in Review
Sorry, only registered users may post in this forum.