ENGLAND RUGBY
AUGUST 2008: IN REVIEW
---
First up we have a report on the upcoming and highly anticipated Help for Heroes Rugby challenge match. We will see the great turn out in Help for Heroes shirts; Dallaglio, Johnson, Gibbs, Greenwood, Lomu, Phil de Glanville, Ieuan Evans and many more, as well as the stars from the three services and other top players. It will be a great day and, here is the point of this, if we can fill HQ, that is 82,000 seats, we can make £1Million for H4H and that will all go to the wounded.
This is not just a rugby match, this is a chance for 82,000 people to get into Twickenham and cheer on our blokes... Any sportsman or sportswoman can understand what it is like to be at the top of their game and then to get injured; just imagine what it must be like to have your leg blown off while going to rescue your mate. This is about fit young people who are volunteering to serve their country and whose lives are changed while doing so. These blokes, these men and women, are the real heroes.
Let's fill Twickenham on 20th September and show them that we really care.'
Lawrence Dallaglio
---
Next up O2 renews it's sponsorship to England rugby with a new 4 year contract:
The £4 million per season deal was revealed at Twickenham Stadium by England Team Manager and former captain Martin Johnson, and O2 CEO Ronan Dunne. The deal will run until August 2012, taking the partnership beyond the 2011 Rugby World Cup in New Zealand, and for the first time O2 will also sponsor the England women's rugby team, who are the current European Champions as well as being the RBS 6 Nations champions three years running.
---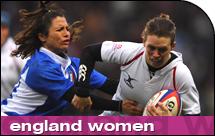 Great news for England rugby supporters as the Women's team added the Nations Cup crown to their already bulging silverware cabinet this season after a hard fought 43-9 victory against Canada on Sunday at Esher RFC.
England ran in seven tries with Clifton full-back Danielle Waterman and Henley prop Rochelle Clark grabbing braces of tries. The victory secures England the title after a thrilling 17-14 win over the USA on Friday evening.

England Head Coach Gary Street said: "I am immensely proud of the players. To come through three games in six days and win a tournament is a fantastic achievement. This tournament win is about all 30 of our squad players, because all of them have played a massive part in our success.

"Today's game was tough, but the second-half especially highlighted everything we have been working towards over the last 12 months. The players demonstrated their determination and passion and I'm delighted for them."
Match Schedule:
England v USA, August 19th at Esher RFC, KO 7pm WON 50-3
England v USA August 22nd at Esher RFC Nations Cup, KO 7pm WON 17-14
England v Canada August 24th at Esher RFC Nations Cup, KO 5pm WON 43-9

---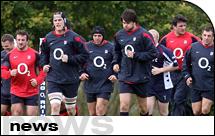 England Rugby put on a public training session at Twickenham this month, giving supporters of all ages an opportunity to watch Martin Johnson's brand new Senior and Saxons squads in action, as well as collect autographs from a 1 hour long autograph session afterwards! A fun day for all, and it was good to see some old and new faces in action in an England shirt like Harry Ellis, Riki Flutey and Josh Lewsey.
---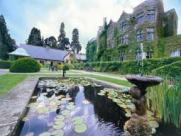 Martin Johnson has announced that the England training base will depart from Bath University and return to their base camp during the Clive Woodward Era, of Pennyhill Park.
The five-star venue in Bagshot, Surrey - complete with its own recently resurfaced rugby pitch - will host the senior team until the end of the 2011-12 season.

After spells at Loughborough University, Bisham Abbey and latterly the University of Bath, England now have a long-term home, starting ahead of November's Investec Challenge series against the Pacific Islands, Australia, South Africa and New Zealand.

England are returning to the hotel they used before the 2003 Rugby World Cup and Team Manager Martin Johnson is delighted with the new agreement with Exclusive Hotels.

"Pennyhill ticks all the right boxes – a resurfaced pitch, good size bedrooms and meeting rooms, great training and recovery facilities, including a swimming pool, and it can accommodate the number of players we will have," said Johnson.

"It's also in the right location – near Twickenham for home games and Heathrow and other local airports so we can fly out for away matches easily enough."

---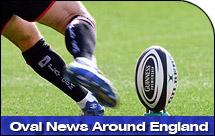 The Women's Rugby Nomads arrived back in the UK from their South African Tour, with a double victory under their belts. "This was a fantastic tour for us and let us showcase the Women's game. We were delighted to be invited and the SARU looked after us really well" said Fiona Stockley, Nomads team manager.
16/8/08, Newlands, Cape Town, SA
South Africa Women 0 – 29 Nomads

9/8/08, Ellis Park, Johannesburg, SA
South Africa Women 34 – 40 Nomads

Photo copyright of Steve Hagg of BackPageSport.com
Background to the Nomads:

The Nomads are an invitation women's XV, who fulfil high profile fixtures regularly against England A and the Home Nations and other international touring sides.

The Nomad select side started life as a Premiership All Stars XV who played against England A when there were insufficient teams from the Five Nations to provide regular opposition. Since then the full England Women's XV regularly play the same teams as the Men's International Six Nations, save that Spain are the sixth country and not Italy.
---

And finally, Twickenham raises the Olympic Flag
Twickenham Stadium this weekend joined hundreds of other towns and cities across the UK to celebrate the handover of the Olympic flag to London.
At 2.30pm on Sunday, the London 2012 flag was raised above the Home of England Rugby to mark the handover of the Olympic Flag to the Mayor of London Boris Johnson during the closing ceremony of the Beijing Games.
Boris Johnson who featured last week in the BBC programme 'Who do you think you are?' has traced his ancestry back to be a direct descendant of King George II although illegitimately. And due to this fact he is related to nearly every Royal House in Europe.
---
Unofficial England Rugby - Message Board