England Rugby May 2010 in Review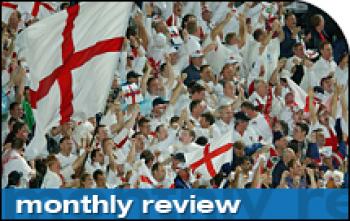 By Kath
June 15 2010
England Rugby May 2010 in Review. Lots going on this month squad announcements for summer tours, Women's Rugby World Cup pools plus much more
England Rugby May 2010 - In Review
England Rugby May 2010: Well we kicked off the month with the Army v Navy Match at Twickenham and our Patrick was there pitch side taking some super photos, check them out in the article below. Rugby Schedules for the Summer. The England Women's Rugby World Cup 2010 squad was announced. England 7s completed this IRB Series in London and Edinburgh results listed below. Lots going on this month...England Elite, Saxons U20s and Counties, Touring Squad announcements. We had Lewis Moody showing us how to tackle, England v Barbarians, Tribute songs, St. George's Flags, Raging Bull menswear deals ............it was endless in May and looks like June is to be the same.
A record crowd of over 56,000 witnessed a game of passion, commitment and courage at Twickenham yesterday as the Royal Navy stopped an Army team looking for its 9th successive win, by coming out on top at the final whistle, with a score of 22-24 to the Navy. Army 22 - 24 Navy - In Pictures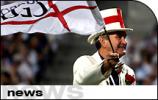 England Rugby 2010 – Schedules, Fixtures & TV Coverage.
I hope you all find this useful and maybe print it off to keep handy.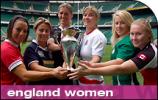 England Women's Head Coach Gary Street has named the squad which he hopes can win the Women's Rugby World Cup 2010 (WRWC) on home soil this summer. England Women's Rugby Squad Announced for RWC 2010 London
England Women Rugby World Cup Pools and Fixtures Aug/Sep2010 For Women's Rugby World Cup 2010 tickets visit: .... http://www.ticketmaster.co.uk/WomensRugbyWorldCup or telephone: 0844 844 2010.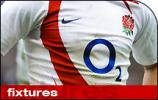 England confirmed details for all summer tours until 2018 "This is an exciting and ground breaking schedule for all of the participating unions," said Andrew. "There are no midweek games scheduled for England's summer tours as this will be determined by the respective host union and the RFU in partnership with PRL and the RPA. "But as in this summer's tour to Australia and New Zealand, it's a concept we would be interested in discussing if all the relevant parties supported the idea."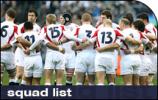 England Rugby Elite & Saxon Squads 2010
England U20s Squad/Fixtures 2010 Argentina Junior Championships England U20s Head Coach Mark Mapletoft has named his 26 man squad for the tournament in Argentina this June.
Players from 12 different Counties and 20 different clubs are involved in one of the most diverse groupings ever to represent the Counties XV. England Counties Squad Named for Canada 2010

England Select XV v Barbarians 30/5/2010 Team Line Ups
England took on the might of the Barbarians prior to their Summer Tour of New Zealand/Australia and the Saxons Challenge in the USA. This match was not a test match so no caps were awarded.. Once again our Patrick was pitch side at Twickenham and got us these fantastic photos. England v Barbarians - In Pictures
Match Report England hold off second half fight back to beat Barbarians
All photos copyright Patrick Khachfe - full set here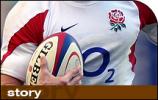 Sky+HD filmed a stunning full force rugby tackle by Leicester Tigers and England flanker, Lewis Moody, in detailed high definition from the unique viewpoint of the opponent. The footage can be viewed from Friday 21 May on Sky Anytime - the video below will give a taster of the full clip.
Experience getting tackled by Lewis Moody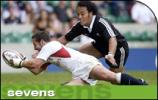 LONDON: More than 30,000 tickets had been sold for the event with fans being encouraged to dress as their favourite superheroes to break the Guinness World Record for the 'Largest Gathering of Superheroes' on the finals day. Last year the won at Twickenham this year they lost out to the Australians. England Rugby 7s London - 2010 Results
EDINBURGH: England 7s managed to get to the Semi Finals but were beaten by Samoa, who went onto win the in the Final and be crowned 2009/10 Series Champions. England Sevens Fixtures 2010 - IRB Final Series Scotland
But if you fancy a bit more Sevens action and are off to Italy this year for your hols then why not check out The Beach Rugby Festival at Bibione, 10/11th July. The perfect combination of fun in the sun and after the sun goes down and sports.
Rugby Sevens - Italy Bibione 10th/11th July 2010

England Sport to come in June ......Phew it is going to be Hot, Hot, Hot!.......We suggest you get the beers in now folks, as we are all going to be glued to the television. Look at the line up below, so we thought we would bring you news of this England St. George's Flag offer of £2.99 + pp. England St. George's Flags
Bristol Bellowers record 'God Save the Rugby Legends' with the Grammar School Choir, we had to go for it. While we are releasing the Football version for the World Cup, we thought that you and all at Unofficial England Rugby would love to sing along to the Rugby version...you already know the tune, and we're sure you'll know the lyrics! England Rugby -Our Tribute Song - God Save the Rugby Legends
We're pleased to help promote Raging Bull's new Buy One Get One Half Price offer on all leasure products as well as their new Touchline Sportswear range. New deals and sportswear range at Raging Bull
and not forgetting the Walk4Matt 2010
Day 7
The troops assembled at lunchtime, in the bar of the Holiday Inn, Brentford. A walk of around three-quarters of an hour took us to the White Cross, Richmond, where a TV crew was waiting to film material, and we were joined by the staff of the Rugby Players' Association. A few pints, and a twenty-minute walk later, everybody was ensconsced at journey's end, the Barmy Arms, where further TV footage was recorded.

Unofficial England Rugby Message Board
View a Printer Friendly version of this Story.
England Rugby May 2010 in Review
Unofficial England Rugby Union (IP Logged)
15/06/2010 10:48
What do you think? You can have your say by posting below.
If you do not already have an account
Click here to Register
.
Sorry, only registered users may post in this forum.