Wales 19 vs England 26 Match Thoughts Review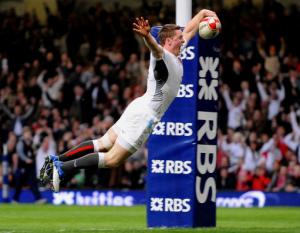 By Kath
February 5 2011
England got off to a brilliant start last night with a win for the first time in eight years at the Millennium Stadium but my nerves are already shattered
RBS Six Nations Opener 2011
England v Wales
Millennium Stadium - Friday Night 4th February 2011
England ran out onto the Millennium Stadium turf for the first time on a Friday night for rugby. Regardless if you agree as a fan, it looks like Friday night rugby is here to stay. I personally found it very odd, to me England vs. Whoever?.... should be a Saturday afternoon with a kick off at 2.30 pm but perhaps this shows my age and the fact that I like traditions.
The match itself for me was exhausting, I have never felt so tense, right from the kick off. The expectations this Six Nations for England are a top two finish, maybe that pressure as a fan weighed into my subconscious but at times my inside was churning.
Overall England were the better side but they still (as individual players) they give crucial penalties away. In the first few minutes England could have been down by 6 points but they were only saved by poor penalty kicking from Wales. However, England's forwards gave a strong platform, Palmer and new cap Tom Wood at the forefront of the action.
England's Toby Flood in action against Wales - Picture Empics
11 minutes in Flood in Wales 22 saw a gap and waltzed straight through, off loaded to Ashton and we had a wonderful Swallow Try, his celebration was joyous to watch.
Chris Ashton scores the first try for England against Wales - Picture Empics
As the first half match progressed I started to feel more comfortable especially after this first try. England looked very good at times and certainly worthy of the No1 favourites for the tournament.
However, the penalties, turnovers sin bin etc., need to be worked on and as Jonno said after the match "they would celebrate that night but on Monday the rollicking will be handed out" I also felt the Ref., was a bit harsh at times but each team has to work with the ref., so I suppose England only have themselves to blame for their transgressions.........sometimes I may add right in front of the ref., or linesman, which is just crazy.
Ashton scored two tries, Flood kicked 13 points, Jonny Wilkinson (remember him?) 3 points. However, the tension I was feeling would not go away it was rising with every ebb and flow back and forth and at one point I could not watch one the penalty kick by Wilkinson when he came on. Crazy I know but I was so wound up in this match my insides were making me feel quite sick.
Wales did have their moments, Stoddart claimed a second-half try, while Jones converted and added three penalties, Wales have now gone eight Tests without a win. One could say that have big problems but I reckon they will bounce back.

Flood was named Man of the match Flood he said: "It's going to be tough. We've got one tough win and we can carry on and build next week against a tough Italian side. What we can't do is ease off the gas like we did in the autumn.

"A lot of us have been here before and been unsuccessful, so we knew what was coming. We knew what we had to do to achieve this, and we did that."

Two-try hero Ashton added: "We did well and we could have taken more chances but we took most of the chances that came and that's what we have to do to win games like this."
So onwards an upwards as they say but with less penalties please England so that my beating heart can be stable and I can watch the game in comfort not on the edge of my seat.
View a Printer Friendly version of this Story.
Wales 19 vs England 26 Match Thoughts Review
Unofficial England Rugby Union (IP Logged)
05/02/2011 10:19
What do you think? You can have your say by posting below.
If you do not already have an account
Click here to Register
.
Sorry, only registered users may post in this forum.