England Women's team to face New Zealand 2016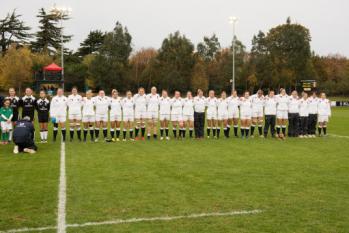 By K
November 17 2016
Katy Mclean and Emily Scarratt will win their 80th and 60th caps respectively for England Women in Saturday's second game of the Old Mutual Wealth Series against New Zealand at Twickenham Stoop (kick-off midday).
Rochelle Clark will also look to come off the bench for her 116th international appearance to become the world's most capped women's player. However, they face a tougher challenge on Saturday when they take on the world's number one side, fresh from a convincing 2-0 series win against Australia.
"We expect a tough Test against the Black Ferns, as the world's number one side." "This series is about building on our performances and developing as a squad," said England Women head coach Simon Middleton.
"We expect a tough Test against the Black Ferns, as the world's number one side. "We have two tough games under our belts where we have had the opportunity to test our resilience and the strength and depth of our squad. We look forward to bringing Emily Scarratt and Lydia Thompson back into the starting 15 and having the support of a home crowd.
"We encourage anyone coming down to Twickenham on Saturday to pop over to the Stoop for 12pm to get behind the Red Roses."
The sides have met just once this World Cup cycle, in July 2015 when the Black Ferns came away with a 26-7 victory. The final Test of the Old Mutual Wealth Series sees the Red Roses take on Canada on 26 November at Twickenham, KO 5.05pm.
For Clark the game is a chance to make history. Having become England's most capped international on Sunday against Ireland, surpassing former prop Jason Leonard's record, she can now overtake the women's record set by her club coach Donna Kennedy for Scotland.
England: 15 Danielle Waterman (Bristol, 62 caps), 14 Lydia Thompson (Worcester Valkyries, 25 caps), 13 Emily Scarratt (Lichfield, 59 caps), 12 Rachael Burford (Aylesford Bulls, 58 caps), 11 Fiona Pocock (Aylesford Bulls, 31 caps), 10 Katy Mclean (Darlington Mowden Park Sharks, 79 caps), 9 Natasha Hunt (Lichfield, 31 caps), 1 Vickii Cornborough (Aylesford Bulls, 19 caps), 2 Amy Cokayne (Lichfield, 18 caps), 3 Laura Keates (Worcester Valkyries, 54 caps), 4 Tamara Taylor (Darlington Mowden Park Sharks, 96 caps), 5 Harriet Millar-Mills (Lichfield, 36 caps), 6 Izzy Noel-Smith (Bristol, 22 caps), 7 Marlie Packer (Bristol, 38 caps), 8 Sarah Hunter (Bristol, 83 caps) (Captain).
Replacements:
16 Emma Croker (Richmond, 63 caps), 17 Rochelle Clark (Worcester Valkyries, 115 caps), 18 Justine Lucas (Lichfield, 13 caps), 19 Poppy Cleall (Bristol, 5 caps), 20 Vicky Fleetwood (Saracens, 53 caps), 21 La Toya Mason (Darlington Mowden Park Sharks, 58 caps), 22 Emily Scott (Saracens, 14 caps), 23 Claire Allan (Saracens, 34 caps).
Old Mutual Wealth Series
England 10 - 5 France
Wednesday 9 November - Twickenham Stoop
-----------
England 12 - 10 Ireland
Sunday 13 November - Ireland
--------
England v New Zealand, Saturday 19 November
Twickenham Stoop, KO 12pm
----------------
England v Canada, Saturday 26 November
Twickenham, KO 5.05pm
FREE entry after the conclusion of the men's game