England Women's team to take on France 2018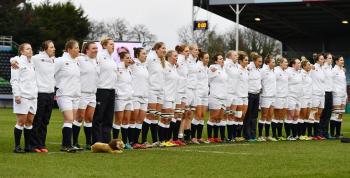 By HQ
March 8 2018
England Women head coach Simon Middleton has named his starting 15 ahead of the Red Roses' Six Nations Test against France on Saturday 10th March (K.O. 20:00 GMT, live Sky Sports Main Event and Sky Sports Mix). Middleton makes seven changes, two positional, to the side that defeated Scotland 43-8 at the Scotstoun in Glasgow.
Captain Sarah Hunter (Loughborough Lightning) and Rachael Burford (Harlequins Ladies) both return to the starting line up from injury at No 8 and outside centre respectively.

In the backline Ellie Kildunne (Gloucester Hartpury) starts at full back with Wasps duo Danielle Waterman - who scored two tries against Scotland - and Abigail Dow on the wings.

Amber Reed (Bristol Ladies) starts at inside centre and Leanne Riley (Harlequins Ladies) and Katy Daley-Mclean (Darlington Mowden Park Sharks) again start at nine and ten.

The front five remain unchanged with Vickii Cornborough (Harlequins Ladies), Amy Cokayne (Wasps FC) – who earns her 40th cap - and Sarah Bern (Gloucester-Hartpury) in the front row. Abbie Scott (Harlequins Ladies) and Tamara Taylor (Darlington Mowden Park Sharks) again make up the second row.

In the back row Poppy Cleall (Saracens Women) moves to blindside flanker and is joined by Saracens team mate Marlie Packer at openside flanker.

World Cup finalists Rochelle Clark (Wasps FC), Justine Lucas (Wasps FC) and Izzy Noel- Smith (Bristol Ladies) are named on the bench alongside Lark Davies (Worcester Valkyries), Caity Mattinson (Bristol Ladies) and Rowena Burnfield (Richmond FC). Lagi Tuima (Bristol Ladies) and Charlotte Pearce (Loughborough Lightning) - who both scored tries against Scotland - are also named as finishers.


Simon Middleton said "France are a dangerous side, they are physical and well organised in both attack and defence.

"The squad have worked hard this week, prepared really well and we are ready and excited to take on France, in what we know will be a really tough Test game at the Stade des Alps on Saturday night."


The Red Roses last faced France in the semi-final of the Women's Rugby World Cup, securing a 20-3 win at the Kingspan Stadium in Belfast.


England Women match-day 23 v France, Six Nations 2018

15. Ellie Kildunne (Gloucester-Hartpury, 6 caps)
14. Abigail Dow (Wasps FC Ladies, 4 caps)
13. Rachael Burford (Harlequins Ladies, 77 caps)
12. Amber Reed (Bristol Ladies, 47 caps)
11. Danielle Waterman (Wasps FC Ladies, 80 caps)
10. Katy Daley-Mclean (Darlington Mowden Park Sharks, 97 caps)
9. Leanne Riley (Harlequins Ladies, 19 caps)

1. Vickii Cornborough (Harlequins Ladies, 37 caps)
2. Amy Cokayne (Wasps FC Ladies, 39 caps)
3. Sarah Bern (Gloucester Hartpury, 18 caps)
4. Abbie Scott (Harlequins Ladies, 27 caps)
5. Tamara Taylor (Darlington Mowden Park Sharks, 114 caps)
6. Poppy Cleall (Saracens Women, 20 caps)
7. Marlie Packer (Saracens Women, 57 caps)
8. Sarah Hunter (Loughborough Lightning, 103 caps)

16. Lark Davies (Worcester Valkyries, 9 caps)
17. Rochelle Clark (Wasps FC Ladies, 135 caps)
18. Justine Lucas (Wasps FC Ladies, 31 caps)
19. Rowena Burnfield (Richmond F.C, 45 caps)
20. Izzy Noel-Smith (Bristol Ladies, 41 caps)
21. Caity Mattinson (Bristol Ladies, 6 caps)
22. Lagi Tuima (Bristol Ladies, 4 caps)
23. Charlotte Pearce (Loughborough Lightning, 3 caps)


England Women Six Nations 2018 playing schedule and results:

Italy 7 – 42 England
Tries: Bern, Cleall, Hunter (3), Kildunne, Dow
Cons: Daley- Mclean (2)
Pens: Daley-Mclean

England 52 – 0 Wales
Tries: Cleall (2), Dow, Riley, Kildunne (2), Burford, Packer
Cons: Daley-Mclean (5)

Scotland 8 - 43 England
Tries: Waterman (2), Bern, Pearce (2), Kildunne, Tuima
Cons: Daley-Mclean (4)

France v England
Saturday 10 March, KO 20:00 GMT, Live Sky Sports Main Event and Sky Sports Mix
Stade des Alpes, Grenoble

England v Ireland
Friday 16 March, KO 17:30, Live Sky Sports Action and Sky Sports Mix
Ricoh Arena, Coventry