England Women's team to take on Ireland 2018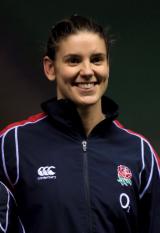 By HQ
March 15 2018
England Women head coach Simon Middleton has named his starting 15 ahead of the Red Roses' final Six Nations Test against Ireland on Friday 16th March at the Ricoh Arena, Coventry (K.O. 17:30 GMT, live Sky Sports Action and Sky Sports Mix).


Middleton makes six changes, two positional, to the starting 15 side that were defeated by France 17-18 in Stade des Alpes on Saturday night.

In the backline Ellie Kildunne (Gloucester Hartpury) starts at full back with Danielle Waterman (Wasps FC) and Kelly Smith (Gloucester- Hartpury) - who earned her first international cap against Scotland - on the wings. Rachael Burford (Harlequins Ladies) moves to inside centre and Lagi Tuima (Bristol Ladies) – who scored her first international try against Scotland- is named at outside centre, to form the centre partnership.

Katy Daley-Mclean (Darlington Mowden Park Sharks) again starts at fly half, with Caity Mattinson (Bristol Ladies) – who earns her first start in the Six Nations –at scrum half. The front row remains unchanged with Vickii Cornborough (Harlequins Ladies), Amy Cokayne (Wasps FC) – who scored a try against France last Saturday - and Sarah Bern (Gloucester-Hartpury) starting again.

Poppy Cleall (Saracens Women) moves into the second row alongside Abbie Scott (Harlequins Ladies).

In the back row Rowena Burnfield (Richmond FC) starts at blindside flanker alongside Marlie Packer (Saracens Women) at openside flanker. Sarah Hunter (Loughborough Lightning) Captains the side from No.8.

Three new players are included in the bench, Shaunagh Brown (Harlequins Ladies) – who is set to make her first Six Nations appearance- along with Zoe Harrison (Saracens Women) and Cath O'Donnell (Loughborough Lightning) who both featured in Six Nations games against Italy and Scotland respectively.

Lark Davies (Worcester Valkyries), Rochelle Clark (Wasps FC), Justine Lucas (Wasps FC), Leanne Riley (Harlequins Ladies) and Amber Reed (Bristol Ladies) are also named as finishers.

Simon Middleton said "We fully expect the game against Ireland to be a tough, yet exciting encounter, they are a dangerous side, who will be looking to bounce back after their defeat by Scotland last week. We are really looking forward to playing them at the Ricoh on Friday night in front of a bumper crowd.

"We have made changes across the starting 15, with new combinations in the forwards and the backs. We have depth in the EPS squad and are confident that the players coming in will relish the opportunity to showcase their talents in the Six Nations, one of the flagship competitions in the women's game."

Middleton added "We are determined to come away with the win on Friday night."

Abigail Dow (Wasps FC) was unavailable for selection after being ruled out with concussion, post-game on Saturday night.

The Red Roses last faced Ireland in the 2017 Six Nations at Donnybrook Stadium where they secured a 7-34 win.


England Women match-day 23 v Ireland, Six Nations 2018

15. Ellie Kildunne (Gloucester-Hartpury, 7 caps)
14. Kelly Smith (Gloucester-Hartpury, 1 cap)
13. Lagi Tuima (Bristol Ladies, 4 caps)
12. Rachael Burford (Harlequins Ladies, 78 caps)
11. Danielle Waterman (Wasps FC Ladies, 81 caps)
10. Katy Daley-Mclean (Darlington Mowden Park Sharks, 98 caps)
9. Caity Mattinson (Bristol Ladies, 6 caps)

1. Vickii Cornborough (Harlequins Ladies, 38 caps)
2. Amy Cokayne (Wasps FC Ladies, 40 caps)
3. Sarah Bern (Gloucester Hartpury, 19 caps)
4. Abbie Scott (Harlequins Ladies, 28 caps)
5. Poppy Cleall (Saracens Women, 21 caps)
6. Rowena Burnfield (Richmond F.C, 46 caps)
7. Marlie Packer (Saracens Women, 58 caps)
8. Sarah Hunter (Loughborough Lightning, 104 caps)

16. Lark Davies (Worcester Valkyries, 9 caps)
17. Rochelle Clark (Wasps FC Ladies, 136 caps)
18. Justine Lucas (Wasps FC Ladies, 32 caps)
19. Cath O'Donnell (Loughborough Lightning, 3 caps)
20. Shaunagh Brown (Harlequins Ladies, 1 cap)
21. Leanne Riley (Harlequins Ladies, 20 caps)
22. Zoe Harrison (Saracens Women, 4 caps)
23. Amber Reed (Bristol Ladies, 48 caps)


England Women Six Nations 2018 playing schedule and results:

Italy 7 – 42 England
Tries: Bern, Cleall, Hunter (3), Kildunne, Dow
Cons: Daley- Mclean (2)
Pens: Daley-Mclean

England 52 – 0 Wales
Tries: Cleall (2), Dow, Riley, Kildunne (2), Burford, Packer
Cons: Daley-Mclean (5)

Scotland 8 - 43 England
Tries: Waterman (2), Bern, Pearce (2), Kildunne, Tuima
Cons: Daley-Mclean (4)

France 18 – 17 England
Tries: Dow, Cokayne
Cons: Katy Daley-Mclean (2)
Pens: Katy Daley-Mclean

England v Ireland
Friday 16 March, KO 17:30, Live Sky Sports Action and Sky Sports Mix
Ricoh Arena, Coventry