England Women's Development -Tour of South Africa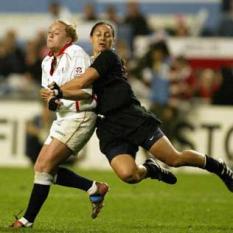 McCormack in Action!
By LucyB
February 3 2004
LucyB has provided us with a great insight into the England Women's Development squad! Not only do they play rugby but they go on Safari but boogie boarding as well, (what on earth is that i wonder?).....
England Women's Development Tour of South Africa
Ok so I hear you asking who the development squad are, well they are the young ladies who are on the verge of cracking into the full squad! They also include 3 members of the very successful sevens squad that were runners up in the women's Hong Kong sevens.  
The Development squad were enduring a three match tour and to kick it off they were up against the Blue bulls at the Loftus Verseld stadium. They made a fantastic start by Kim Oliver scoring within the first 5 minutes but this came at a cost of injury and meant a reshuffle of the backs with Mc McCormack to 10 and Barras to 15. But this wasn't going to upset them to much with England 22-8 up at half time.
By full time England had moved on to 37 with the final score being 37-8 with the scoring coming from tries from Oliver, Taylor, Purdy, Vetch and McCormack(2)-making 2 conversations and a penalty.
Team
1 Vanessa Gray(Wasps) 2 Selena Rudge(Richmond) 3 Claire Purdy(Wasps) 4 Rachel Vickers (Richmond) 5 Natalie Binstead (Ripon) 6 Jaine Lock (Worcester) 7 Heather Fisher (Clifton) 8 Tamara Taylor(Novocastrians) 9 Amy Turner(Wasps)10 Kim Oliver(Clifton) 11 Sam Spence(Thirsk) 12 Rachael Burford(Medway) 13 Shauna Vetch(Wasps) 14 Charlotte Barras(Litchfield)15 Vicky McCormack(Litchfield) 16 Charlotte Keys(Worcester) 17 Katie Storey(Novocastrians)18 Hannah Dawson(Thirsk) 19 Rachael Stribling(Richmond) 20 Jane Leonard(Ripon) 21 Louisa Seymour(Wasps)
Replacements
Leonard replaced Oliver (15mins), Storey for Gary (45), Dawson for Purdy (45), Stribling for Taylor (55), Keys for Rudge (55), and Seymour for Turner (67)
On this performance this is what the England performance director Carol Isherwood had to say.   "The reshuffle early in the game was disruptive but there was some excellent rugby played England. The Bulls were a useful outfit, very powerful and strong in contact, but less experienced at this level of rugby, although they are the strongest provincial side and have seven players in the Presidents XV."
Ok onto the riot that was England 95 Natal sharks 0(half time 49-0)
Unlike their male counterparts the sharks team is a relatively inexperienced team and this was more of a learning curve for them as to see how rugby can be played at a higher level.
England were able to run riot and play flowing open play rugby and maintain there shape even though the lack of opposition. They ran in 13 tries by the end of the match which was cut short due to injury to Natal players so the match was only 66 minutes long so what would have been the score if they had played the full 80? The points' coming from 5 tries from Shauna Vetch(captain), another 3 from McCormack who was top scorer from the opening match. The others came from Amber Penrith (2), missing from the bulls game due to food poisoning, Tamara Taylor (2) and Jane Leonard (1).  There was also the impressive kicking from Seymour who kicked 10 conversions all this from playing her first game at scrum half.
1. Hannah Dawson (Thirsk) 2CharlotteKeys (Vice Captain) (Worcester) 3Katy Storie(Novocastrians) 4.Rachel Vickers(Richmond) 5.Natalie Binstead(Ripon) 6.Rachel Stribling(Richmond) 7.Jane Leonard(Ripon) 8.Tamara Taylor(Novocastrians) 9.Louisa Seymour(Wasps) 10.Vicky McCormack(Lichfield) 11.Amber Penrith(Worcester) 12.Rachel Burford(Medway) 13.Shauna Vetch (Captain)(Wasps) 14.Sam Spence(Thirsk) 15.Charlotte Barras(Lichfield) 16.Selina Rudge(Richmond) 17.Vanessa Gray(Wasps) 18.Claire Purdy(Wasps) 19.Heather Fisher(Clifton) 20.Amy Turner(Wasps) 21.Claire Allen 22.Nicola Ponsford 
Ok on to the final match of the series which was a historic one as it was first time that a South African women's team had ever played an international test. The presidents XV came out to prove a point in the first part of the game but the England defence held strong and denied them a score. The tables were turned after this early period of play and England started to dominate the play putting points on the board after 28mins by the boot of Rachael Stoakes, who was a late call up to the squad to cover injuries. And this early penalty put England in to the flow of things and with two tries before half time the half time score was 18-0 in our favour.
On into the second half and with the introduction of Fisher who had a great impact on the game a bout of tries were scored including a penalty try for a high tackle in the dying minutes of the game.
This was a very impressive win for the Development squad as it contained seven players from the Bulls game and the best that South African rugby could throw at them.
This is what the tour manager, senior international; Nicky Ponsford MBE had to say about the win "Today's game is a testament to the hard work put in by all of the players and coaches over the past 3 weeks. The players were able to put into practice many skills and concepts that they had been working on. Notable performances from today's game must go to Katie Storie for her powerful play at prop, and the player of the match went to Tamara Taylor for her outstanding running and support play".
Ponsford also went on to say "We are delighted with the efforts of all of the players and staff and the future of English women's rugby looks very bright". 
England Development Team
1. Claire Purdy (Wasps) 2. Selena Rudge (Richmond) 3. Katy Storie (Novocastrians) 4. Rachel Vickers (Richmond) 5. Natalie Binstead (Ripon) 6. Jaine Lock (Worcester) Captain 7. Jane Leonard (Ripon) 8. Tamara Taylor (Novocastrians) 9. Amy Turner (Wasps) 10. Rachael Stoakes (Henley) 11. Amber Penrith (Worcester) 12. Shauna Vetch (Wasps) Vice-Captain 13. Katy McLean (Novocastrians) 14. Kim Oliver (Clifton) 15. Vicky McCormack (Lichfield) 16. Charlotte Keyes (Worcester) 17. Hannah Dawson (Thirsk) 18. Rachel Stribling (Richmond) 19. Heather Fisher (Clifton) 20. Louisa Seymour (Wasps) 21. Rachael Burford (Medway) 22. Charlotte Barras (Lichfield)
Tries: Penrith (31 min), Storie (44 min), Airton (47 min), Penrith (51 min),Fisher (57 min), Lock (60 min), Fisher-Penalty try (80 min),Conversions: Stoakes (44 min), Seymour (80 min)Penalties: Stoakes (28 and 45 min)
Ok so here is what went on when they weren't playing rugby!
They had a once in a lifetime opportunity to go on a safari and the chance to go to an animal sanctuary; I am pleased to announce that they all survived with out being eaten by any wild beasts etc.,!
If that is not enough to make you feel jealous they also had the opportunity to go boogie boarding on the beach in Durban (to make you feel better they got burnt)!
Ok remembering this is the England team they went to watch the South African-Scotland match at Kings Park in Durban (traitors!) and if they hadn't had enough of the Scotland team they kept bumping into them when they were shopping and again at the airport.
LucyB.