Monthly News Reviews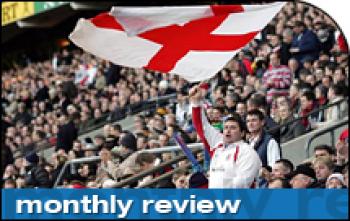 England
By Updated 22/7/13
March 5 2007
Unofficial England Rugby's Diary attempt of various important News Items, Interviews and information of events that occurred throughout the year of 2003. Plus year on year monthly reviews on the ups and downs of the England team.
Photo courtesy of the World Rugby Museum - Twickenham

June 2013 - In Review Once again the month was dominated by Summer Tours, Lions & 7s
May 2013 - In Review Tour Squads, Baa Baas, Lions and RWC 7s Phew!!
Apr 2013 - In Review Lots going on Summer Tour Squads & Lions Announced, 7s, Counties and updates to RWC venues
Mar 2013 In Review The RFU is to commit £10 million over the next four years to help clubs improve their clubhouses and pitches plus much more

Feb 2013 In Review A busy month and the RBS Six Nations Kicked off plus QBE England's Fixtures for the 2015 RWC warm up matches:

Jan 2013 - In Review Another New Year.... New appointments, England 7s plus much more
England win the Hilary Shield by beating New Zealand 38-21 ending their unbeaten run - Well done England

Dec 2012 - In Review As the country was being washed away with rain England Celebrated their win ove New Zealand in the early part of the month. What an end to 2012

Nov 2012 - In Review Phew what a month of ups and downs
Oct 2012 - In Review Potential RWC 2015 venues named, but not Welford Road,
Sep 2012 - In Review We start with an Apology (not us)! the RFU. New skills coach, New Kits,
Aug 2012 - In Review Revamps, Reviews, Statements and more....
July 2012 - In Review New Appointments, 7s Glory, Statements again and Squad Announcements

June 2012 In Review Summer Tours, Junior World Championships and Fisty Cuffs at the RFU
May 2012 - In Review Killik Cup against the Barbarians, U20s , England Counties plus much more
April 2012 - In Review Once again lots going on - New BMWcontract - SA summer Tour Dates

March 2012 - In Rewiew So much happening this month and again a New Coach

February 2012 In Review - England Rugby - Lots to celebrate this month England Elite ,U20s, U18s, Counties, StudentsWomens and 7s doing well.
January 2012 In Review Well we set off again under new Management albeit temporary. Six Nations 2012 kicks off . We have the fixtures and table, plus Squad announcements,7s and womens rugby. Also Audits and news on 2015.
England coach Stuart Lancaster walks out during the RBS 6 Nations match at Twickenham,
A New ERA yet again -- PICTURE EMPICS

December 2011 In Review December brought sweeping changes throughout the RFU, with Ian Ritchie appointed as the new Chief Executive and Stuart Lancaster as the England Interim Head Coach.
November 2011 In Review Martin Johnson steps down as England Team Manager of the Senior team, and more...
October 2011 In Review Well as Craig Revel Horwood would say on Strictly Come Dancing.... Deesaaaaster Darling. Yup that was England's Rugby World Cup 2011. But our Phil Vickery won Celebrity Masterchef ....get in! Much more going on.

September 2011 In Review A huge amount going on, with all eyes on the Rugby World Cup in New Zealand. How would England play, who would be on the team sheet? Plus Podcasts, Videos,the Aviva Premiership kicked off, yep we had it all. Phil Vickery's new range and ICE Rugby?

August 2011 In Review England's three warm-up matches against Wales home and away and Ireland in Dublin, not to mention official and unofficial world cup anthems, action from England's Women and more...
July 2011 In Review With the Summer tour over and the senior England team's August world cup warm matches not till next, the Women's team took centre stage in July.
June 2011 - In Review Junior World Championship final . RFU Podcasts England RWC Preliminary Squad, England Saxons Win again, England Women and a farewell to Ben Gollings 7s Hero.

May 2011 - In Review We have a new Chief Commercial Officer. England XV team to face the Barbarians. The England Saxons Squad announcement, England U20s squad, England Women's Elite and Under 20s squads. Plus England Sevens, Counties and England Women's A in action.
April 2011 In Review A quiet month for England Rugby. We look at accomodation, sights and the culture fans can expect in New Zealand for the 2011 World Cup, as well as the 2011 Churchill Cup fixtures,
March 2011 In Review 6N came to a close with championship wins for the senior, U20 and women's teams, as well as some RFU appointments plus plenty more
February 2011 - In Review England win against Wales, Italy and France.

January 2011 - In Review You think it has been a quiet month but when you actually look back, it never is! Lots happening again to kick of the New Year.
John Steele took over as Chief Executive Officer of the Rugby Football Union (RFU) on 6 September, 2010.
December 2010 In Review After the highs and lows of the Autumn International campaign, there was relatively little news on the England senior team, but plenty of goings on elsewhere, including the 7s team winning in Dubai, the RFU's new 2015 CEO being unveiled as well as U18 squad information and 6N fixtures
November - In Review England Rugby November 2010 In Review - We had a few things to celebrate this month, not least the display from England against Australia in the second Investec Autumn International. More of the same please England.
September 2010 In Review Conclusion of the Women's Rugby World Cup the new CEO of the RFU setting out his vision for the future, GPS technology in top flight games, 10 years of Investec International Sponsorship
August 2010 in Review England Women's Rugby World Cup 2010, O2 "The Big One" + BONUS POINTS will be introduced across all adult league and cup rugby in England this season (2010-11).

July 2010 In Review England EPS Squads for 2010-11, England Women Euro 7s and England Men 7s squad for Commonwealth Games in New Delhi October... plus much more.

June 2010 In Review England Elite beat Australia downunder, Saxons win Churchill Cup, New CEO at the RFU plus much more!

May 2010 in Review Lots going on this month squad announcements for summer tours, Women's Rugby World Cup pools plus much more

April 2010 In Review A quiet month we had England U18's wrapping a third consecutive Grand Slam, the launch of the RFU's new illicit Drugs Policy.

March 2010 In ReviewWe had the completion of the RBS 6N Championship and once again the England men fell away leaving the fans feeling bitter at their performances.
February 2010 In Review Videos and England's Brian Moore (Pitbull) - Qualifies as Rugby Referee, what will happen next!
January 2010 - In Review We kicked off a new year with a new Jersey for the England v Wales match at Twickenham.
England take on Wales in Traditional Jersey this Six Nations
It's a New Day, It's a New Year and we're feeling just the same!

---------------------------------------------------------------------------------------------------------------
December 2009 in Review England 7s, England Blagattas, plus Under 18s
November 2009 in Review Johnno gets a Gong,Baron to retire plus, the winners of our Raging Bull Competition
October 2009 in Review Excellent news 7s Rugby to be included in the 2016 Olympic Games plus much more.
September 2009 In Review England launch new home kit
August 2009 In Review England Women's Team completed their Nations Cup campaign unbeaten plus much more
July 2009 in Review Good News at last....England win the bid to host the Rugby World Cup 2015.
June 2009 in Review Lions tour to South Africa. The Men/ Women's U20 competitions. Churchill Cup. England faced Argentina...
May 2009 in Review 2009 a very special event took place Walk4Matt09 - Matt Hampson. England v Baa Baas, 7s in Action, Training Photos plus much more
April 2009 in Review England 7s, England Women, James Haskell Video and Saxons Churchill Cup
Mar 2009 in Review RBS Six Nations Men and Women, RWC Sevens in Dubai again both Men / Women series. The ELVs almost gone, Aut.,Int., Dates,
Feb 2009 - In Review With the Six Nations underway, February was always going to be a busy month for England Rugby
Jan 2009 - In Review A look back at the headlines for this month, Elite EPS, Saxons, Sevens plus much more
What will 2009 Bring more Mayhem!!!!
-------------------------------------------
Dec 2008 In Review Rugby World Cup 2011 Draw, England Saxons, Sevens, Wade Dooley + Much more
Nov 2008 In Review - Autumn Ints., Update on Eng Matt Hampson
Oct 2008 In Review -7s, Eng Women, Lions looking forward + More
Sep 2008 In Review - The Pacific Islanders hit town + much more.
Aug 2008 In Review JohnnoTalks the Talk, Rugby Helps our Heroes
July 2008 In Review - New attacking coach announced - Hurray!
June 2008 In Review - Highs, Lows and the 'Barbigate Affair'
May 2008 In Review - Summer Tour Squad & Invest in a Hooker?
April 2008 In Review - New Pink Jersey & St. George
March 2008 In Review - Josh's High Peaks to Baa Baas
February 2008 in Review - Leap Year & Six Nations
January 2008 - In Review - Twickenham Tales and Changes
England v South Africa RWC 2007 Final - A Hero retires -Thank You Jason!
Dec 2007 in Review Brian Ashton re-appointed
Nov 2007 in Review - Peace in our Time?
Oct 2007 in Review - Wow - we made it to the Final
Sep 2007 in Review - RWC 2007 Kicked Off
Aug 2007 in Review - RWC Build up and Squad
Jul 2007 in Review - RWC 2007 TV Listings
Jun 2007 in Review - England Saxons win Churchill Cup
May 2007 In Review - England Women Champions of Europe
Apr 2007 in Review - We had statements galore!
Mar 2007 In Review - 6N 2007, The Ladies and Sevens!
Feb 2007 Review - Highs/Lows & Wilkinson plays again!
Jan 2007 In Review - New England Captain Phil Vickery.
Dec 2006 Review - England New Head Coach Appointed
Nov 2006 Review - Andy Robinson Resigns
Oct 2006 Review - England's Sevens 2006/7 series
Sep 2006 Review - England Women lose out in Canada
Aug 2006 In Review - Eng's New Elite Director of Rugby is?
Jul 2006 In Review -WRWC Fixtures & For Your Eyes Only?
Jun 2006 In Review - Summer Tour Woes & Rogues again?
May 2006 In Review - 2006/7 RBS Six Nations Schedule
Apr 2006 in Review - Andy survived but others did not?
Mar 2006 in Review - England Rugby in shambles!!
Feb 2006 in Review - England 7s win in Los Angeles
Jan 2006 in Review - Twickenham South Stand seats Released
England Rugby 2005 A Year Review
Dec 2005 Review RFU & Clubs Charity Matters.
Nov 2005 In Review Investec Challenge matches & more!
Oct 2005 In Review Brian Ashton goes to Bath
Sep 2005 In Review 11week rest debate!!
Aug 2005 In Review Sevens and Club v Country Row Again!
Jul 2005 In Review Scrums in the Park and Rugby Camps
Jun 2005 In Review England A - Win Churchill Cup
May 2005 in Review The Baa Baas, Players Awards and more.
Apr 2005 in Review Churchill Cup squad announced.
Mar 2005 Review Martin Johnson Summer Rugby camps.
Feb 2005 in Review Not a good month for England in the 6N
Jan 2005 in Review Saw the start of our new 6Nations Comp!
Claire meets Sir Clive & he checks out our site!
Nov 2004 in Review Investec Autumn Challenge Int., results
Oct 2004 in Review England Wilkinson Competition Winners
Sept 2004 in Review Gone Sir Clive Woodward !!
Aug 2004 in Review Gone Lawrence!
Jul 2004 - Review:- RFU approved match ticket initiatives!
Jun 2004 - Review:- England 7s do us Proud!
May 2004 - Review:- 6n 2005 Fixtures plus Summer Squads!
Apr 2004 - Review:- Our April Fool article caught one or two!
Mar 2004 - Review:- France Grand Slam & 6n Champions!
Feb2004 - Review:- The RBS 6n Championship kicked off!
Jan 2004 - Review:- Honours being awarded all around!
Dec 2003-In Review England Paraded & Partied to the end
Nov 2003 - News Review England are RWC Champions!
October 2003 - News Review Rugby World Cup Kick off!
Blazing June 2003 - News Review