Mathew Tait - England Player Dossier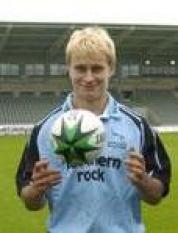 By Kath 4/2/05
November 20 2006
Mathew Tait England and Newcastle Falcons star - Player Dossier. Information about the player more than just a profile or fact-file about the player.
Player Dossier - Mathew Tait
Height: 5'11''
Weight: 12 and half stone
Date of Birth: Wolsingham,Co. Durham 6th February 1986
Playing Position: Centre & Wing
Previous Clubs/School: Barnard Castle School & Consett Rugby Minis
Present Club: Newcastle Falcons Debut May 2004
Country: England 7s Debut Dec 2004

Senior Elite Debut 5/2/05 Wales v England
Playing: Yes
Honours: England Sevens 2004/5
Articles: Robinson: Tait made me look silly
Destined for great things By Alan Hedley,The Newcastle Journal
Interesting Facts:
* Tait will be the youngest player to represent England since Wilkinson came on as an 18-year-old replacement against Ireland in 1998.
* Younger brother Alex is also coming up in the England ranks with an Under-18s appearance on the cards this season
* A member of Barnard Castle school where Rob Andrew and the Underwood brothers, Rory and Tony, learned their early rugby.
* In July 2004, he was included in England's senior National Academy squad.
* His first taste of rugby was at Wolsingham Primary School.
Coming from the Falcons Academy of Players
Quotes:
England's Head Coach: Andy Robinson says.... "I have watched Mathew quite a bit and Phil Larder has been working with him a lot. What I like is his understanding and reading of the game and that is important, particularly in the No 13 position
England Captain Jason Robinson says......"He showed me how strong he is. He's been playing superbly for his club. I've played against him a couple of times this year and on that one occasion he really made me look silly.
Steve Black has a habit of being right. A few years ago, the Falcons fitness guru said that Jonny Wilkinson would become the world's best fly half. He was right and he says that "Mathew Tait will become the world's best rugby player".
Nicknames: Spud, Taity
Mathew Tait - Picture copyright of Touchline Falcon