England's April 2005 in Review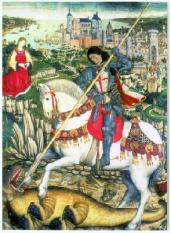 St.George's Day 23/4
By Kath 6/5/05
May 6 2005
England's April 2005 in Review - this month of course we celebrated St. George's Day and we had the Churchill Cup Squad announced.
What was new and happening last month then?
Well Unofficial England Rugby's new feature 'Blogs Corner' was launched, yes I know what on earth is a blog?, well check it out here -England 'Bloggers Corner' Why not join us in our new venture get creative with a blog of your own and we will list it for you.
We also thought it was about time that we thanked our sponsors ProManger Rugby2, Big Art and friends in particular to the fans who have sent in photos, with a permanent link on our site via our Menu. We also thought we would throw in a few stats., for those anarak types out there. England Sponsors &Friends, Sponsor Big Art,, England Friends Links
Then off we went a travelling again with the Sevens to Singapore - Argh Soo!!!! England Singapore Sevens Squad Unfortunately England lost out to Fiji in the Semi Final of the Cup Fiji 12-14 England. Full results here....Eng 7s Schedule Singapore, England 7s lose in SIN
England will take part in the Churchill Cup once again and this month the The Rugby Football Union announced that Joe Lydon will be England's Head Coach for the Summer 2005 - Churchill Cup tournament to be held in Edmonton Canada June 19-26th. Eng Churchill Cup Coach later in the month we had the full squad announced Eng: Churchill Cup Squad
The Professional Rugby Players' Association (PRA) today announced their nominees for domestic rugby's ultimate accolade, the PRA Computacenter Players' Player of the Year. PRA 2005 Nominations The PRA Computacenter Rugby Players' Awards 2005 will be held at the Grosvenor House Hotel, London , on Wednesday 11th May. A limited number of tables are still available for this event.
We had an excellent article written for us by one of our regular posters Waspie Ed Budge England & Woodward
The former England captain is launching
Martin Johnson's Rugby Camps for budding young players.
Five venues across the country – in Warwick, London, Newbury, Bristol and Newcastle – are hosting the three-day courses launched in a joint initiative between the Rugby Football Union and the World Cup winning England captain.

Martin Johnson's Rugby Camps aim to teach both boys and girls between the ages of 11 and 18 what it takes to be a winner, and give them the tools to build a lifetime of success in the game
And of course we celebrated St. Georges day on the 23rd of April but this time with Bombardier England & St. George
Unofficial England Message Board