Titans fans robbed of quality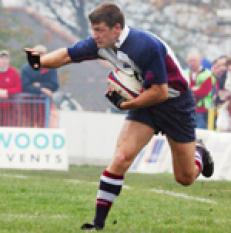 Michael Wood
By Stefan Maslanyk
April 24 2005
After a dismal performance, Rotherham failed to overcome relegated Henley losing 19-16. Rotherham now owe it to themselves and their supporters to deliver a quality performance in their final game of the season next week. ROTHERHAM, who are now planning for next season's campaign, owe it to themselves and their supporters to deliver a quality performance in their final game of the season next week.

This defeat ranks amongst the worst displays seen by Rotherham in recent times. Low in ambition and lacklustre, Rotherham looked badly organised and gifted an unexpected victory to a team who looked what they are - a relegated side.

But as Mike Schmid's team showed in their early victories this season, they have the ability to more than compete in National One. So why this dramatic change?

After this horror show, Rotherham must now play with heart and soul against Exeter next week. Anything less would be unacceptable.

Rotherham handed Henley a dream start. Having failed to gather the Henley kick-off Rotherham knocked-on and from the resulting scrum, about 25 yards out, scrum-half Dan Smaje picked up the ball from a base of a wheeling scrum and ran in virtually unopposed. His converted try gifted Henley an unexpected 7-0 lead after just one minute of play.

The visitors responded by mounting periods of sustained pressure but seemed incapable of breaching and defences of a team who had hitherto leaked 757 points in the league. Penalties on 9, 13 and 40 minutes by Jon Benson kept Rotherham in the game and a Henley penalty on 23 minutes meant that Rotherham were behind by just 10-9 at the interval.

Surely things had to improve in the second half!

Surely somebody would break out of lethargy and get the Rotherham bandwagon rolling; sadly this was not to be.

Another penalty on 46 minutes further stretched Henley's lead to 13-9 and saw Rotherham make their first substitution.

Opeta Palepoi replaced Tu Tamarua and made an immediate impact with a crisp drive setting up quick ball about 15 yards out. Quick recycling allowed scrumhalf, Brendan Haami, to feed Michael Wood who stepped inside the defence and finish Roth's try under the posts.

Michael Wood's try in the 48th minute was a beauty; the dazzling side step provided rich entertainment in an otherwise dreary performance. The score clearly demonstrated what the Titans are capable of when playing with character and determination. With the conversion, Rotherham were now 13-16 in the lead and hopes were rising that the Titans were about to take control of the game.

But no sooner had they taken the lead they yielded it with a needless penalty two minutes later when a high tackle let Henley level the score on 51 minutes, a further penalty on 72 minutes gave the Hawks the game 19-16.

Rotherham failed to capitalise on a couple of late scoring chances; a try was denied on 75 minutes when the winger put his foot in touch and a penalty 10 yards out was wasted.

Both team's lineouts were poor throughout the game. However, a number of players performed well in patches: Jon Golding looked like the only prop on the field who knew how to strummage, Jon Benson's kicking out of hand at times looked sublime, Lee Blackett carried the ball over the gain line with authority, both Michael Wood and Dave Strettle showed how dangerous they can be and, man of the match, Jannie Bornman was outstanding throughout the game.

The final action saw Rotherham almost stealing a win; a Roth penalty deep into their own 22 saw them running the ball through many phases, first losing the ball then regaining it, they finally put David Strettle into space out wide on the right on his own 10 metre line. He beat the defence with a slick move, chipping over and collecting the ball with a clear run to the line. However referee, Roy Maybank, made the dubious decision that he had knocked-on when collecting the ball. A Rotherham victory was not to be.



Stefan's Man of the Match: Jannie Bornman

Referee: Roy Maybank (RFU)

Roth Scorers: Benson 3P 1C, Wood 1T

Rotherham Titans

15 Anthony Elliott; 14 David Strettle, 13 Peter Jorgensen, 12 Lee Blackett, 11 Michael Wood, 10 Jon Benson, 9 Brendan Haami (Rauluni 60), 1 Jon Golding, 2 Neil Briggs (Emms 56), 3 Rod Latham (Boulton 73), 4 Jon Pendlebury, 5 Glen Kenworthy, 6 Des Tuiavii (Capt.) (Pike 60), 7 Tu Tamarua (Palepoi 46), 8 Jannie Bornman

Henley Scorers: Honeyben 2P 1C, Smaje 1T, Burns 2P

Henley Hawks

15 Stuart Bellinger, 14 Nnamdi Obi, 13 David Tibbott (Burns 66), 12 Ali James, 11 Peter Davies, 10 Matt Honeyben, 9 Dan Smaje (Gaunt 60), 1 Paul Laffin, 2 Adam Hopcroft, 3 Sam Johnstone (Capt.), 4 James Winterbottom, 5 Adam Harris, 6 Adam Gates (Hayman 66), 7 Adam Holloway, 8 David Lubans.

More Rotherham Titans headlines
Rotherham Titans latest threads
Rotherham Titans Poll