Pirates on the Prom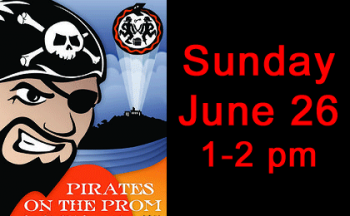 Pirates on the Prom
By DC
May 20 2011
How Many Pirates on Penzance Prom?!
1pm Sunday June 26th 2011 is the time to be dressed as a pirate and on Penzance Promenade strutting your stuff.
The bold township of Penzance is raising the challenge on behalf of the whole of Cornwall to Hastings the current holders of the Guinness World Record for the largest number of pirates in one place. Which is only right seeing as Penzance is the true home of all Pirates and has been down the ages.
Hastings managed to rustle up 6,166 pirates, but Penzance can do better.
The world record bid is happening as a part of this year's pirate themed Golowan Festival and will add to the fun and entertainment of this fantastic annual event.
Visitors and locals can all join in the fun of Pirates on the Prom, all you have to do is dress as a pirate and be on the prom at 1pm.
Pirates Deluxe or No Frills Basic, it doesn't matter, we just want you! We also want you to have a chance to relax and enjoy Penzance's beautiful promenade.
It will be high tide at the the time of the pirate count so you will be in exactly the right place to get a fantastic view of the Golowan Maritime Festival's Parade of Sail.
Many of the local traditionally built wooden boats will be unfurling their mains'ls as they sail across the bay before you.
There will also be music down on the prom to keep our thousands of pirates' toes tapping.
For Full Information see http://golowan.org
And On Facebook www.facebook.com
More Cornish Pirates headlines
Cornish Pirates Poll