Stalwart's Story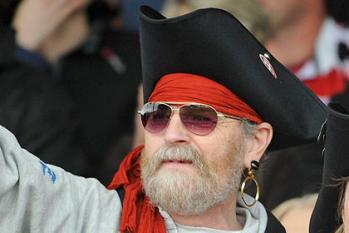 Stalwart
By Stalwart
November 29 2011
Stalwart's Story is the first in a number of stories sent in by Pirates Supporters and contributors to the board....... In coming weeks look out for stories from View From The Hill and Landlubber
Stalwart's Story
By David Holmes
32 years ago I had a letter from Phil Westren. The letter was written with reference to the club dinner held in 1979, advising me that many senior players had 'chipped in' to a kitty to buy me and my wife (Sue) dinner & dance tickets in appreciation of our support given during 'this and past seasons'.
It was mentioned that they were amazed when they had seen us at such places as Newton Abbot, Bideford, and at Launceston, St. Austell and Newquay, often on the coldest of winter days. Well, nothing has changed, and we still follow the team about, although in recent years the travels have been all over the country!
I am proud to have been a Pirates supporter for over half a century. Born at Penzance hospital in 1951, I lived in Newlyn where my mum and dad ran the Central Stores grocery shop.
Contracting polio in 1953 meant that I would grow up unable to take part in active sport, but it didn't stop me becoming a supporter, and from a very young age.
My sister Jenny took me in a pushchair to first watch the Pirates when I was only 3 or 4 years old. I was hooked then, but my interest blossomed further when attending Tolcarne Primary School, where the headmaster was one Raymond Evans - Dicky's dad.
Dicky played for the colts at that time.
When I was a little older, I would go to all the home games and also take the train to places such as Hayle and Redruth, accompanied by my lifelong mates Dick Russell and Brian Richards who are still keen supporters.
By then the glory days of the 1950s had passed for the Pirates, but the fixture list still boasted teams such as Wasps, Gloucester, Saracens, London Scottish and others.
By the time we moved on to Humphry Davy Grammar School the Pirates still had a pretty good side of talented local players.
Our sporting heroes, along with 1966 football World Cup winners Hurst, Moore and Peters, were the great Roger 'Paco' Pascoe, who was small in stature but brave as a lion, and with fabulous skills - not unlike 'JB'; the legendary 'Stack' Stevens, who made us so proud by playing for England and the British Lions; towering second-row forward Alvin Williams, and my personal favourite John White – a tearaway open-side flanker in the Lewis Moody mould.
My memories of watching John play are of him tearing along the opposing threequarter line and smashing them down with huge tackles.
The Pirates may have had their ups and downs on the field, but there was a major highlight in 1976 when we lifted the Cornwall Knock-out Cup, beating Redruth in the final, when the winning try was scored by diminutive flying winger 'Nobby' Roberts.
One of my schoolmates in the team that day was the gifted Malcolm Nicholls, who could play any sport well. Never really concentrating on any one sport probably stopped Malcolm from reaching the very top, although he did play a few games for Harlequins.
In 1972 I met the love of my life, a Redruth girl, Sue, who fortunately has a passion for rugby. Sue soon became a dedicated Pirates fan and loves nothing better than seeing the Pirates beat the Reds!

Dave & Sue At The B&I Cup Final With Munster
We both went to university in Wales – Sue doing a Maths degree and me doing my teacher training. We still went to as many Pirates games as possible and were also season ticket holders at Swansea RFC.
Welsh rugby in the 70s was awesome, and I remember one local derby at Stradey Park (Llanelli v Swansea) watched by 15,000 – on a Wednesday evening! This compared to Pirates gates of about 100 (on a good day!)
Our return to Cornwall, where we both became teachers, coincided with some pretty bleak times for the Pirates. Phil asked me to join the committee and I served for a number of years as Assistant Secretary.
My main jobs were to write the minutes of the committee meetings and liaise with the Referees' Society to organise officials for the various Pirates teams.
We often ran three senior teams in those days, as well as Colts, and I still do my bit as Ref Liaison Officer for the Cornish Pirates, Pirates Amateurs and Colts.
With times very hard for the club financially, fortunes on the field declined too, and it was becoming a real struggle to keep things afloat.
Fortunately, it was around this time that Dicky Evans realised our plight, and began (in a small way at first, but later in a very big way) his amazing input. Dicky put the club on a stable financial footing, but it was the advent of professional rugby which enabled him to make a major difference to our on-field fortunes.
The rise from that time to our present status, among the top 15 clubs in the country, has been well documented, and Sue and I regularly pinch ourselves (as many others no doubt do) when we've seen how far the Pirates have come. Our sons, Mitch and Dan, both played for the Minis, then Juniors, and Sue became Fixture Secretary for the group and served on the committee for many years.
A highlight at that time was when Sue and Dan went on a rugby trip to Kenya - organised, needless to say, by Dicky.
Elder son Mitch had the honour of captaining a brilliant Pirates Colts team that did incredibly well to reach the semi-final of the National Colts cup. They beat some star- studded teams along the way, including a Worcester Academy side boasting several schoolboy internationals, and it took a wonder try by one Marcel Garvey to secure a narrow win for Gloucester Academy in the semi-final.
From the moment the sons were born, the family travelled to virtually every away game, and although in the bad days wins were hard to come by, we stuck with it and eventually got our rewards. Along with others we've had the joy of regular promotions, seeing us progress from the Cornwall & Devon league to near the top of the second tier of the English league system.
Yes, this meant longer and longer away trips, often entailing overnight stops, but the success of the team has made it a real pleasure.
We at last won the Cornwall Knock-out Cup again in 1999, which we repeated in 2000, and then there was that incredible day at Twickenham in 2007 when Gavin lifted the EDF Energy National Trophy.

That incredible day at Twickenham in 2007
I felt like I had died and gone to heaven – it was such a perfect day!
More recently, another highlight has been witnessed, when at the end of the season before last, we proudly became the first ever winners of the new British & Irish Cup, which was another unforgettable occasion.
As for now, we dream of where we might go from here.
Will the stadium be built and is it possible that the Pirates could become a Premiership team?
It feels like it's almost a ridiculous dream, but so has the progress of last ten years, and that became reality.
I believe that the current squad and team of coaches, along with the superb off-field set-up, means that the Pirates are better placed than ever before, and that this is comfortably, in my opinion, the best quality squad of players the club has ever had. One thing seems sure, and that is that whatever happens in the future we will follow The Pirates, be it at the Mennaye or a new stadium, as well as getting to virtually every away game.
What is great nowadays is that there are hundreds of new Pirates supporters joining those of us who have been around since the dinosaurs (some say we are dinosaurs!).
Pirates shirts can be seen on young and old all over the Duchy and many of these fans love the Pirates just as much as we do.
If the stadium project can clear the final few hurdles, the sky is the limit. The next few years could be even more amazing than the last ten or so – and that's saying something!