How I Became A Pirates Fan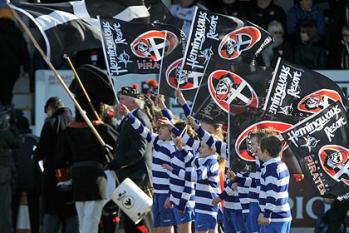 By Landlubber
December 31 2011
Landlubber's Story is the third in a number of stories sent in by Pirates Supporters and contributors to the board....... In coming weeks look out for Part 2 from Landlubber, Pastitref's story and hopefully others, maybe yours?
Landlubber's Story
Part 1: How I became a Pirates fan.
Chapter 1: A pre-pirates history:
Back in the sixties (nineteen sixties, before you make any comments), I was a mere whipper-snapper of a lad still in possession of my teeth and hair (but now I do a more than fair impression of a certain Steve Tomlin!).
I lived in Woburn, Bedfordshire attending the Cedars Grammar School in Leighton Buzzard where, because I was a very big lad for my age (now I'm a very big bloke but age has nothing to do with it – that's down to too many pints, pasties, pies and cakes!), I was selected by the sports teacher to play rugby!
Oh, how I hated him for that – I dearly wanted to play football, knowing that my dad would be proud of me if I could follow in his footsteps (he once had trials for Oldham Athletic, so he knew how to kick the old Wendy ball – laces and all!).
Sadly, I had two left feet thus giving me no chance of playing footie, so it was off to learn rugby instead!
Owing to my size I was put at left prop but, because one of my two left feet worked pretty well, I was fairly good at kicking the old egg shaped pill (well, my memory tells me I was!) so I also often took the conversion and penalty kicks, scoring numerous points for our school junior team!
I think I may even have scored a few tries too! (You can't prove I didn't, so there – I really was that awesome!)
However, I wasn't going to play for much longer owing to an incident, in my second year, whereby the rugby teacher (can't remember his name owing to psychological scarring) booted me up the jacksie for not training properly (I'd handed off a limp tackle against me which annoyed him (teacher) because the lad who'd tackled me lay there crying owing to his missed tackle and, also, from the imprint of my right fist hand still visible on his face).
The kick, to my backside, was quite painful causing me to react exactly like the lad who'd tried to tackle me - I fell to the ground crying my eyes out too! What a pair of cry-baby's we were (with that qualification I should have played football after all!) and I was told to go away, so, thinking he meant this - I went home!
Arriving home early my mum asked me why, so I told her, she then went off to find my dad (who was working, handily, just up the road) and he came home, fired up the Quattro, sorry that was Gene Hunt in 'Life on Mars' (a work of fiction, unlike most of my story), I meant his Austin A30 and off we went, back to school, so that he could find out what happened.
On arrival, and finding Mr. Bullyboy rugby teacher, my dad asked "Did you kick my son?""Yes" came the reply!
One punch later, from my dad, and teacher was doing an impression of that other lad and me – lying on the ground crying! (Poetic licence allows me to remember him crying – to help heal the scars of the aforementioned psychological scarring!)
That was when I was twelve years old and I never played rugby at school again and it's because of this that I never went on to play for England or my local team, Bedford! Just think; if it hadn't been for that bully, there could be a David White stand at Twickenham instead of Bill Beaumont's!
Still, I wasn't bothered about that as I really wasn't interested in rugby at that young age owing to still wanting to be a Wendy ball player!
Chapter 2: 1974
Six years later and a swarthy eighteen year old lad (me, if you're wondering who) joined the Royal Navy. During basic training all the recruits played various sports to see if they had any natural talent so, I, once again, put on my rugby boots – and boy did they hurt my feet because they'd grown a couple of sizes since my school days (my feet, not the boots)!
Borrowing a better fitting pair (boots, not feet) I took to the field and this time played at number five – a different set of skills required now to my schooldays but, to my amazement, I couldn't believe how much I enjoyed the game! Was the seed of liking rugby germinating in my brain?
Not just yet as I only played a couple of games before finishing basic training and moving out into the big bad world, never to play again owing to other interests (foreign travel, foreign ladies, foreign beer and, in 1976 golf)!
Chapter 3: 1976
Still no signs of any rugby liking seeds germinating but, because I didn't like long walks, I took up golf!
Chapter 4: 1985 – The seed germinates!
I was sent to work alongside the RAF at RAF Wyton, based near Huntingdon in Cambridgeshire, on 360 Canberra aircraft squadron where one of the pilots (in his day-job) was a certain Leicester and England player by the name of Rory Underwood and his notoriety got me interested in watching the game on TV.
I'd just turned 30 but felt too old and knackered (from too much of the foreign travel, foreign ladies and foreign beer experienced in chapter 2) to play any more – now one of my regrets really (the not playing bit - I've no regrets about the travel, women and beer!), but watching was very entertaining and I got to recognise the big name players.
The squadron, by luck, had its own social area including a private bar, named The Ginger Ferret, and there were regular social events, one of which was when Rory brought a few of the England squad to have a few drinks with us.
Those I remember turning up were his brother Tony, Will Carling a couple of others (whose names I can't recall) plus a certain Rob Andrew! Chatting to him I found him to be a pretty nice bloke and, as a player, had a good reputation of a fairly reliable kick (to bring this to the present, for a moment, it seems strange to me how he's the now the centre of rugby attention for all the wrong reasons).
Thinking back, if it hadn't been for Mr. Bullyboy, back in my schooldays, I could have still been there (the ginger Ferret, not school!) but, instead, as an England player (whose name you can't recall!).
However, I think it must have been then that the rugby fan seed was germinated but it was going to be a slow grower! Chapter 5: 2003 – The seed grows! I was, and still am, working alongside the R.N. at RNAS Culdrose, now as a civilian (I left the R.N. in 1996) and in the early part of 2003 the germinated seed was still lying dormant as, since moving on from RAF Wyton in 1986, I had had no interest in rugby at all.
However, this was all to change during the then forthcoming world cup. In my job I worked alone in an isolated store which made me lucky enough to be able to get away with watching TV (in quieter times - honest) and I often left it switched on whilst I worked simply for background noise, if nothing more than to keep me sane from the isolation!
When the world cup came along a lot of the matches were shown 'live' during the daytime so I used to tune in to keep abreast of the scores, which I would later pass on the my R.N. counterparts. One of these navy lads asked if he could watch a match and, having said he could, he came to my store but brought a couple of mates with him.
The next day they came to watch another match, but this time there were several people – the word had obviously got out about my TV!
Eventually there were about a dozen people (skiving off) watching the games and my love of the game was starting to grow despite my lack of knowledge of a lot of, to me, new rules (in my schooldays lifting in the lineout was not heard of!).

Jan Rendal
One of those people watching was a man known by the name of Jan Rendall – you may have heard of him – and, seeing that I'd become quite keen on rugby (especially because England went on to win the cup!) he spoke about the then Penzance & Newlyn. "Who?" I asked, having never heard of them!
Being a decent man he took the time to tell me all about them and, in thanks for the teas and coffees I'd supplied during those cup games, he gave me a ticket for the next home game – Pirates v Bedford!
This was the first ever game that I'd gone a the ground to watch and I sat in the main stand, by chance, alongside Mr. Robin Turner who, after explaining that this was my first game, made me feel very welcome – like Jan, what a decent man he was too(still is)!
The teams ran out onto the pitch and, because they were my childhood local side, I thought "Come on you Blues!"
Thankfully that was the first and last time I've ever thought that because, during the game the Pirates played some good rugby and that turned me into a fan of the Pirates. Oh, by the way, that game finished 20 – 20.
The hook was definitely in now, the seed fully grown and I've been a Pirates fan ever since!
NEXT - Part 2: My life as a Pirates fan.
Now, that's another story!