Tales Of Future Past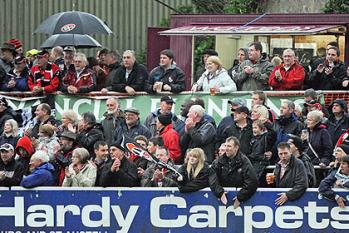 Naughty Boys Corner
By Pastitref
January 17 2012
Pastitref's Tales Of Future Past is the fourth in a number of stories sent in by Pirates Supporters and contributors to the board....... In coming weeks look out for more stories and hopefully yours.
From Pastitref:
Tales Of Future Past.
So at last, it's arrived. The big day. This day we have been waiting for so many years. Here, in this impressive new stadium, the newly promoted Cornish Pirates are about to take the field. I feel like its been a long journey to this point….
Sidney Smith, my grandfather, had been a regular at Kingsholm for many seasons and he seemed excited to be taking me to my first ever game of rugby. 9 years of age, I climbed on the back of his Honda moped and off we went on the first part of this journey.
Yes, it's obvious that this esteemed writer is in fact a foreigner, an Englishman from the former roman city of Glevum, now known as Gloucester. A supporter of the "cherry and whites" from the age of nine, former season ticket holder and even former barman at kingsholm in the late seventies and early eighties.
So what's the connection with the Cornish Pirates?
Be patient, dear reader, we will get there in the end…
After my many trips to matches at Kingsholm, I got the bug myself and started to play at school. Due to adventures and mishaps not for publication here, I was despatched to Cornwall at the age of 11.
It was at Pool County Secondary School, where Alvin Williams was P E teacher that I began to play the game.
Not blessed with skill or talent I was enthusiastic and reliable. Pool School had a very good team those days, and I became an expert at carrying water and oranges to the players on the pitch.
My obvious lack of ability did not deter me however, and I continued to play schoolboy rugby until I left school, and returning to Gloucester, joined the local team Gloucester Spartans.
I enjoyed my years at Spartans, and remained there until my RAF career posted me to RAF ST MAWGAN Cornwall.
RAF ST MAWGAN RFC had quite a good side, and I was lucky enough to play in a team with some very good players.
I left the RAF and joined Wadebridge Camels, who have been promoted often in recent years and now play high up in the league structure, but in the mid to late eighties team selection took place on the Platt on Saturday based on the numbers who turned up!
I played for Camels for years until a knee injury ended things.
Next I decided to become a ref, and approached my refereeing with the sole intention of giving 30 players a game of rugby, be fair to both sides, do your best and always turn up.
Once again, it's fair to say I was enthusiastic and reliable, and given the good attitude of the teams, I could be a very good ref.
However, I was never comfortable in fractious situations, did not understand the attitude of some players and coaches and could not deal with hostile reactions. Then my knee problems returned.
So I decided to watch matches and travel from Padstow to Penzance,
Truro, Camborne and the return to Penzance to follow the Cornish Pirates, both home and away where possible.
Trips with the press gang to all points north,, train journeys to Penzance, a few beers before and after the match, stood in naughty boys corner with the comments flowing thick and fast, the singing in the beer tent, win or lose. The players mingling with the supporters.
I felt, and still feel, part of something special….
So that's how a 9 year old Gloucester lad became a 50 something Pirates supporter.It's been a long journey. Standing here in this new stadium with the newly promoted Cornish Pirates about to take to the field. The sense of achievement and excitement, a tingle in the air, a moment in time. The crowd is ready!
PIRATES! PIRATES! PIRATES!
Rugby has been part of my life for over forty years.
Here's to the next forty!
To Sid, who started it all, and to all fellow supporters, and all dreamers, everywhere.
PASTITREF.