Captain Benbow's Story Pt1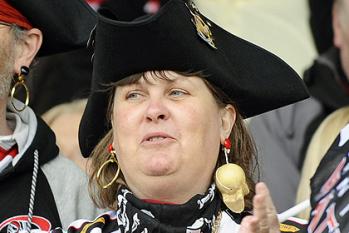 Captain Benbow
By Captain Benbow
February 13 2012
My Time As Mini-Junior Fixture Secretary
When my two boys reached about 7 years old they joined the mini-junior section of the Pirates. Fixtures were played every 2 weeks or so, and it was very frustrating when they were cancelled, often at the last minute.
The fixture secretary at that time was ready to stand down, and it soon became apparent that no-one wanted to step into his shoes.
So it was clear to me that the only way for my lads and their friends to continue with regular fixtures was for me to do it myself! Had I known this would last for ten years I might have had second thoughts! However I am a very organised sort of person and I really enjoyed the job.
So began an era of constant phone calls and political bargaining to get the fixtures we wanted, and to spread out the home/away fixtures evenly. It was very common for other sides with fewer members to cry off on the Friday or Saturday (fixtures are always played on Sundays) and then I had the task of trying to get a hasty re-arranged fixture with someone else.
Touring teams were always keen to come to Cornwall in the Easter holidays and I could have filled those dates 2 or 3 times over. Easter time was a total feast of rugby – in those days the Pirates chiefs and second team always had lots of touring teams down, plus the mini-junior touring teams – we often used to watch 7 or 8 games over the Easter week, virtually living in the Mennaye!
Perhaps the best bits were the tours I arranged. I went with my older son's team on 2 tours to Wales and one to Devon. When we toured Devon we stayed at a holiday park called Finlake Park.
When I announced the itinerary at a committee meeting the coach of an older age group seemed incredibly impressed with the whole tour – more so than I would have expected. I found out the reason why at the next training session – being hard of hearing he had thought I had said we were staying in Finland!
He excitedly told his team that I had organised a tour very cheaply in Finland and he wanted to do the same – he even said he hadn't realised they played rugby in Finland!
This tour fell at Easter and many of the parents went on the tour too. A proviso was that everyone had to dress as Pirates the whole time, so there were plenty of eye-patches, bandanas, swords etc. What a pity we hadn't invented the "give me a P, give me an I, give me an R….." chant back then!
One dad, who had been on many tours himself as a player, declared it to be the most enjoyable tour he'd been on.
In the mini-junior world there are regular competitions and festivals, some of them having regular venues, and it had always been the case that the under sixteen 7-a-side tournament was held at The Mennaye near the end of each season.
When my oldest son was in this age group we received the surprise news that their closest rivals in that age group, Lanson, had asked to hold this particular tournament at their own ground. The CRFU said yes to this request.
Then with just over 1 week to go they pulled out and said they could not stage this tournament. I then had many phone calls from other clubs pleading for us to put it on ourselves again, and so began a hurried organisation of referees, and parents to help out with the catering and other jobs needed to run a whole day tournament. My son roped in his school to send a team (Truro School), and he played one game for them and the rest for the Pirates! I think Truro School won the tournament.
My older son Mitch was lucky enough to be in a brilliant team, and they won the festivals for their age group every year except when they were under 11 and under 16. When they were in the under 11 final (against Lanson – who else!) they were denied the winning try when the linesman (a father of a Lanson player) said our player had put his foot in touch. He clearly hadn't!!
A few years later this man fell out with Lanson and he brought his son to the Pirates to play (the boy went on to play a few games for our first team when he was older). We got to know them quite well and the dad owned up to how much he regretted doing that in the under 11 final.
My other son Dan was in a team that struggled to find enough players to field a team each week, so they often had fixtures cancelled, or they borrowed players from the opposition so that they could play.
The funny thing was that when Dicky Evans decided to organise a tour to Kenya for that particular team (as this was the age group of his own son, who would then play against the Pirates) boys suddenly came out of the woodwork to join this team!
The prospect of 2 weeks in Kenya was a wonderful attraction!!
I will write about this wonderful tour to Kenya in another article. You will be familiar with the name of one of the boys in the team … Matt Jess.
Happy days indeed!
More Cornish Pirates headlines
Cornish Pirates Poll