Travelling Supporters Cup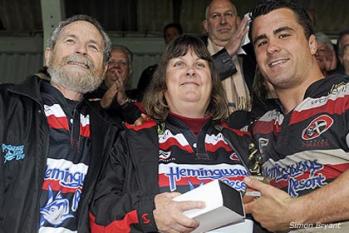 Travelling Supporters Cup
By Sue Holmes
March 18 2012
As we are nearing the end of yet another season, it is time to send me your nomination for this award please ..................... ................... See Sue's Post: Travelling Supporters' Cup - votes needed
Those of you who know Dave and myself well will know that we have followed the Pirates for a long time – 40 years for me, but over 50 years for Dave!
Once we had returned from university to work back home, we started to follow the Pirates to all their games, including the away games.
We were sometimes the only Pirates supporters at away matches!
Two friends then joined us on a regular basis going to away games. We started only having to drive to Cornwall and Devon; then we had to go to Somerset and Gloucester; then the south-east of the country and Norfolk, and soon overnight stops were often needed, or mini-holidays!
There was no supporters' cup in existence then, so we asked the club if it would be possible to start one. The club said they had no plans to give one, but they suggested that we should award a supporters' cup ourselves on the basis that the 4 of us always went to the away games (in those days, when we were in much lower leagues, hardly anyone else went on a regular basis).
We purchased the trophy - called the Travelling Supporters' Cup - and chose the recipient ourselves each year.
In recent years 2 things have happened that have meant changes to our cup:

There is now the Roger Pascoe Supporters' Cup, which is voted for at the penultimate home game.
Many more fans now go to the away games than just the 4 of us !
Coupled with the fact that our 2 friends stopped travelling to away games, we decided a few years ago that it was time for a change.
We decided the cup should retain the name "Travelling Supporters' Cup". As the Roger Pascoe Cup is voted for at a home match, we thought it would be good to give those Pirates fans who don't have the opportunity to vote at the home game, a chance to be able to nominate a player for this cup instead.
Hence it is for the exiles mainly, and each year I post a message on the unofficial forum inviting supporters to e-mail me with their vote.
My e-Mail address is: sueholmes54@googlemail.com
Past winners are
2000 Paul Gadsdon

2001 Richard Carroll

2002 Steve Evans

2003 Joe Bearman

2004 Matt Jess

2005 Alan Paver

2006 Gavin Cattle

2007 Viliami Ma'asi

2008 Heino Senekal

2009 Iva Motusaga

2010 Rob Cook

2011 Dave Ward
I will be asking for your votes again nearer to the end of the season.
Come on you Pirates!
View a Printer Friendly version of this Story.
Travelling Supporters Cup
Unofficial Pirates (IP Logged)
18/03/2012 13:30
What do you think? You can have your say by posting below.
If you do not already have an account
Click here to Register
.
Re: Travelling Supporters Cup
19/03/2012 22:45
With so much going on - you may forget to vote or nominate
Your time may come so do it now
Sorry, only registered users may post in this forum.
More Cornish Pirates headlines