Letter From New Zealand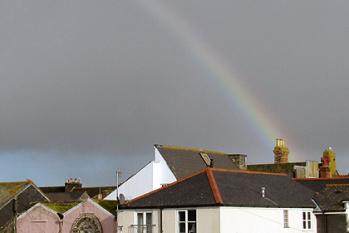 David Roberts Letter
By Unoffy
May 19 2012
This letter was sent to Cornwall Council on the 16th May by David Roberts, a Cornish exile in New Zealand
Dear Sir/Madam,
Following the decision by the Councillors of Cornwall County Council to not invest in the Stadium for Cornwall project, I find it necessary to write a letter to you complaining about such a decision and to question the short-sightedness that is clearly being demonstrated by the council.
Cornwall is an amazing county. It has a great history, a great landscape and a great sense of "one and all" amongst its inhabitants.
As a Cornishman, who twelve months ago moved overseas to New Zealand, I have until today been incredibly proud to be a Cornishman and to be closely affiliated with Cornwall.
For your reference, in Auckland, New Zealand there is an area just south of the city which has Cornish roots and a landscape park open to the public with spectacular views that is named Cornwall Park and bears the Cornish Coat of Arms.
I cannot explain to you in this letter the great sense of anger and disappointment I feel following the decision to not invest in a better future for Cornwall.
It is decisions like this that are incredibly negative and prohibit direction, development and ultimately progress.
It is decisions like this that has led to many Cornish people leaving the county in an attempt to find skilled work and to escape the prospect of facing a life earning just above the minimum-wage.
I was raised in the village of Illogan, attended the local primary school before going onto Pool School and eventually Cornwall College at the Pool campus. I finished top of my college class and went onto the University of Portsmouth where I graduated with a good honours degree and was then able to gain skilled IT jobs with IBM, Hewlett Packard and others.
Having spent many of my years in Cornwall, it is a great pity that it is now near-impossible for me to return to the county in my chosen field. If anything, by returning to Cornwall I will have to accept a lesser income and potential quality of life, particularly when the council does not appear interested in providing a real future for Cornwall.
However, I do of course realise that in the 21st century people are increasingly mobile and the need to move around for work is often required. The prospect of one day raising a family in Cornwall is becoming less favourable due to the managed decline that the county is experiencing.
What does it say about the decisions that have been taken over the years about Cornwall and its direction, when the prospects of gaining skilled work there are increasingly diminishing?
Furthermore, it appears to be becoming more and more of a retirement colony for people across the UK as well as a tourist hotspot. Tourism is vitally important to the Cornish economy, but so are jobs, industry and direction. Relying on European Union grants to aid the Cornish economy is not a recipe for future success.
A new multi-purpose stadium for Cornwall would generate new interest in the area. It will create jobs and enable our best sporting teams, namely the Cornish Pirates rugby team and Truro City football club to compete at the highest level.
Without the council's support both vocally and financially, the chance of this stadium happening in the near future is out of sight. A team that has reached the Rugby Championship final twice in successive seasons will again be denied the prospect of promotion.
The only message that can be directly taken out of this is if you want to play at the highest level, you have to leave Cornwall.
Cornish sporting teams, in particularly rugby teams have an incredibly loyal, strong and passionate following. I, for one, recently stayed up until almost 2am in the morning here in New Zealand watching the Cornish Pirates overcome Bristol to progress to the Championship Final.
We all know of Cornwall's great rugby history. A regional or national rugby academy could be established in Cornwall, encouraging young people to move to Cornwall to develop their rugby skills. This is an option that would allow the people of today to continue to write great sporting history here in Cornwall.
A new multi-purpose stadium for Cornwall will also provide a well-needed modern venue for live performances and bring additional events and interest into the area. A hotel and function complex will allow corporate events as well as organisations to use these facilities to better engage with the people of Cornwall.
At the same time, businesses would be able to make use of these facilities to better advertise and promote their services in an effort to grow and develop their businesses.
Cornwall needs entrepreneurs. It needs more businesses to employ its talented population and to give its young and future generations a chance of establishing a prosperous career and livelihood.
Most of all, Cornwall needs hope and belief.
I again urge you to reconsider your position and vote in favour of a stadium giving Cornwall the foundation it requires to compete and develop in the years ahead.
I appreciate you taking the time to read this letter. I welcome and encourage any feedback or comment.
Yours faithfully,
David Roberts, Paul Roberts and Jennifer Roberts.
More Cornish Pirates headlines
Cornish Pirates Poll