My life as a Pirates fan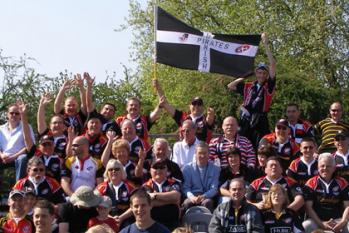 Fans At Coventry
By Landlubber
June 11 2012
Chapter 1 – 2003 to the present day: Please note that I'm nearly as old as O.P.S. but my memory isn't as good as his, therefore some of my dates might be a bit inaccurate.
But, hell, never let the truth get in the way of a good story factual account.
So, to recap, if you read Part 1(How I became a Pirates fan), my story factual account of my past (I only made up a very small bit of it!) (mostly, the words bit!), you'll know that I became a Pirates fan in November of 2003, having become a rugby fan earlier during the World Cup, and that the first game I saw was against Bedford.
Owing to the ticket, generously (questionable owing to the explanation later) supplied by Jan Rendall, being for the main stand, I was directed by a steward to a seat which was, by coincidence, to the left of a certain Robin Turner (although I had no clue as to who he was, at that time).
To his right were two other gentlemen one of whom, if my memory serves me right, went by (and still does, of course) the name of Richard Evans (nope, I had no clue who he was either!) So, it was obvious that the ticket I'd been given was in the cheap seats!!
As said, in part 1 'How I became a Pirates fan', Robin made me feel welcome (after finding out who the hell this total and clueless stranger was sat beside him) (me, not Dickie!) and during the game I learnt a bit about the rules and, also, that referees are blind! I say this, about the ref, after one incident, right in front of us, where the ball went out of play after bouncing of a Blues player's foot – 'Sir' gave them the throw in!
At that time I wasn't biased so I know that that ref was optically challenged and, since then I've often thought 'Sir' has very seldom had the correct contact lenses in!
But seriously, who am I, one of the thousands of one eyed spectators, to criticise the man in the middle? At the end of the day I may vent my frustration of the Pirates having had a bad day at the office on the ref but, deep down, I do respect all 'Sirs' (even the bad ones) (they know who they are) for having the desire to be an official and actually getting out there and doing it – I've not got the fortitude to do so! (Does Mr. Tutty read this site, I wonder?
I doubt it because there's a 'whistleblower icon at the bottom of each post and he just wouldn't be able to resist, would he?)
The game finished and despite it ending in a hard fought draw and I left thinking that this could become a good new hobby which, because I still go to watch, it obviously, has been!
I've seen all but a couple of home games since then and a few away games too, so with all the tickets, travel, replica kit and the food/drinks I've bought, that was a fairly expensive ticket Jan gave me those nine years ago but, mostly, every penny has been well spent!
The reasons I say that now follow (not in any great chronological order):
1) In 2003/4 season
After our home game against Worcester (which I think we were leading by about 18 points at half time – but lost when they bought on their 'big guns').
I met some of their players in the club-house after the game and was pleasantly surprised to find they were approachable and were pleased to have a chat with me – something that I have found to be mainly true of players of all rugby clubs (unlike wendy-ball players, who are too up themselves to take the time to talk to their fans!) (oh, and a certain Mr. Goode last year when he blatantly blanked me when all I said was hello!)
2) Going to watch the EDF semi-final against Bristol
Who I'd never seen before but knew were one of the big boys (with the poster stating only 80 minutes from Twickenham) I recall their supporters shouting out "Come on 'Bris" but thought they were saying "Come on Chris!" and wondered who he was!
However, funnily enough, one of their players was named Chris so I thought they were simply cheering him on!
OK, I know better now, leave me alone, I can't help the way I was brought up – blame my dad, it's his fault! Anyway, when I asked one of their fans about it I had the mick, rightfully, taken out of me, but it showed the camaraderie between fans and that we can all have a laugh and enjoy the game without the animosity you often get in football.
3) 2007:
Never mind only 80 minutes from Twickenham, we were now actually going (and taking Mount's Bay up there too – a bonus as a Fijian work mate, Mika Mua, was playing for them at that time).
To get there we beat Plymouth and Dawsy which led to scenes of jubilation at Camborne with hugs and kisses all around – thank goodness there were ladies there for that, or it would have been only gentlemanly handshakes!
What a great day out the final itself was – owing to Marshy organising the coach that I travelled on I found out about him and his excellent pub, the Admiral Benbow (but enough advertising on his behalf, he's not paying me to do so!), the weather was fantastic and Exeter were ever so friendly and let us win!
I say Exeter were friendly because this was their umpteenth visit to Twickenham and they had let every team beat them there! (I doubt the same can be said nowadays – and good luck to them in their current quests.)
Also, my mate Mika scored four tries as M.B. won their final. The journey home was carried out in a fantastic atmosphere with the memories of Villi's try, Alberto's drop goal, all the lads playing till they dropped and Gavin lifting the trophy still firmly in mind! Oh, happy days.
4) The Pressgang:
The first time I travelled with the Pressgang, and my first away game, was to Coventry. I boarded the coach at the scurvy port of Crowlas to find that there were not one, but two barrels of grog, generously donated by Skinners, for on board rehydration purposes!
Arriving at Butts Park I was well on my way to being drunk rehydrated as were many other knaves aboard and we decided to decamp to the pub opposite the ground for a bit of lunch.
This is where I met a fellow press-ganger by the pirate name of Fergus who, when I ordered a non-alcoholic beverage, suggested I go to the lady footballer's bar down the road.
Now, I like a challenge and took this comment to be one and the hang-over I had the next day proves I rose to that one! Anyway, suitably re-calorified (yes, I had some solid food) and further rehydrated we crossed/staggered over the road to watch the game.
Like Twickers, it was another blue-skied day and we all sat together on some seating (since removed) on the opposite side of the main stand together and, as the lads ran out, someone had a ghetto blaster type thingy and started playing Sandstorm!
We all cheered as loud as we could and I sat there a bit amazed at how much support the Pirates had away from home. What was the result, you ask? We won, of course but there was some bad news – Matt Evans (the first one) badly broke his ankle and, despite my state of re-hydration, it was not a pretty sight to see.
He got a heart-felt round of applause, from us, as he was stretchered off to go to the local hospital.
Another great time was when we travelled up to Otley - apart from one incident where I became aware of this total twonk by the nick-name 'Janner' – I say this because he boarded the bus, at 4am, doing a fair impression of a Lord whilst the rest of us were all Judges (in other words, he was drunk whilst the rest of us were sober) and kept us all from getting any sleep with his loud singing!
5) Camborne:
The Rec has provided some fond memories such as the B & I cup win (see message 7 later) and freezing my dangly bits off for the sky live game against Rotherham.
Also, this is where I believe the naughty boys corner originated to which I'm proud to admit I became, and remain, a fully paid up member which reminds me - time to do some grovelling now – since the Otley trip I've got to know Janner and that experience back then, I believe, was not of his normal character and I've discovered that he's a great bloke really – a total Pirates fan supporter and active vocal support leader (if no-one else on the terrace does, he'll start a chant – home or away) and friendly to all.
He welcomes away fans to our ground and makes them feel welcome so is an ambassador to the club now which proves my first impression must have been wrong (although there are those that still think he's a twonk!)!
6) After match singing
My rugby journey has been one of discovery and the singing after the game proved to be one of these discoveries! I'm embarrassed to say, though, that I still don't know all the words to the songs and have to use song sheets to aid my enjoyment.
7) The B & I cup!
2010 was the inaugural year of the cup so who better to be the first team to win it? Yippee, it was us and, yet again, the skies were a beautiful azure blue.
And I recorded it courtesy of Sky TV for future posterity! My goodness that was a hell of an emotional day and full time couldn't come soon enough for my frayed nerved to survive! But they did and boy did I do some relaxing of them in the bar afterwards!
8) Kenwyn:
My trips to Truro were good ones with a few good memories including the home game against Harlequins. Although we were well and truly given a sound beating by them it was my birthday that day so my pre, during and post match celebrations helped to make the day a good one plus I have this memory of them in their post match celebratory diving in the mud (by the corner where the teams run out onto the pitch) obviously elated at beating us – a team spirit and attitude that we are now emulating!
9) By default of above
my (earlier that season) trip to The Stoop! A freezing cold night where we were shown the vast gulf between an average Championship team and a Premiership standard team although until Heino got yellow carded about 10 seconds after he came on as a sub we were more than holding our own!
Bloomin' ref's fault, again, that we lost! After the game was over I had the chance to talk to Will Greenwood and he is such a nice bloke who was more than happy to take the time to talk to the fans – a true gent!
10) Our fans:
To have well over 2,000 at every game whilst sometimes many more shows how popular the Pirates are to maintain such loyalty and every single one of them have the same attitude to other teams – friendliness an welcoming! Many clubs have stated we have the best supporters in the league so that's no bad thing to be part of!
Anyway, there are probably many more memories I could mention but can't recall right now owing to my currently thinking about what I've mentioned above.
I'm also thinking of some of the disappointing 'down' moments such as beer-gate in Newport last year (costing us, IMO, the win) losing to Cross Keys (although they probably just deserved their win – even with the kick that was miles wide being given as through the uprights) (another bloomin' myopic ref!) and losing two play-off finals but these losses only go to make our support and resolve even stronger so I'll finish right here and look forward to the memories that the 2012-13 season will give me!
Chapter 2:
There is no chapter 2, my story finished at the end of chapter 1! Didn't you read the chapter name? It said 2003 to the present day/right now – there is no more – stop reading!
OK, if you ignored my message saying 'stop reading' then you must be so stupid that you really ought to be up in Devon supporting Albion but, thank-you for taking the time