Festival Weekend Countdown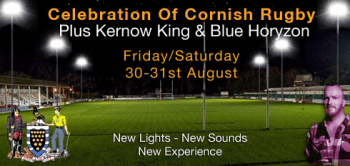 By ML
August 22 2013
Weekend Festival Of Rugby August 30/31
Only eight days to go before Rugby kicks off again at the Mennaye Field – and in some style!!
2 days of rugby, starting on Friday evening at 17:30 when the gates open for the big game against a Cornwall Clubs XV, kicking off at 19:30.
This special game takes place as part of a more collaborative and inclusive approach towards Cornish Rugby from the Cornish Pirates and will see a Cornish Clubs squad - drawn from all Cornish clubs – take to the field.
This will be a great opportunity for a player from each and every club to play against full time professional players, The Cornish Clubs XV will be provided with a special shirt, with the map of Cornwall made up from the names of all the clubs.
It's not just Rugby on offer, Kernow King will be there to provide the comedy, whilst up and coming Penzance Band, Blue Horyzon will provide post match entertainment in the new and expanded entertainment marquee.
A lot of work has been going on down at the Mennaye and this game will be the first opportunity for most to see the new floodlights and listen to the new PA system.
Food will be much improved with locally sourced ingredients, whilst for the ladies proper toilets will be brought in – no more iffy portaloos for you!!
A big crowd is expected for this match under lights, when the presence of clubs from all over Cornwall should make this a truly festive occasion and showcase all that is best in Cornish Rugby
Following on from Friday evening is a triangular tournament on Saturday, kick off 5pm involving the Cornish Pirates, Cinderford and St. Austell, when each club will play each other for 40 minutes.
Cornish Clubs
coached by Benji Thomas, Gavin Cattle and Alan Paver:-
15 Ryan Bennetts (Illogan Park), 14 Ryan Forrester (Pirate Amateurs)
13 Scott Murray (Hayle) 12 Tom Nicholas (St Ives),
11 Dean Bonds (Redruth), 10 David Mankee (Camborne)
9 Matt Shepherd (St Austell), 1 Harry Martin (Falmouth),
2 Daryl Harding (St Agnes), 3 Scott Hedge (Redruth Albany)
4 Adam Pearce (St Austell), 5 James Goldsworthy (Camborne)
6 Jordan Rose (Penryn), 7 Jordan Duke (Launceston)
8 Nathan Chapman (Roseland)
Replacements:-
16 Ben Taylor (St Ives), 17 David Penrose (Hayle)
18 Ashley Mason Maxwell (Lankelly-Fowey), 19 Sam Marment (St Just)
20 Mattew O'Leary (Pirate Amateurs), 21 Adam Kellow (St Austell),
22 Jack Oulton (Wadebridge Camels), 23 Kava (RNAS Culdrose)
24 Colin Rees (Cornwall Fire & Rescue Service)
25 Chaz Buscombe (Perranporth), 26 Carl Ranscombe (Truro).
Weekend Festival Of Rugby August 30/31
Cornish Pirates v Cornish Clubs XV
Friday August 30th
Doors Open 5:30pm Kick Off 7:30pm
A celebration of Cornish Rugby
Kernow King, Blue Horizon and other entertainment
Cornish Food. Rattler & Tribute
Festival Passes Are Now On sale
A two day festival pass covers admission for the whole Festival (both Friday and Saturday)
Adults & Concessions £15
Under 16 £1
Under 5s Free
Season Tickets cover admission but don't guarantee the seat
Friday August 30th
Kick off 7:30pm
Cornish Pirates v Cornish Clubs XV.
Saturday 31st August
Kick off 5pm
Cornish Pirates Cinderford & St Austell Triangular
Friday Trains & Travel - Saturday Trains & Travel
Gates, refreshments and hospitality open two hours before kick-off.