Honours For Rugby's Servants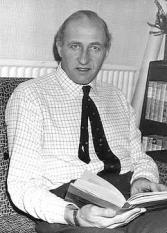 John MacG. K. Kendall-Car
By Phil Westren
June 18 2015
Another Pirate, who was a giant in the game of rugby football, playing at the highest level and later taking top office on a world scale, was John MacG. K. Kendall-Carpenter. Suffice to say, therefore, that in this Rugby World Cup year it is right to mention and remember 'Carps'.
Honours For Rugby's Servants
By Phil Westren
It was announced last week that the Gareth Edwards, widely regarded as the greatest scrum-half and arguably the greatest all-round player in the history of rugby union, had been awarded a knighthood in the Queen's Birthday Honours. We must also not forget to mention Jonny Wilkinson's CBE!
Over the years a number of Pirates have been honoured with certain prestigious awards, including our first ever President, Mavis Lawry, who was awarded the BEM (British Empire Medal) in 1962 in recognition of her social and charitable work.
As for this year our congratulations have been expressed to a keen supporter of the Pirates, namely Paul Wickes, the inimitable leader of the Falmouth Marine Band. Paul, who is the CEO of the Cornwall Marine Network, has been awarded an MBE in recognition of his services to the marine industry and the community in Falmouth.
On behalf of the Cornish Pirates I was delighted to quickly congratulate Paul, which drew the comment:
"Thank you so much for your kind words. It was a lovely surprise and makes me very proud of all the people who have helped me gain this award. Please will you also pass my thanks to all the Pirates."
Mike Gee from St. Ives is another rugby stalwart to be honoured. Awarded a BEM, Mike is a former player and an administrator who has served his club, the county, and South West rugby over many years.
Also, during this Rugby World Cup year, it's especially worth remembering John MacGregor K. Kendall-Carpenter, who was a giant in the game of rugby football. Like Jonny, but 26 years earlier, John was awarded a CBE in 1989 for his services to rugby football, and when I congratulated him at the time he typically wrote back in modest fashion, saying:
"Dear Phil - Many thanks for your letter, I can assure you that a comment and congratulations from The Pirates fell very sweetly on my ears. I'm well aware that inevitably only a few can be honoured though there are countless others who similarly deserve recognition, so I see myself as one of the team - or to put it in Cornish 'Onan A Bymthek!"
A Penzance man and stalwart supporter of Cornwall and everything Cornish, John played for the Pirates and Oxford University, and he also captained Bath, Cornwall, the Barbarians and England. He was also at varying times President of the Rugby Football Schools Union, the Rugby Football Union, and the Cornwall Rugby Football Union, and was Chairman of the Organising Committee for 1987 Rugby World Cup, plus also Chairman for the 1991 competition until he died in May, 1990, just as he was about to retire back home to Penzance after 17 years as Headmaster at Wellington School in Somerset.
Mention of the RWC is indeed a main focus, whilst it is also important to mention that John actually recommended the competition's trophy, which we now know as the 'Webb Ellis Cup'. He had visited Garrard, the Crown Jewellers Shop in Regent Street, London, looking for a piece of silverware that would fit both the occasion and the traditions of the game. Rugby was 160 years old and was not a very fast changing sport. He felt that a Victorian, not a Georgian, piece of silverware would be appropriate, with the craftmanship of the period and the beauty of the piece having to project the past into the present.
The trophy that was ultimately approved had, amazingly, only been re-acquired by Garrards on the day that John visited their shop. It had been made in their workshops in 1906, being a reproduction of a cup made in a style developed by one Paul de Lamerie who was one of the leading silversmiths of the 18th century. Weighing 108 ounces, the trophy is made of the purest quality sterling silver and is guilded in gold. It has the head of man and the head of a woman on the handles, serpents on the main body and a pineapple cone at the top of the lid. John felt it was exactly what he was looking for, being heavy, compact and handsome – or should that be 'ansum! Anyway, he was impressed, as was his Sub-Committee who gave it unanimous approval.
Many years before the RWC there was also an occasion which typified John's stature, strength of character and good sportsmanship. It was at the Camborne 'Rec' in December, 1953, where the visiting fourth 'All Blacks' beat a combined Cornwall & Devon team 9-0. During the game the crowd started to boo the New Zealand side, so John, who captained the combined counties team, stood tall and straight and shook his fists, shouting "Shut up! Shut up!" – and, you've guessed, they did!
Honoured by his fellow Cornishmen when appointed a Bard of Gorseth Kernow at Illogan in 1981, taking the name Onan A Bymthek, in 2011, at an IRB Awards ceremony in Auckland, John was posthumously recognised for his role in the creation of the RWC with induction into the IRB Hall of Fame.
Hey, the likes of Gareth, Jonny, Paul, and Mike have clearly been great ambassadors for our wonderful game of rugby football, as were Mavis, John, and many others.
View a Printer Friendly version of this Story.
Honours For Rugby's Servants
Unofficial Pirates (IP Logged)
18/06/2015 15:24
What do you think? You can have your say by posting below.
If you do not already have an account
Click here to Register
.
Sorry, only registered users may post in this forum.