Scillonian Pirates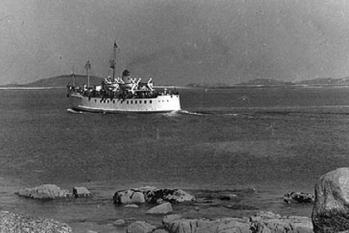 By 1908
May 30 2016
Over the years it's not just Pacific Islanders that have worn the Pirates colours. 28 miles away from Lands End, the islands in the Atlantic called the Isles of Scilly have supplied a number of players to the club.
1908's Story Worth A Re-Read
The tiny island of St. Agnes, with a population of just over a 200,produced Jack Hick. He played back in the 40's and at 16 is still the youngest player to play for Cornwall.
From the same island came the Hick twins.......Martin and Simon....who in the 70's terrorised many unsuspecting wingers who crossed their path. Big, fast and direct they were a handfull on and off the pitch. Not only were they ferocious competitors on the rugby field they were also Cornish Wrestling champions for many years.
The main island of St.Mary's sent Vernon Nance over the waters to play for Cornwall and the Pirates.
In the 50's my father, Barnslie Ward played and it was listening to his stories about playing against Cardiff and the Quins, in front of many thousands at the Mennaye, that sparked my interest in the club.
My father was great friends with Chris May......a fine second row forward. Chris spent many summers on the islands and I listened to many tales of the exploits that he and my Dad got up to when on tours. It was certainly a case of "don't do as I do but do as I say!"
Hearing about these tales only made me more determined to follow suit. Dad could only play up to Christmas and then again after Easter because my grandfather wouldn't let him off the farm during the flower season, but he treasured his time with the Pirates and still gets over now and then to watch them play today.
For a rugby mad youngster growing up on Scilly was a frustrating time. The island school didn't play rugby and somehow the round ball game didn't appeal as much. Spending hours alone on the farm kicking a rugby ball back and forth over the barn drove my mother mad.Perhaps that was why she send me packing and away to Kingswood boarding school in Bath when I was 10.
Here at last I could play rugby. Despite missing the farm and the islands I had the chance to play against other schools. Millfield, Prior Park, Monmouth, Dauntseys were games I remember most. It was also a chance to go down to the Rec and watch Bath play. The local derbies against Bristol and Gloucester were real wars.
In my last year at school I was asked if I would like to play for Mounts Bay......the colts side. My first game came in the holidays and I remember leaving St.Mary's at 4.30p.m. on the Scillonian for the game next day. My father was delighted I was following in his footsteps.
My mother was terrified that that her baby would get drunk and beaten up. Like all Mums they worried.........and here was her first mistake. She asked the Hick twins,who were now living in Penzance, if they would "keep an eye on me". Like putting a fox in charge of chicken run.
I remember that first game for Mounts Bay like it was yesterday. In the side that day were Puggy Trudgeon, Pickles, Bob Barrit, Mike Arnold, Rastus, Cecil Cotton to name but a few and I have never been more nervous in my life as the coach pulled into Hayle. We won by over 50 points and I got asked to come back and play next week.
That night was a bit of a blurr as I was introduced to beer, more beer and fags and then more beer. The Hick twins, who were meant to be "keeping an eye on me", dragged me down the Winter Gardens and a new lifestyle was born......much to my mother's disgust and my father's amusement.
After school I worked Monday to Friday on the farm and then carried on making the journey over on the Scillonian to play on weekends. Over the years I had many fond memories of playing all over Cornwall and meeting and playing against some wonderful people.
Playing against the likes of Ormdale and St.Day were light years away from schoolboy rugby and some of the "battles" we had would have ended in life time bans today. But the beer always tasted good and lifelong friendships (and enemies!) were made.
There was no health and safety back then. This was never better illustrated during a 2nd XV game against Redruth Albany. Under the captaincy of Robin Turner we turned up with a young and callow hooker.
Turner felt that it was too much for him to play against a front row that featured Keast,Tregonning and May with Kitto and Peters in the second row. They may have been past their Cornwall days but they were still gnarled old veterans who took no prisoners.
Turner asked me to play hooker and assured me that the opposition had agreed to uncontested scrums.
He lied.....and I spent the worst afternoon of my life with Turner laughing his socks off behind me in the second row. Kitto introduced himself from the second row like only Kitto can and there were times when I thought my neck and spine were going to snap.
Turner did offer to buy me beer all night but I was too knackered to drink it. Turner believed that all fly halves should spend time in the front row to realise how hard the forwards worked.
Perhaps he's right........but I wouldn't reccomend it.
Marriage and children and more responsibility brought an end to all this fun,but I was determined my two sons would play the game.
We started rugby on the islands......starting in the school and from there the Isles of Scilly rugby club was born. The catalyst that sparked the birth of this club was a gig race and a man from Somerset called Simon Lucas.
Gig rowing was the main sport in the islands and despite taking part it was no substitute for playing rugby. Simon had got the job as head gardener on Tresco and was rowing his first race in Tresco's gig,the Czar.
It was a triangle race and when the Czar and the Bonnet......a gig from St.Mary's who I rowed for..... clashed at the first mark, one of our crew reached over and pulled out Simon's tholpins and threw them overboard .
All was fair in love and war and Simon, being a novice rower, didn't realise what was going on. He was apoplectic with rage and in the Mermaid after the race....and after a few beers....he was still seething.
He had played rugby for Chew Valley Old Boys before he arrived on Scilly and he knew that I had played. So he issued a challenge that Tresco would beat St. Mary's at a rugby game. He would organise the Tresco side and I would get a team together from St. Mary's. Game on, as they say.
I had played a season for Camborne....1978-9....when I was at Camborne College....and knew Laurie Prideaux. He was an international referee at the time and had been chairman of Camborne rugby club when I played there.
I asked him if he would like to officiate and he said yes. He bought over a set of shirts from Camborne for Tresco to wear and the Pirates lent St.Mary's a set of shirts.
The whole of Scilly trundled up to the Garisson playing fields to watch an international referee take charge of a real local derby. Laurie Prideaux was taken over to Tresco after the game where the two sides had a dinner and a few beers.
Simon dropped us back to St. Mary's at some ridiculous hour in the morning and we staggered back to the farm. He'd officiated all over the world but he said that this was his most memorable game he'd taken charge of.
The Isles of Scilly rugby club was born.
We played in the Cornwall junior cup. We were always drawn away but that meant another tour. We were not very good,but we knew how to enjoy ourselves.
We did actually win one cup game........against RAF St.Mawgan,but we also got some tonkings. The Pirates came on tour to the islands to play us twice.
The first time was under the captaincy of Jamie Dean. He persuaded the committee to pay for a pre-season game. It was on a Saturday. The Scillonian was doing a double trip so it meant an early start for the Pirates.
There was great excitment and anticipation on the islands prior to the game. And there was great joy on the morning of the game when we saw the weather.
An easterley force 9 was going to ensure that the "great white stomach pump" would be our 16th man.
The Pirates had a strong side.....the Savage twins, Nick Briant, Dave Elliott, Keith Terry, Dave Roberts, Joff Collin, Headley Rogers, Bones, Neil Wearne, to name but a few. But after 3 hours on that boat they looked a sorry sight when they docked.
We moved the kick off forward an hour and Jamie's boys played the first half with only 14 men (two of their squad were so ill they couldn't make it until the second half)
After 10 minutes we were 18-0......three converted tries..... up and Dean was looking worried. How was he going to explain this result to committee!!!
I knew it wouldn't last and as the Pirates got their sea legs back they thrashed us 52-22. A few of them couldn't face the trip back and stayed the weekend which extended the beer drinking in the Mermaid to almost epic proportions.
We returned the compliment and played a Pirates XV at the Mennaye. We lost 19-17......and Joff Collins knows his last minute try was grounded short! But the result didn't matter.
It was a chance for some Scillonian boys to play our great game and make some lifelong friends.
And that is what rugby is all about. Playing for the Pirates was everything that my Dad said it was.
My two sons played mini rugby for the Pirates and enjoyed it. Trevellyan played for the colts. He loved it as much as his grand-father and father did.
And who knows......one day, they may have sons and I hope that they follow on the tradition.....of playing the best game in the world for the finest club in the land.
Come on you Pirates.
View a Printer Friendly version of this Story.
Scillonian Pirates
Unofficial Pirates (IP Logged)
30/05/2016 10:11
What do you think? You can have your say by posting below.
If you do not already have an account
Click here to Register
.
Sorry, only registered users may post in this forum.