Pirates Bid Farewell To Ian Davies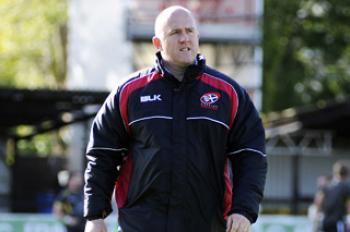 By ML
June 1 2016
The Cornish Pirates have bid an emotional farewell to departing Director of Rugby Ian Davies.
A 'no nonsense' Welshman, Ian, whose playing career was curtailed early on because of back and knee injuries, joined the Cornish Pirates as Forwards Coach back in 2009 under the leadership of Chris Stirling, the club's then High Performance Manager.
Under Chris's stewardship the Pirates won the inaugural British & Irish Cup competition in 2010 (versus Munster), and also reached the Championship Play-Off Final in 2011.
After Chris returned to New Zealand in April, 2012, Ian assumed the role of Director of Rugby and led the Pirates to the Championship play-off Final at the end of that season. Also, during the last two seasons, he has developed both Gavin Cattle and Alan Paver as they transition from players to coaches
Rugby Fans, former working colleagues and friends at the Cornish Pirates will wish Ian and his family all the very best as he now looks forward to taking up a new post as Director of Rugby at Christ¹s Hospital School in Horsham, Sussex.
Former Chairman of the Cornish Pirates Dicky Evans said: "Following recommendation by the RFU, without his knowledge I went to watch Ian when he was Director of Rugby at Worthing, where it was clear he was hugely respected and very hands on.
"During his time in Cornwall Ian, who is someone capable of thinking outside the box, has been absolutely excellent, first when working with Chris and then as Director of Rugby."
Ian Connell, present Chairman of the Cornish Pirates spoke highly of Ian and his contribution: "The Cornish Pirates are hugely indebted to Ian for his major contribution during the Chris Stirling years and for his even greater contribution as Director of Rugby. Developing and mentoring Gavin and Alan as coaches will also prove to be an enduring legacy."
Prior to his departure, Ian thanked Dicky for the opportunity given him at the Pirates, saying:
"It has been said previously but once again thank you so much for the opportunity you gave me. I have thoroughly enjoyed every moment, learnt a massive amount and feel I am a more rounded coach, and person, for the experience.
"We leave Cornwall on Monday - I arrived with a girlfriend and depart with a wife, two sons and another baby due in July, so obviously I have found a little spare time outside of the rugby!"
Ian also feels that with Alan and Gavin in charge of coaching next season the club is in 'safe hands' He said:
"They are a good double act, conscientious and very thorough in their planning. I respect them massively and am sure the club is indeed in safe hands."
And his final thought:
"There are lot of fabulous memories to take away from my time in Cornwall, so it will inevitably be very emotional when we cross the Tamar on Monday."
More Cornish Pirates headlines