A Look Back In Time – 1947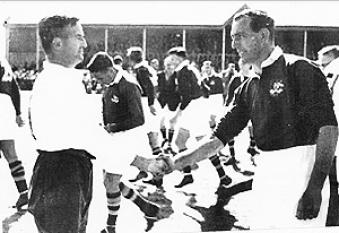 By Phil Westren
June 19 2017
For this latest column we take a brief look back to all but the infancy of the Pirates, to just two years after Penzance & Newlyn RFC played it first ever game.
Our great adventure had started at the Mennaye Field on the 22nd September, 1945, when we faced Guy's Hospital. We lost that match 15-3, against a team that throughout their long history had stoutly defended their claim to be regarded as Britain's oldest rugby club. They were also the leading Hospital Cup winners.

(the Pirates wore the red & white hoops of Newlyn RFC)
Our first couple of seasons were never going to be easy, however we would find our feet surprisingly quickly. Indeed, from the end of the 1947/48 season for over 20 years we actually won more matches per season than we lost.
Following the amalgamation of the separate Newlyn and Penzance clubs, resolutions had confirmed that the Annual General Meetings 'be held alternately in Penzance and Newlyn', and 'that at least nine of the committee shall be resident West of the Mennaye and nine shall be resident East of the Mennaye'. The AGM in 1947 was held at a packed St. Peter's Schoolroom in Newlyn, and it mirrored a fine spirit that prevailed in those early years. Rex Carr, who was such a hard-working and visionary Secretary, advised that although the 1946/47 playing season was not one to proud of 'results-wise', a number of hard matches had nonetheless been won near the end of the season. He also felt that in two or three years the Pirates would be the finest team in Cornwall, and indeed the West of England. Speaking about the tremendous number of young players, he commented: "You do not make a player in one or even two seasons. You have to have to wait a long time to get the full benefit." He was, of course, proven right.
There had been a starting of a Supporters Club, whose services would be of great value in the future, and in March, 1947, the first 'London Trip' was organised when the Pirates defeated St. Thomas' Hospital on the morning before the Calcutta Cup game at Twickenham. Reflecting the period post WW2, committee men were also each requested to contribute five clothing coupons needed to purchase shirts for the team.
An obvious highlight in 1947 was the visit by the Wallabies, who stayed nearly three weeks in Penzance ahead of their opening tour game against the Combined Cornwall & Devon team. The Australian side won 17-7 at Camborne on the 13th September, and following their departure the Pirates received sincere congratulations from all Home Unions, the national press and others for hosting the tourists so well. Indeed, the team's mascot, 'Walter', was presented to us in appreciation, and still, quite rightly, holds a place of honour in our clubhouse. There is actually so much more of interest that can be revealed with reference to the visit by the 1947/48 Wallabies, but that's for another time.
Captains Les Semmens and Bill McLean shake hands before kick-off at Camborne
Included in our playing ranks back in 1947 were future England internationals John MacG. K. Kendall-Carpenter and John 'Ginger' Williams, whilst during the season selected music from Gilbert & Sullivan's 'The Pirates of Penzance' heralded the entry of the team on to the field. Whether it had the same effect as present day 'Sandstorm', who knows?!
Mentioning earlier that our results were improving, a marker in March was a 9-6 victory against the strong Redruth team. The report for the game reads as follows:
With the referee looking at his watch, Penzance-Newlyn seized upon one of their few chances to score a thrilling victory over Redruth in the last minute of their game at Penzance. They won by a penalty goal, two tries to two tries.
Penzance-Newlyn took an early lead against the run of play when Maddern (Carey) went for an unconverted try. Shortly after Mutton (Tommy) landed a penalty goal from long range and Redruth were six points down in ten minutes. Newman reduced the lead just before the interval.
Carey Maddern
Mike Terry
The home side lost their scrum-half Legg with a hand injury (can anyone confirm his Christian name – perhaps he was related to Mike Legg, who later played for the Pirates?), and in the second half, after Nankivell had equalised with an unconverted try after seven minutes, it was a case of the Redruth attack against the home defence.
But in the last minute Maddern got clear, and enabled Terry (Mike – who would earn an England trial in 1950) to dash in and dive over for the winning try amid tremendous enthusiasm.
On the Cornwall front, in a County Championship season when Les Semmens (Redruth) and Vic Roberts (Penryn) led the side, Cornwall lost against Devon and Gloucestershire, drew against Somerset, and then in January 1948 won against Dorset-Wiltshire.
As for the then Five Nations, 1947 was a year when England topped the table, albeit with just a slightly superior aggregate to that of Wales. Each won three and lost one, in what was the first Championship to take place since WW2. Also, it must be mentioned, there was Cornish interest. Lock Jim George (Falmouth) featured in the 24-5 victory against Scotland, and for the final game, a 6-3 win against France, he was joined by Vic Roberts. In his playing days, Jim was described as robust and powerful, and apparently a demon for work, and Vic as an uncompromising tearaway flanker.
Jim George
There is so much that can be highlighted almost from any given year, and at another time a return can be made to reflect on 1947. Throughout the years we have also been served by so many good individuals, which is something that should never be taken for granted - or forgotten. Reiterating again that we were very much in our infancy, particular credit is due the leading officials of the time, namely the previously mentioned Rex Carr (full nameReginald Frederick d'Argaville Carr), plus Tommy Cotton (Chairman), Jack Jenkin (Honorary Treasurer), Joe Barron (Assistant Treasurer), and the twin pairing of W.N. Williams and Ben Batten (Team Secretaries). There were others too, who played their part in helping us evolve, and to whom we are indebted - so a big thank-you to them, and indeed 'One & All'.
There are many fine Pirates pictured in this team photograph taken before we played London Hospital on the 31st March 1947 – Standing l-r: P. Mclary, C. Blewett, Henry Care (President 1993-95), Banfield Hitchens (later a Vice President), Bill Simpson, John Phillips, Chris May, Rex Carr (President 1969-71), John MacG. K. Kendall-Carpenter, Tommy Mutton, George North, Bill Monckton (President 1966-69), Tommy Cotton, Ben Batten; Seated l-r: Jack Jenkin, Geoff Vingoe (Stack's father-in-law), Mike Terry, Ben Perrin (captain), F. Mitchell, John 'Ginger' Williams, Geoff Mabbott; Front: Trevor Nicholls & Harvey Richards (Chairman 1974-78).