A Look Back In Time – Pirates & Saracens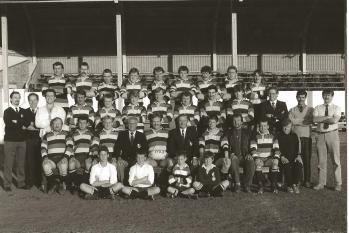 By Phil Westren
September 13 2017
During our history we have at times had a close association with Saracens, and initially looking back 30 years it reminded me that on one of their visits we had to term the on-field meeting as being a 'structured training session!'
Held thirty years ago on the 30th August, 1987 (seems like only yesterday….), it was really a friendly match – something we couldn't advertise in those days because the official 15-a-side season only ran then from 1st September - 30th April. The Saracens shrewd coach, Tony Russ, brought a strong squad of players to the Mennaye Field, including among them Lee Adamson (captain), John Buckton, Lawrence Smith, and Floyd Steadman The latter no doubt influenced the decision to play such a match in Cornwall, and understandably so, because four years earlier he had married a Madron girl, Denise Friggens (one of my wife Sally's sisters).
Floyd Steadman
Because of the structured training session label, there was no official result. However, our squad, which had been trained during the summer under the guidance of Des Thomas, Paul Greaves and Colin Dymond, never lacked for effort. Gary Dawe captained a group of players (as listed in the programme sheet) comprising Bob Henderson, Keith Terry, Jamie Dean, Steve Cary, Dave Elliott, John Williams, Jon Ellery, Martin Farmer, Mike Williams, Simon Stone, Dave Roberts, Gary Collins, Mike Arnold, Hedley Rogers, Robert Williams, Tony Hands, Chris Murley, Nicky Williams, Bob Simons, Alan Reynolds, Dave Brown, Adrian Bick, and Adam Ellery. Thanks were expressed to former international referee, Laurie Prideaux, for agreeing to officiate.
This was all at the start of a truly historic season, as 1987-88 saw the introduction of the 'Courage Clubs Championship', which was described as being "one of the last pieces in the jigsaw and now the very foundation of the Playing Structure of the game in England."
We can reflect more about this at another time, however it is interesting to note the names of the participating clubs that filled the top three divisions back at the Courage Clubs Championship's infancy. Division 1 (equal to the present Premiership) comprised Bath, Bristol, Coventry, Gloucester, Harlequins, Orrell, Leicester, Moseley, Nottingham, Sale, Wasps, and Waterloo. In Division 2 (equal to the present Greene King IPA Championship) were Blackheath, Bedford, Gosforth, Headingley, Liverpool St. Helens, London Irish, London Scottish, London Welsh, Northampton, Richmond, Rosslyn Park, and Saracens. As for Division 3 (equal now to National One), one team has since hit the heights, namely Exeter, leaving the rest to now make interesting reading. They were Birmingham, Fylde, Maidstone, Metropolitan Police, Morley, Nuneaton, Plymouth Albion, Sheffield, Vale of Lune, Wakefield, and West Hartlepool. We were placed in the Cornwall & Devon league, where we would play Bideford, Crediton, Penryn, Newton Abbot, Hayle, St. Austell, Falmouth, Teignmouth, Exmouth, and Paignton.
The Pirates 1987 – Back l-r: Hedley Rogers, Robin Turner, Shaun Stevenson, Richard'Rick' O'Shea, John Williams, Peter Lugg, Mike Nigel Walters, Peter Jackson, Dave Elliott, Dave Bowden, Martin Farmer, Joff Collins, Simon Nicholas, Paul Greaves, Phil Westren; Seated l-r: Kenny Gilbert, Simon Stone, Jamie Dean, Des Thomas, Gary Dawe (capt), Cecil Dunn, Julian Bick, Roger Roberts, David Williams, Peter Blewett; Ball boys l-r: Ben Beckerleg, Chad James, Sam Dymond, Tim Drew. Photo: Phil Monckton
Continuing the Saracens theme, we first played them on the 12th April, 1952, which was Easter Saturday. Drawing 3-all, it was the start of something special, as we would play them (but for a couple of occasions) every other year right up to 1978 (lost 21-3). It would be Saracens one year, and Wasps the next, with annual games also each Easter Monday and Tuesday against St. Thomas' Hospital and St. Mary's Hospital. For our players, three games in four days was often hard going (personal experience confirms!), and this back in days when it was not unusual to play up to a dozen 1st XV fixtures in April alone!
The Pirates team that faced Saracens in 1952 listed: Rodda Williams, Ian Barnes, John 'Ginger' Williams (captain), Mike Jenkin, D. Bradshaw, W. Butcher (a South African), Peter Michell, Chris May, Nicky Williams, John Kendall-Carpenter, Reg Roberts (a try-scorer on the day), Jimmy Jenkin, Louis Brown, Jimmy Hosking, Jack Gunn. Geoff Mabbott was our touch-judge.
The match ball for the game against Saracens in 1978 was sponsored by Joe & Penny Halfpenny from the Coach & Horses Inn (a popular couple - do you remember them?), with our line-up in the programme as follows: Roger Pascoe, Dave 'Nobby' Roberts, Phil Ruberry, Neil Care, Jim Walton, John Brayley (kicked a penalty for our three points), Kevin Walsh, Phil Westren, Peter Trudgeon, Robert 'Pickles' Nicholls, Graham 'Granite' Waters, David Drew, Paul Hocking, Chris Thomas, 'Stack' Stevens. The fine referee was Victor Martin, late brother to David and John.
In more recent years we have played 'Sarries' twice - in November, 2003, when we played them in the Powergen Cup competition, and more recently in August, 2013, in a first fixture away, that was hosted at the impressive HAC (Honourable Artillery Company) ground in the City of London. We lost 61-3, which was perhaps of no surprise against a side containing so many fine players, including the likes of Chris Ashton, Dave Strettle, Charlie Hodgson, Billy Vunipola, George Kruis and Jamie George – to name but a few.
Action at the 'HAC', as Pirates skipper Gavin Cattle is about to knock back his opposite number Richard Wigglesworth – Photo: Simon Bryant
Looking back to the 2003 Powergen Cup tie, it was Sea Warriors versus Desert Warriors, as we pushed them mighty close in the match played at the Mennaye Field. It was a perfect day for rugby, with an ex-Saracen in the Pirates line-up, full-back Rob Thirlby, putting us ahead with two penalties slotted within the space of 10 minutes. 6-0 up, the lead did not last long, as Saracens hit back when Fijian World Cup fly-half Nicky Little converted a try scored by lock Kris Chesney. Not fazed, the Pirates, for whom Viliami Ma'asi (playing on the flank) was making accustomed powerful runs, then created a try which would regain the lead. Wing Matt Jess jinked past three defenders, and then passed the ball to Zimbawean Victor Olonga who released fly-half James Shanahan on a 20 metres sprint to the line. Thirlby added the extras.
There was every hope that we'd arrive at the interval ahead, but Nicky Little was on target with two penalty chances in injury-time to draw the scores level at 13-all.
A packed Newlyn end for the visit of Saracens – Photo: Phil Westren
In the second half the Pirates had to defend valiantly, and were particularly grateful to Rob Thirlby for making a couple of important last ditch tackles. No. 8 Alex Alesbrook, also kept a close watch on former All Blacks skipper Taine Randell, as did Victor Olonga on Saracens flyer Richard Haughton.
Little edged his side ahead with his third penalty on 55 minutes, but Saracens had to wait until the 70th minute before they would score again, it this time a superb Richard Haughton effort. Nicky Little converted, as he did similarly after a try was scored by replacement Ben Russell.
To the delight of our supporters, Matt Jess then sprinted in for a try converted by Rob Thirlby to make the scoreline 20-30, but it was all too late to prevent Saracens from reaching the last eight in the competition. Yes, we had to make our exit, but we did so with pride.
The teams that day were as follows:- Pirates: Rob Thirlby, Victor Olonga, Steve Evans, Martin Worthington, Matt Jess, James Shanahan, Ricky Pellow (Stuart Turnbull 80), Alex Alesbrook, Kevin Penrose (Josh Lord 67), Viliami Ma'asi, Richard Carroll (Lee Soper 67), Dave Whitehead, Nick Adams (Dan Seal 62), James Owen (Peter Bush 48), Alan Paver (Ashley Morcom 71).
Replacements (not used ): Mark Scrivener.
Saracens: Adryan Winnan (a 'Pirate' to be), Richard Haughton, B. Johnston, P. Bailey (D. Cech 79), D. O'Mahony, Nicky Little, M. Williams, Taine Randell, Ryan Peacey (another Pirate to be - B. Russell 38), Tony Roques, Kris Chesney (Simon Raiwalui 55), Ben Skirving, B. Broster, J. Marsters (S. Philpott 80), A. Kershaw (E. Bergamaschi 73).
Replacement (not used) D. Kirton.
This image is the Saracens team of 1989-90, which played at Southgate. Floyd Steadman skippered a strong side that included Jason Leonard. A young Mark Evans, then Assistant Coach at Saracens, is also seen in the back-row.
View a Printer Friendly version of this Story.
A Look Back In Time – Pirates & Saracens
Unofficial Pirates (IP Logged)
13/09/2017 11:26
What do you think? You can have your say by posting below.
If you do not already have an account
Click here to Register
.
Sorry, only registered users may post in this forum.