A Look Back in Time –1987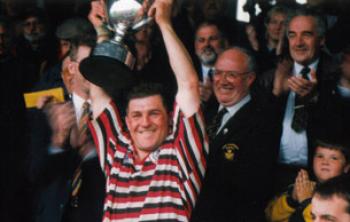 By Phil Westren
September 27 2017
1987 was quite a year, with there a number of individual events that are worthy to highlight.
Space and time does not permit such a column to be too wordy, however a brief resume confirms that it was the first year of the Courage English Club Championship (covered in a previous column), the Pirates playing their first game in the Cornwall & Devon League against Hayle. Camborne was the highest placed Cornish club in the league system, playing in Area League (South).
Cornwall reached the semi-final of the County Championship, losing to Middlesex at 'The Stoop', and the New Zealand Barbarians played Cornwall at Redruth in March, few realising then that nine of their selection (in the XV and on the bench) would three months later be in the 'All Blacks' side that won the inaugural Rugby World Cup competition. A 'Pirate', John Kendall-Carpenter, was Chairman of the organising committee and also the man responsible for choosing the actual William Webb Ellis Trophy first presented to New Zealand skipper David Kirk at Eden Park, Auckland. The All Blacks beat France 29-9.
Back to matters 'Pirates', delving in the archives the year started with much attention given by our committee to areas of income and expenditure, resulting in a Special General Meeting being called. One important proposal up for consideration was the sale of our garages, however it was felt that although such an action would ease immediate financial worries and wipe out an overdraft, there was still a felt reality that unless there were dramatic changes we would soon be back to square one, but with reduced assets. It was quite rightly decided not to sell the garages, and because the members were now fully aware that more needed to be done, there was thankfully a reaction, leading to increased efforts which would ultimately prove worthwhile. Indeed, the financial year ended with a recorded £3,321 profit.
In May the club held a Buffet Dance & Awards evening in the clubhouse where Mike Luke was a welcome guest (it was great to see him again early this September when we played Bristol). The Penzance 'boy' and former Pirate, who had captained Canada was back 'home' for a few days, kindly stepped into the breach when England international Maurice Colclough was unable to attend. Award winners included Player of the Year – Dave Roberts, and Clubman of the Year – Kenny Gilbert.
Mentioning the finances once again, considerable credit was due to certain members who reacted in various positive ways, including a brave Shirley Pitts and players Ian Henderson, Mike Toms, John Williams, Robert Freethy, Joff Collins, Tony Hands and Mike Williams for taking part in a sponsored Parachute Jump at the old Naval Airfield near Padstow.
Our annual 'Prom' Day, held in August, was also once again a tremendous success, with BBC Television's Sue King a popular guest. The programme of events included a Cross Bay Swimming Race, a Parachute Drop (on the rugby field, not on the prom), a Lifeboat & Air Sea Rescue Display, Punch & Judy, Morris Dancing, the Penzance Youth Band, plus numerous static displays and stalls.
Sue King
A packed 'Prom' Day promenade – and BBQ boys Roger Roberts, Floyd Steadman, Rex Sincock, Micky James, and Roger Prout – Photos: Phil Westren
Providing vital income, our annual Summer Draw was also well supported - although uproar prevailed when Des Thomas's pet rabbit 'won' a day trip to the Isles of Scilly! Des was our 'have a go' coach at the time who also raised sponsorship when participating in a Triathlon.
Stalwarts of the day included George & Lillian Richards who celebrated their Golden Wedding anniversary with a party in the clubhouse, whilst former club captain Alvin Williams was proudly elected President. Retiring President George 'Bosun' James was elected a Life Member, as was former player Ernie Brown who did much good work on the grounds.
Ernie Brown, getting to work on the ground – Photo: Phil Westren
In October we hosted the Cornwall versus Combined Services match at the Mennaye Field, when our very own Adrian Bick was outstanding in a useful win for the county against a team featuring Rory Underwood on the wing.
Adrian Bick – Photo: Phil Westren
As Secretary at the time, my half-year comments are interesting to read snips from. They highlight the workload taken on by senior officials, with thankfully much good work performed in an effort to create stability. Words of warning, however, stated that stability was sought not just for then but also for the future, with it important that all sections take careful control of their expenditure, and realistically assess all items. In general, however, we were going in the right direction, on and off the field.
Regular social events really were a necessity in those days, and the year ended with another very successful annual New Year's Eve function, again organised by Micky James and I, along with our wives Sue and Sally, who voluntarily prepared and served an excellent buffet. For many years social events were always geared to make a profit – this one realised a then important £280.
Terry Drew pictured at the New Year's Eve Party 1987 – Photo: Phil Westren;
plus in party mode Sally Westren, Brian Monckton, Sue James and MickyJames
In the Five Nations (no Italy back then), the sun shone on 'Les Bleues' – France – who won their fourth Grand Slam. 'Le Petit General' Jacques Fouroux was their head coach, and hooker Daniel Dubroca their captain. Wing Philippe Berot was a top points scorer with 37, whilst fellow wing Eric Bonneval topped the try-scoring list with five.
Jacques Fouroux in his playing days
England's sole victory was a 21-12 Calcutta Cup win at Twickenham. Skipper and wing Mike Harrison scored a try (then worth 4 points), as did full-back Marcus Rose who also kicked two conversions and three penalties.
A brief look back to 1987 ended, there was also much to commend in 1988, but that's for another time!