A Look Back in Time – To January 2008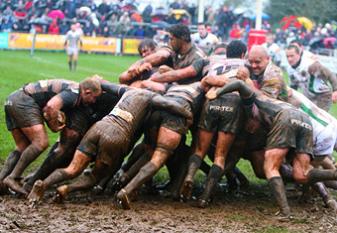 By Phil Westren
January 15 2018
To an old codger like me, a look back to 10 years ago seems just like yesterday! However, it's an interesting look back, nonetheless.
The New Year in 2008 opened with a narrow 27-23 victory away to Pertemps Bees, which was followed the week after with a 'home' game at Camborne in the EDF Energy National Trophy against Northampton Saints. We were, of course, proudly holders of the trophy, having beaten Exeter Chiefs 19-16 at Twickenham in April.
The game against Jim Mallinder's 'Saints' would be lost, but it was obviously no surprise. A look at the team line-ups shows that we were strong ourselves, however the quality in the opposition ranks speaks for itself. My match report read as follows:
Cornish Pirates 3 Northampton Saints 15
For their defence of the EDF Energy National Trophy so proudly won at Twickenham last April, the Cornish Pirates were handed a mightily tough draw at home last Saturday to Northampton Saints, this their opening tie in Round 4 of this season's competition.
It was a third meeting between the two clubs this season, the Saints having emerged relatively narrow victors from both league games that have been played. This, however, was Cup action, the Pirates certain not to give up their hard-fought for silverware without a fight.
The Cornish Pirates team, hopeful of delivering the goods for their faithful supporters, showed three changes in personnel from the side that started at Pertemps Bees seven days earlier. Brian Tuohy returned to the wing in place of Vunga Lilo who took over from Paul Devlin at outside centre, and at fly-half Gareth Steenson was selected ahead of Ollie Thomas. In the pack Chris Cracknell took the blind-side berth, with skipper Tim Cowley reverting to the No. 8 position in place of Matt Evans.
On a truly horribly wet and windy afternoon at the 'Rec', Northampton kicked the game off, with the elements in their favour playing towards the 'Worldwide Financial Planning' scoreboard end of the ground.
When a first penalty was awarded the Saints, they opted for a catch and drive at the clubhouse corner, with Carlos Spencer's kick posting them a perfect position near to the Pirates line. A score from the ensuing line-out looked very much 'on', but Cracknell did well to snaffle possession and thus foil the initial threat.
It looked obvious that play would likely be isolated in the one half of the ground all afternoon, but after Northampton's full-back Stephen Myler opened the scoring with a penalty strike from 40 metres, the Pirates responded to play with admirable control in the less than ideal conditions. Skipper Cowley led the way, setting the example of what was needed in the tackle area, and then taking the ball forcefully forward with support from lock Heino Senekal. Space was almost created to give wing Rhodri McAtee a glimmer of a chance inside the visitors '22', but when the Saints regained possession they drove the Pirates alarmingly into their own half, the ball then carried by No. 8 Mark Hopley who ran 35 metres for an unconverted try on the right
Again the Pirates worked impressively to take the game to their opponents, the whole back-row forming an outstanding unit as they drove their opponents back. An up and under from fly-half Gareth Steenson enabled the Pirates to push further upfield, with flanker Iva Motusaga and prop Dan Seal to the fore.
As the Pirates edged ever close to the Saints line, combative scrum-half Ed Fairhurst looked close to scoring, but a knock-on occurred and the ball was cleared to halfway.
If Northampton held one obvious area of advantage, then it was perhaps not so surprisingly at the scrummage, and it certainly no disgrace. The front-row of former Scotland and British Lions star Tom Smith, hooker Dylan Hartley and Euan Murray were a more than useful trio, with useful bulk behind them, and it was that forward factor of timely dominance which told in the build up to a second try, one finished off with some enterprising interplay from wing Chris Ashton and scoring centre James Downey. Myler this time added the extras.
The Pirates needed a boost, and most deservedly so, a successful penalty by Steenson from 42 metres the answer to everyone's prayers.
Just before the break, however, there was a set-back when Cowley had to hobble off, his efforts though loudly applauded. There was also a sporting first shake of his hand, and one out of genuine respect, from a Northampton coach, Dorian West, the former Leicester and England hooker.
Both sides emerged from the tunnels wearing clean new shirts for the second half, as revigorated the Pirates now had the advantage of playing with the elements. Indeed, Fairhurst and McAtee worked play cleverly on the left, only for the latter to be scragged into touch near the corner flag.
The field was hurriedly turning from green to brown, the foothold on the service likely to hamper any long-range penalty attempt, as proved apparent when a Steenson effort from five metres inside his own half fell short
As the minutes ticked by, and in fading light, the Pirates held territorial advantage, their hopes raised again when wing Chris Ashton spilled the ball inside his own '22'. Hooker Rob Elloway needed mud washed from his eyes before the scrummage could be formed, but the Saints held firm and skipper Bruce Reihana gambled as he tried to break clear.
A catch and drive at the old scoreboard corner proved the next realistic chance of breaking down the Saints stubborn defence, but they were anything but as charitable as their name.
The Pirates perhaps lacked just a little of the grunt and grind that on another day might have made a difference, but to each man who played there were top marks for effort, with there a fitting man of the match award for young lock Scott Hobson. Selected during the past week for the England U20s squad, the experience gained in recent games should benefit him enormously.
At the very end it was all but impossible to distinguish who was who, and there ultimately disappointment and realisation that the EDF Energy National Trophy, which the Pirates have held so dear, was not to be theirs – for this season at least. The eventual winners will likely be their victors on Saturday, there perhaps some scant reward to hear Bruce Reihana at least comment that Northampton's match against the Cornish Pirates had been their toughest played all season.
Cornish Pirates: A. Winnan, R. McAtee, V. Lilo, S. Winn, B. Tuohy, G. Steenson, E. Fairhurst, T. Cowley (capt – M. Evans 39), I. Motusaga, C. Cracknell (S. Betty 64-77), S. Hobson, H. Senekal, D. Seal, R. Elloway (D. Dawidiuk 66), P. Cook.
Replacements (not used): A. Paver, P. Devlin, O. Thomas, J. Moore.
Northampton Saints: S. Myler, C. Ashton (P. Diggin 80), J. Clarke, J. Downey, B. Reihana (capt), C. Spencer, J. Howard (M. Robinson 67), M. Hopley (M. Easter 67), B. Lewitt, P. Tupai, M. Lord, A. Rae (P. Hoy 80), E. Murray (B. Stewart 32), D. Hartley (J. Gray 80), T. Smith (S. Tonga'uiha 60).
Yellow card: B. Stewart
Scorers:-
Cornish Pirates – pen: Steenson
Northampton Saints – tries: Hopley, Downey; con: Myler; pen: Myler
Referee: Mr. 'JP' Doyle (RFU)
Two other games played in the month saw us win 28-6 at home to Newbury and then lose 39-29 away to Exeter Chiefs.
Spring had arrived early at a sun-drenched Sandy Park at the end of that January, when a then near capacity crowd (5,859) was also given much to savour in witnessing nine tries scored in a sumptuous see-saw of a match.
That the Chiefs deserved their victory, there was no argument, but the Cornish Pirates supporters were far from forlorn, admiring both the effort given and the manner in which their side played this game. The match details were as follows:
Exeter Chiefs: S. Marsden, J. Luff, J. Fatialofa (M. Fatialofa 75), W. Kelly, J. Drauniniu, T. Yapp, C. Stuart-Smith (K. Barrett 79), R. Baxter (capt), A. Miller, T. Johnson (C. Slade 70), L. Stevenson, C. Bentley (J. Hanks 59), J. Andress (C. Dunlea 64), S. Blythe, B. Sturgess.
Replacements (not used): S. Jenkins, S. Kingsland.
Cornish Pirates: 15 A. Winnan, 14 J. Moore (R. McAtee 45), 13 M. Ireland, 12 S. Winn, 11 V. Lilo, 10 G. Steenson (O. Thomas 63), 9 E. Fairhurst (39-41, P. Devlin 70), 8 T. Cowley (capt), 7 I. Motusaga, 6 C. Cracknell, 5 S. Hobson (B. Cumming h/t), 4 H. Senekal, 3 D. Seal (P. Cook 71), 2 R. Elloway (N. Kemp 58), 1 A. Paver.
Replacements (not used): M. Evans
Scorers:-
Exeter Chiefs – tries: Bentley, Drauniniu, Baxter, Yapp, Johnson; cons: Yapp (4); pens: Yapp (2).
Cornish Pirates – tries: Steenson (2), Lilo, McAtee; cons: Steenson (2), Thomas; pen: Steenson.
Referee: Dale Newitt (RFU)