A Look Back in Time - Cornwall 1957/58 Season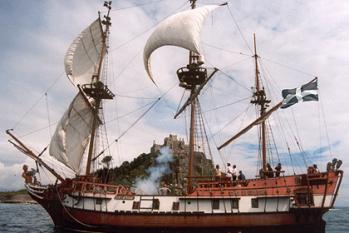 By Phil Westren
February 20 2018
In times past, when the County Championship had real importance, at the start of the 1957/58 season nobody expected Cornwall to do particularly well. Certain stars were perhaps past their best, or had hung up their boots, but a fascinating story unfolded.
Was it perhaps that the sevens and eights were in the years again, remembering that Cornwall had only won the Championship once, way back in 1907/08, whilst they were also losing finalists in 1927/28 (as they had been in 1908/09)? Anyway, if the annual 'friendly' matches were anything to go by the season didn't get off to the most impressive of starts, as matches were lost 14-8 at Falmouth, against British Police, and then 10-6 at Redruth, against D.R. Gent's XV.
The County Championship opener in October 1957 would, however, provide real encouragement, against oft formidable opponents in Gloucestershire. The game was won 15-6 at Camborne, and another victory then followed, 6-3 away at Taunton against Somerset. So far, so good. However, in the third SW group game, played versus cross-Tamar rivals Devon at Devonport in November, the match was lost, 11-6, which led to a play-off.
Facing Devon again, but this time at Redruth, home advantage would count. The match was won 11-6, with a second half try scored by Pirates' winger Mike Jenkin proving all-important, and centre Roger Hosen converting from the touchline. A quarter-final place had been secured.
The men of Hertfordshire were opponents early in January, when Cornwall won 11-0 away at Croxley Green, this earning the black and gold a home 'semi' against Lancashire.
A semi-final contest played at Redruth on the 15th February between two proud counties was guaranteed to excite. An extra stand was erected for the day and the touchlines were crowded - safety regulations were all but non-existent in those days!
The chosen teams for the eagerly awaited clash were as follows:
Cornwall: Harold Stevens (Redruth - capt), Mike Jenkin (Pirates and Gloucester), Gerald Luke (Pirates and St. Luke's), Roger Hosen (Penryn and Northampton), John Morgan (Falmouth), Graham Paul (Pirates and Coastal Command), Peter Michell (Pirates), John Phillips (Redruth), David Mills (Harlequins), Vic Roberts (Penryn, Harlequins and England), Gary Harris (Camborne), Alvin Williams (Pirates), Cyril 'Bonzo' Johns (Redruth), Ken Abrahams (Redruth), Alan Mitchell (Redruth).
Lancashire: J.G. Willcox (Fylde and Harlequins), K. Jones (Manchester), R. Lee (Liverpool and Irish Trials - capt), M.S. Phillips (Fylde, Oxford and England), K.F. Smith (Preston Grasshoppers), A.B. Risman (Manchester University), A.J. Crick (Rosslyn Park), A. Ashcroft (Waterloo and England), W.W. Moss (St. Helens), E.P. Cosslett (Broughton Park), J.E. Cooper (Manchester), G.D. Parker (Manchester), J.F. Ackerman (Liverpool), N. Slack (Waterloo), R. Lightfoot (Liverpool).
Looking at the Cornwall side, the sizes of the players are worthy of highlighting, there incredibly just two players over 6', namely the second-row pairing of our Alvin and Gary Harris who were 6' 2". The selection of flanker David Mills was also interesting, as only after the 20 years old Cambridge University student had played earlier in the season for Harlequins against Penryn, was it discovered that he had been born within a stone's throw of the Camborne ground.
Peter Michell getting his pass away against Lancashire
Cornwall's captain, Harold Stevens
Lancashire had a proud County Championship record, having at that time won it four times since World War Two, and been runners-up twice. It was the first meeting between the teams in a Championship game, though a 'friendly' had taken place at Falmouth in 1930 when Cornwall lost 29-16. Alan Ashcroft and Malcolm Phillips were international stars in the 1958 side, while John Willcox and Bev Risman would also later play for England.
Cornwall's challenge was clearly a monumental one, but they rose to the occasion magnificently and fully deserved their 14-8 points victory. Playing like demons the Cornishmen apparently tore into the 'Cocks of the North' and never let the Lancastrians settle. The match hero was Harold Stevens, the Cornish skipper and full-back. He was immaculate in everything he did and his precision goal-kicking carried his side to a splendid win. Former Welsh international Bleddyn Williams commented at the time that "If ever the England selectors are looking for a ready-made deputy for Hetherington, then Stevens is their man."
Second only to Harold Stevens was the Cornish pack leader, Vic Roberts, who at 34 years of age was very much the veteran of the side. As fit as ever the former 'British Lion' was inspirational, with those around him rising to the example set. Graham Paul and Peter Michell formed a smoothly efficient half-back combination, helped by the fact that the pack in front of them played magnificently, with Gary Harris, Alvin Williams and John Phillips more than matching their opposite numbers. It was a game never to be forgotten by those who witnessed it, with Harold Stevens and Vic Roberts chaired off in the gathering dusk at the end after a famous Cornish victory.
Cornwall's half-backs, Graham Paul & Peter Michell
The win meant that Cornwall were through to the final for the first time in thirty years, and though there were three weeks to go before it was due to be played, the selectors needed less than three minutes to pick their team - it no surprise that they sat down and immediately named an unchanged line-up.
The semi-final match scorers were:
Cornwall – tries: Mills, Abrahams; con: Stevens; pens: Stevens (2).
Lancashire – tries: Jones, Slack; con: Risman.
So, the final now beckoned – which will be the subject in March for my next 'A Look Back in Time'!
View a Printer Friendly version of this Story.
A Look Back in Time – Cornwall 1957/58 Season
Unofficial Pirates (IP Logged)
20/02/2018 14:08
What do you think? You can have your say by posting below.
If you do not already have an account
Click here to Register
.
Sorry, only registered users may post in this forum.