Coventy Rugby squad news update December 2012.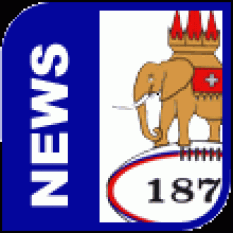 By Tom Little.
December 11 2012
With the current National League 1 season almost half way through the following is an up to date list of changes to the Coventry Rugby squad list since the start of this season.
Players released:-
Ben Russell-full back-has been released due to his work and study commitments but remains on emergency cover for Coventry Rugby if required.
Neil Tatlow-prop to Broad Street
Mark Hopley-back row released as now required by Northampton Saints as part of their Senior Coaching squad following their recent changes.
Danny Herriott- prop dr loan from Northampton Saints. Required at Moseley following injury to Adam Parkins and recall of Ethan Waller back to Northampton.
Rob Walton-lock
Tommy Harris- wing
Paul Jarvis-wing - fitness not proved
Rob Walton
Players currently out on loan:-
Jeff Gregson-winger to Nuneaton
Nat McDonald-centre to Nuneaton
Andy Murray-No 9 to Broad Street
Lee Chapman-No 10 to Birmingham Solihull
Will Maisey -fly half was on loan at Nuneaton RFC has now been recalled back to Coventry Rugby
Long term Injuries:-
Gareth Turner-No 8
Luke Myring-centre
James Whybrow-centre awaiting medical diagnosis
Owen Whittle
Turned out as guests for other teams such as Worcester 'a' or new Rugby Lions:-
Sam Herrington
Jamie Harrop
Tom Poole
Northampton Saints and Worcester Warriors dual registered players:-
Coventry Rugby have maintained close links with the two Premiership sides and the list of dr players still remain attached to Coventry Rugby. Their chances have been somewhat limited so far this season due to their own "A" league, academy and second team commitments.
Finally all the Coaches and Directors of Coventry Rugby would like to thank all the players that have been released for their past services to Coventry Rugby and wish them success off and on the field in the future.
Tom Little
Coventry Rugby press office
11th December 2012