The 200 Club - Looking Ahead to 2017/18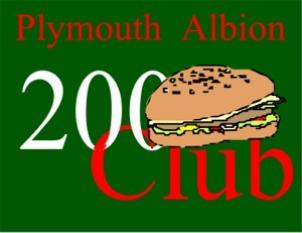 By Plymalbi200C
July 22 2017
After a successful first season in it's new format, the 200 Club (200C) is looking forward to doing even more for Plymouth Albion as the new campaign approaches. Rising from the ashes of the financial administration in the spring of 2016, we have been able to re-establish a supporter-based association that provides a social focus for followers of the RFC as well as provide financial assistance to the new ownership.
Last term, we provided funds for the sponsorship for a player (Sam Nixon, who did us proud in the front row and is now fully engaged in pre-season at AP side Bath), a healthy contribution to infrastructure improvements at Brickfields as well as supporting the Ladies by a donation towards coaching qualifications. Overall, we were proud to hand over more than £2 000. In addition, we sponsored the Player of the Month award by way of a bottle to champagne to the squad member who, in the opinion of the coaching staff had contributed most on and off the field.
On the social side, the Monthly Draw Prize Fund was close to £100 by season's end - enabling lucky members to more than win back their subscriptions. Indeed, a few even won twice! Vince Jones' swansong was the ever popular Xmas Lunch in early December, for which he was heartily thanked at the first of two successful Matchday Lunches in January when Esher came to visit. A second lunch took place later in the season at the Blaydon game. The midweek Monthly Supporters' Lunches have continued all year, allowing PARFC supporters and 200C members to meet up as well as hear updates from players and personalities from PARFC (1st Wed of each calendar month). The Meat Raffle continues to provide funds for the Xmas Lunch, the date for which will be confirmed shortly).
So, what is in store for the future? More of the same, basically. We are keen to expand our membership as that is the best way to provide additional funds to Albion. In addition, we have realised the limitations of our current subscription system, which has remained unchanged since the original founding. To enable a greater degree of flexibility regarding joining over the membership year (01 Sep - 31 Aug), the subscription slightly will rise from the current £52 (basically £1/week) to £60 (or £5/month). This will provide a simple, transparent way of accommodating "late joiners". It will be payable in advance for whole months for the remainder of the year in question. These two measures should allow us to almost double our financial support if we can reach 100 members for the new season. (We had 2/3 of that in 2016/17). Naturally, we wish to assist from the start and will accept subscriptions from 01 Aug 2017.
There's no escaping the fact that this is a request for money at a time when there may not be a lot of it sloshing around. All we can say it's for a good cause (nay, the best!) and that all funds go either to our beloved RFC or back to the members. Please re-new your membership as soon as possible and point potential new members our way:
Peter Harrsion (Chairman): Big chap, Barbour jacket, fine repertoire of funny rugby stories;
Simon Franks (Secretary/Treasurer): email: plymalbi200@gmail.com, "200" team shirt;
Anne Prue (Committee Member): Helps with Albi Travel, an Albion "Supporter of the Year" who saw every game last year - home and away.
With no team relegated from the Level 2 this year, the coming season is seen by many as a golden opportunity for promotion - why not join us and help Albion back to the Championship?
Albi, Albi, Albi!
a