BLUEY'S VIEW | EXCLUSIVE TO LEEDSRHINOS.BIZ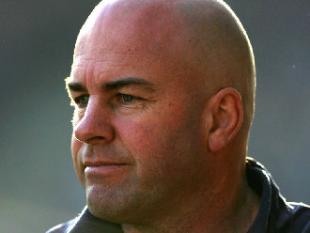 TOP 2 FINISH GUARANTEED
By Shamoon Hafez
August 18 2008
Bluey's View is a new feature to the website where you will be able to read the full post match press conference made by Brian McClennan after each Leeds Rhinos home game. This is the only place on the internet where you can read IN FULL, what Bluey had to say after the game.
vs Castleford Tigers- Friday 15th August 2008.
Super League Round 25
Headingley Carnegie; Leeds
-------------------------------------------------------------------------------------------
There were so many positives from that performance?
We did some good things and there was a flat period in the third quarter but other than that I was pleased with the players and the discipline was good. I thought we did well in that area.
Are you pleased to guarantee yourself at least a top two finish?
We weren't really thinking about that too much, we just wanted to perform well and if we won the game we would finish at least second. I'm really happy with the boys discipline though. It was frustrating out there, there ten metres was virtually non existent and it was hard to get any momentum and it was a bit too scrappy.
Was there an overall improvement from last week as well?
It was a slow, slow ruck and so I'm really happy and when we did get momentum we scored some nice tries. We're getting confidence yet we know there's a whole lot more in us.
Was the biggest positive being Ashley Gibson's return?
Yes, it was. We're building his game time up; he played 60 minutes of the wing then 20 at centre. Ali got some minutes and looked dangerous but I would have liked to have given Ian Kirke more time on the field but he has picked up a foot injury.
Will Scott Donald return in time for the play offs?
We're thinking he'll be back for Wakefield but unlikely to be ready for Wigan. Jamie Jones and Ryan Bailey are on target to play against Wigan.
A good contribution from Jordan Tansey?
He can play a lot of positions and the last try sums him up. He's a schemer and comes up with plays like that. It was a good effort. Having him there means he can play anywhere; he played hooker, wing and could even have put him at full back.
Is it a good thing that he can play many positions and not having one set position in the team?
It is really because they come in handy for the team. Players have made careers out of being utility players and this is a hard team to make and he does well. There are other young ones coming through who are pretty versatile as well.
Shamoon Hafez
More Leeds Rhinos headlines
Leeds Rhinos Poll