ROB BURROW INTERVIEW | VS CASTLEFORD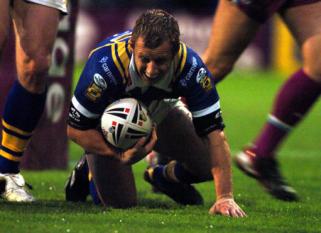 IN BRILLIANT FORM
By Shamoon Hafez
August 18 2008
Due to it being the final home game of the regular season, the players had only a small amount of time for a chat having signed autographs for the Headingley crowd after the game. However, Rob Burrow did stop for a short interview for leedsrhinos.biz
A good victory against Castleford but how important was it to at least finish second in the league?
I'd say it was a massive victory today to finish in the top two and obviously we would like to finish top which is still possible so the pressure is on Saint Helens. We needed four wins out of four, we've achieved two out of two so hopefully we can get two more victories before the play offs.
You are a fans favourite here; how happy do you feel in playing in front of this Headingley crowd?
It's absolutely brilliant. They are a great crowd, we get the most people and they are the best supporters in the league. It means a lot to play in front of a chanting Headingley crowd; there isn't a better feeling and no better place to play.
Finally, there is also the World Cup to think about; do you think you can cement your place in the squad and make the number seven shirt yours?
Hopefully I can but there is still some rugby to be played including the play offs and with good form, things can take care of themselves after that.
Shamoon Hafez
More Leeds Rhinos headlines
Leeds Rhinos Poll