LEAGUE OR UNION DECISION FOR LEE SMITH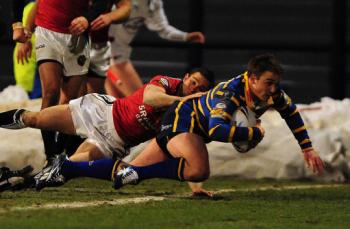 Lee Smith
By leedsrhinos.biz
April 12 2009
This story has been going on for quite a while now, and the question still remains the same, will Lee Smith still be a Rhino come the end of the season, or even at the half point of our season? There have been un-confirmed reports for a few months now, about the prospect of Lee Smith moving to rugby unionís premier competition, the Guinness Premiership.
And if that isn't enough for the Leeds fans to cope with, nobody is even certain of which club he would move to, if he was to make the switch.
The Sun reported that both Saracens and Wasps were interested in the versatile Rhinos player as a full back, after both clubs saw his superb performance in last years engage Super League Grand Final, when he stepped into Brent Webb's full back boots. But Smith has already played in three positions this season for Leeds - winger, full back and centre.
These rugby union clubs wouldn't be breaking any rules either. Both Wasps and Saracens can talk to the young star (22), and also sign him IF the Super League champions agree to release him early from his contract, which expires at the end of this season.
If the union clubs are interested, which looks to be true, they would want him for pre season training, which starts in June for Guinness Premiership clubs. This would mean he would not be at the club for all important clashes with Bradford and Saints, not only this but he wouldn't be at the club for the play offs, or the Grand Final if the Rhinos were to get there.
The absense of Smith would leave a gap in Leeds' squad. Rugby league fans, and Rhinos fans especially, were shocked at the prospect of Lee Smith playing in the centres, when the squad numbers were released prior to this Super League season.
What do you think? Comment on our message board and vote on our poll.
We will be following this story, as soon as anything else comes out..
___________
Do you think we have missed anything in this article, or think that you could be our newest reporter, possibly writing match reports? Contact us here.
More Leeds Rhinos headlines
Leeds Rhinos Poll