LEE SMITH - TO BE IN TALKS WITH HETHERINGTON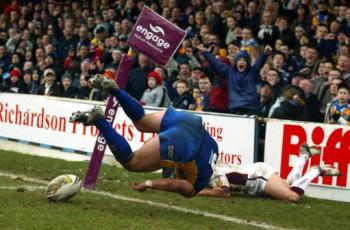 League or union?
By leedsrhinos.biz
April 13 2009
After our story published yesterday on leedsrhinos.biz speculating Lee Smith's future with the club, the Rhinos and the player himself have announced in an exclusive interview with the website and matchday magazine that they hope to be in talks within the next few weeks, regarding a possible contract extension.
The good thing for Rhinos fans is that he says his main focus at the moment is helping the club get back on form, and to get himself back on the field of play to help do his bit for the club, being honest and admitting that he is not sure what he wants to do in the future
Lee Smith has been out for the past four games, after picking up an infection in a bruise on his leg, which needed an operation. He says the ordeal of the operation is behind him, and he just wants to get back to his rugby - great news for Leeds fans.
Now lets hope that he will sign a contract extension with Leeds, keeping one of England's best rugby prospects where he belongs.
As soon as there is any more information about this story, we will publish it here on the most trusted independent source of Leeds Rhinos news.
More Leeds Rhinos headlines
Leeds Rhinos Poll