FRIDAY NIGHT, LIVE! | engage SUPER LEAGUE LIVE SCORES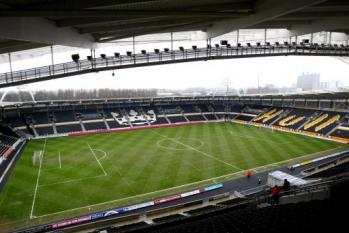 Action from KC Stadium
By leedsrhinos.biz
April 17 2009
Welcome to the engage Super League 2009 edition of the live scores centre, on leedsrhinos.biz. Click more to launch the live scores homepage which includes a link to the latest info from all this weekend's engage Super League action, which will update automatically every sixty seconds, to keep you up-to-date with all the action.
Friday night action on leedsrhinos.biz:
Bradford Bulls vs. Warrington Wolves - 20:00, live on Sky Sports
Hull FC vs. Wakefield Wildcats - 20:00
Tomorrow - Leeds take part in a Giant clash, quite literally! The Rhinos need to get back on track after three losses on the trot, whilst the Huddersfield Giants are riding high in Super League... It's the Rhinos vs. Huddersfield Giants at the Galpharm Stadium. Check out leedsrhinos.biz for live scores from 18:00 on Saturday. But prior to this, Catalan Dragons take on Salford City Reds in France. Live scores coverage starts on that match from 17:00.
Click the link below to launch Live Scores Centre
http://www.rugbynetwork.net/main/s540/st131553.htm
Having problems with the Live Scores automatically updating? Just click 'Live Scores' beneath 'LEEDSRHINOS.BIZ' on the navigational panel to re-load!
More Leeds Rhinos headlines
Leeds Rhinos Poll