Exeter Chiefs beat Plymouth Albion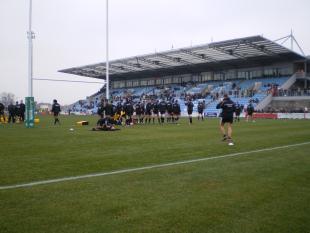 Sandy Park
By Moorsman
January 29 2007
Peter Drewett's first season coaching Exeter Chiefs seems to be showing great promise. The team are now putting together a string of good performances. These have been particularly striking away from home.
Chiefs doing the double over Albion was just about as sweet as it can be.  The way the team went about the task was fantastic.  Having said this Albion showed how strong their defence can be but the Chiefs didn't give them time to think.  There seemed to be two Chiefs on any attacking player and Ed Lewsey must have wondered how many players Exe had on the field.  The whole team performed really well and Tony Walker had an outstanding game.  Infact the back row were immense with Richie as strong as ever and I don't know what they're feeding him but Gary Willis looks fitter than ever!  The backs stepped up a gear in defence and showed good handling when attacking.  They lost patience a couple of times and gave the ball to Albion but soon regained possession and stopped them in their tracks.  Yappy looks back to form with the boot and punished Plymouth each time they gave away a penalty.
The down-sides were a couple of injuries, to Sam Blythe and Ian Brown who was yellow carded.  Let's hope they're soon well again.  Ian hadn't missed a minute of play for the Chiefs in league games prior to his sin-binning, can anyone remember 'Sir' falling fowl of a referee before?
Just wondered what Exe fans made of the Plymouth 'Mascot'?  Is it a badger? and if so why?  For those who weren't fortunate enough to be at the match, this photograph says it all.
Hardly the most inspiring of mascots and didn't 'whip the crowd up' at all.  The Bristol 'Shogun' mascot had a lot more life but maybe a friendly badger was for the kiddies?
If we were to join the mascot 'club', which I am not advocating!  What sort of mascot would it be?
More Exeter Chiefs headlines
Exeter Chiefs Poll