Spotlight on The Tribe 3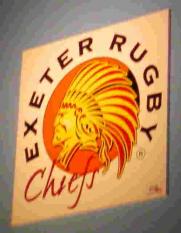 Spotlight
By Moorsman
August 1 2009
UltrViolet is the third Tribe member to share their profile.
Spotlight on The Tribe 3
Tribe Name/Name: UltraViolet

Age: 26

Profile: I live in Exeter with the family. I'm an admin assistant for a Teachers' union

Why do you support rugby? Because it is such a friendly atmosphere and you get to meet lots of nice people (most of the time!) who you can have a good laugh with, and you know that they are going through the same emotions as you on a Saturday!

When did you start watching (or playing) rugby and why? I played a bit of tag rugby at school but never played after that as women's rugby was not that established back then and my knees probably wouldn't take it now!

What players did you/do you admire? I have to make sure I answer this question in a professional manner!! When they were playing Martin Johnson and Lawrence Dallaglio and our very own Gary Willis, who always gave 100%. Jonny Wilkinson for his skill and 'that' drop goal!

What's your best memory as a spectator? I think it was the last away game of the 2007/2008 season at Doncaster, it was such a tight game and we needed to win to come second, Kevin Barrett scoring that try for us to win and the Tribe going mental, oh and me nearly passing out from lack of oxygen! Good times!

What led you to being a Chiefs supporter? My sister bid for 2 tickets in a charity auction for a Rotherham game down at the County Ground, Mother then came along to the next match we went to and we have never looked back, which meant there were 3 less supporters at Exeter Saracens home matches!

Why do you support Exeter Chiefs and how long have you been following them? We started watching them in 2001 thanks to the tickets! We also knew somebody else who went and watched the Chiefs and he suggested we came again. As to why I support the Chiefs, isn't it obvious?!!

What has pleased you most about the way the club's developed over the last few years? Obviously the move to Sandy Park was massive for all involved and a very good move, our facilities are fantastic.

How many live games do you see a season? All the home games unless I am allowed out of the country for an occasional holiday!

Do you go to any away games? Yes we go on the coach, it is a great atmosphere, I would recommend it to anyone.

What's your particular matchday routine? If it's a home match then I have a lie in until 11-ish then get myself ready and head to the ground for 1.30 to catch up with everyone.

Away matches are a different kettle of fish with having to get up at ungodly hours of the morning (I never knew there was a 6a.m!) drive to the coach pick up in silence, Mum and Sis know what's good for them! And then the day begins.

How do you think the coverage of the Chiefs and rugby union compare with other sports in the region? The coverage in the Express and Echo is fantastic, other than that the Western Morning news is ok, but coverage on TV is rather lacking, blink and you'll miss it! Football is always the first sport spoken about.

What's your favourite thing about rugby? The thighs!!…… oh no, I obviously mean getting to spend time with my friends and just enjoying the game.

What's your least favourite? Opposition fans, not all of them mind, and I know we aren't all saints, but some of them are unique to say the least!

Do you watch any other sports? I watch any sports really, Athletics, Cricket, Tennis, Rowing etc etc. And if I want to go to sleep I make sure I watch Golf or Snooker!!

Do you watch rugby on TV. If so is it club games, internationals or both? I watch any rugby that I can on TV, often having to have a struggle to get the remote off my Dad! I follow Wasps when I can, but enjoy watching the Super 14 matches too.

Do you watch on terrestrial, satellite or cable and how does the coverage compare? Terrestrial rugby?? Is there such a thing?! Luckily we have Sky so watch the majority on there, mainly with the sound off as S.Barnes is a t@$$£r!!

How long do you think it will be before we see the Chiefs in the Guinness Premiership and what do they need to do to achieve it? The coming season is going to be interesting with the play-offs, I would like to think we could make it in the next couple of seasons and then stay up, with a bit of lady luck on our sides I think we can do it. The recruitment of players has been very good so far this season.

Any general comments about the club or the game? Roll on September!
More Exeter Chiefs headlines
Exeter Chiefs Poll