Sharks v Chiefs a personal view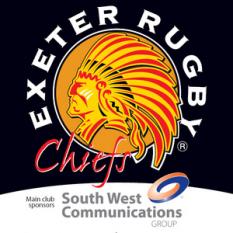 Chiefs Flag
By CJB
August 31 2009
This article is too good to be 'just' a message board post (IMO) so I've made it available to a wider audience.
A personal view
Sale Sharks v Exeter Chiefs
The result, scores and scorers gives a good factual report of the Sale game, but as an overview and general impression of the Pre Season Chefs I would like to offer my take on events thus far in what could be a Championship Season for the Chiefs.

'One swallow does not make a spring' but the performance of our lads in back to back encounters with Premiership Sale Sharks, in my view, is much more than the 'odd swallow'

Chiefs exploits at Edgeley Park on Friday were heroic verging on magnificent.

Rising to the challenge of a Premiership outfit richly sprinkled with International talent saw our boys raise the performance bar with a display of maturity, organisation, endurance and an overall quality that excited me even more than the league wins over Harlequins and Bristol three years ago.

Make no mistake, against Championship opposition Premiership Sale were looking to win BOTH games against us by a country mile. They may have been guilty of underestimating our lads for the first encounter at Sandy Park, but at Edgeley Road on Friday they were primed, ready and planning to give us a hiding.

Look at the starting XV :-

Nick Macleod; Mark Cueto, Chris Bell, Anitelea Tuilagi,
Ben Cohen; Charlie Hodgson, Richard Wigglesworth;
Andrew Sheridan, Mahonri Schwalger, Eifion Roberts,
Chris Jones, Dean Schofield James Gaskell, Neil Briggs
and Sisaro Koyamaibole,

Not a bad line up hey ?!
No underestimation with this selection!
I suspect their plan was to send us back down the motorway, crest fallen with our tail between our legs on the end of an embarrassing score line.
Premiership reputation restored and the Championship aspirants put back in their place……..

It was NOT to be by a Devon mile !


From the opening whistle Sale threw everything at our lads in a fierce, fast and intensive onslaught forcing us on the back foot as Sale prodded, probed and tested Chiefs resistance to the limit

In my view our lads resolve, intensity and quality of defense in the early exchanges was little short of magnificent under the pressure that was thrown at them.
The Chiefs stood up brilliantly

Wave after wave of Sale attacks pounded and thundered into our lads testing and stretching pre season preparation to the limit, BUT …. As true warriors the Chiefs held firm. Tackles reigned in to meet and hold the best attacking effort the Premiership juggernaut threw at us.

Soaking up the best the Sharks could throw at us Chiefs made a defiant statement. Our early defense was up to the task and looked sound and secure. Indeed it was more than a stroke of luck that gave Sharks the break that finally breached our defensive line.

Attacking up the left side of the field 'Ex' hit a testing kick that rose high crossing the half into the Sale 10 yard zone. In the race for the ball a Chief hand rose to 'clumsily slap' the ball back towards chasing Chiefs front runners, it could so easily have found a speeding Chief, but in the event the ball boomeranged awkwardly backwards past our chasing players to be eagerly snapped up by a retreating Shark.

Trailing behind the original play he gratefully accepted the unsuspected gift, picked up the ball and turned a Sharks defense to launch a very fortunate Sale counter attack.

With our lads committed to supporting the attacking kick ahead we were in defensive disarray allowing the Sharks to race down field to cross our line.
Unfortunate, but we WILL learn from this one.

Encouraged by their success Sharks intensified their offensive effort seeking to put Exeter to the sword.
In honesty they were good and dominated the play for long sessions, but in my view our defense, for so early in the season was quite magnificent. Chiefs were tested and stood up far better than I expected.

OK, so there were errors and Sale scored 2 more tries in the half and looked to be on course to give us the planned hiding. Let's be mindful that Sale averaged 20 point a game in last seasons Premiership and would expect to more than double that against Championship opposition.

Our lads did Ok in my book and we will learn from the first half events.

Sales third score was brilliant. No argument they sustained a fast attack moving the ball with really fast hands with changing angles of attack and thoroughly deserved the points, but I was more than a little disturbed by the number of Sale players in front of the ball with their second score!

Sending dummy runners in front of the ball carrier is a tactic from rugby league coming more and more into our game. Designed to confuse defensive tackles it misleads the defense with front-runners serving as decoys,
BUT when these front runners set 'sceens' for the real ball carrier the tactic serves as an obstruction to the tackling player.

Our lads were well blocked by two or even three Sale front-runners for the second score.

I asked the referee for his take on my observation after the game. He appreciated the point but said he did see any obstruction. From where I was standing the obstruction was as obvious as the Thames Barrage, Hey ho that's rugby and a further lesson that we WILL learn from this game.

In my heart of hearts I was a little anxious, as the referee signalled the start of the second half. Deep down I feared the worst. What a revelation it turned out to be.

Strengthened with the introduction of Bentos and Titan Tom Johnson up front, our forwards turned the game with fierce impactive play of our own.

Sale were rocked by the renewed power of our pack from the resumption. The game was turning and the dominance was coming Exeter's way.

Enjoying more of the possession it was not long before Gareth Stenson was in the action linking with 'Mighty' Matt Cornwell to send a flying Mark Foster over for a brilliant try from 40 metres out. Hey Ho … Brilliant

The Sale encounter is over now, we all know the result, scores and scorers. I'm not trying to add to previous reports. Mine is an impression as to the state of the team at the start of the serious job of Championship rugby.

I am also mindful that pre season results stand for nothing at the end of the season But I would not be doing justice to the hard work and effort tht has obviously gone in this summer if I failed to comment on the quality I saw in the two encounters.

Our lads look in brilliant shape, they have discipline, pace, resolve and a backbone of steel that did not break under the sternest test.

We showed sustained intensity in defense and signs that we are developing a wider ranging and more ambitious attack.

The state of the club on and, I think, off the field has never been better. I for one am looking for a
Championship season,

I urge the WHOLE of Exeter and the surrounding Devon region to get FULLY behind the Chiefs of 2009-10

The future is bright… the future is Ch.. Ch.. Chiefs
View a Printer Friendly version of this Story.
Sharks v Chiefs a personal view
thechiefstribe.com (IP Logged)
31/08/2009 19:49
What do you think? You can have your say by posting below.
If you do not already have an account
Click here to Register
.
Re: Sharks v Chiefs a personal view
31/08/2009 19:51
Thanks CJB - As it says I thought this was too good for an MB post.
P156...COME ON YOU CHIEFS..
..CHIEFS..
..CHIEFS..
..CHIEFS
Sorry, only registered users may post in this forum.
More Exeter Chiefs headlines
Exeter Chiefs Poll